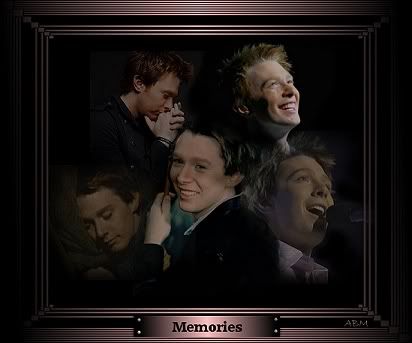 FOND MEMORIES -- ABeautifulMind's graphic appropriately signals the opening weekend of "American Idol Rewind - Season 2."
'Grandma Fog' Takes Hold
Season 2 'Idol Rewind' Set
Sleeping contentedly more than a thousand miles away, my new grandson has no way of knowing his presence Thursday teamed with my natural tendencies toward procrastination and played havoc with some best laid plans for a productive morning.
After celebrating grandson Kai's birth for the past two outings, this blog was slated to return to its normal routine focusing on a very special singer from my home state, Clay Aiken.
"Grandma Fog," probably akin to the "Aiken" variety, literally whittled away my morning as I happily attached baby photos to email replies, searched online camera sites for a must-have grandparent purchase, and squeezed in a detailed telephone update from my daughter.
As the sun rose, the "fog" persisted, edging to the back burner not only a new Clay Aiken entry but also preparations for the afternoon's music lessons, a rehearsal and map-quest for Friday's flute gig, and -- the least desirable of all -- further organization of income tax records for the fast approaching October filing deadline.
In all my dilly dallying, I learned about Woot, an online store that features a new deal each day. Though I chose a different model, Thursday's focus was an excellent little camera and a great buy.
At 12 a.m. central time seven days a week, Woot releases a new product at a reduced price; so I have bookmarked this site for future daily visits.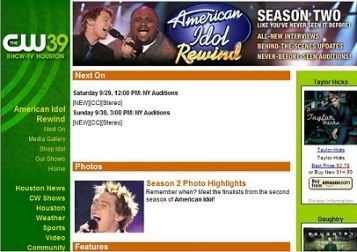 Screen Cap links to the 'AI Rewind' Page at KHCW-TV
Aiken Fans Anticipate 'Rewind'
Bouncing around Clay Aiken Cyberspace is discussion of this weekend's opening telecasts of American Idol Rewind for Season 2. If you haven't already, check out the info and photos at Houston's KHCW-TV website by clicking on the above screen cap.
With Ruben Studdard as host and Clay providing commentary, "Rewind" will feature interviews, behind-the-scenes updates, never-before seen auditions, as well as footage from the Season 2 shows. Read all about it in the story from PRNewswire.
This clickable screen cap from the week's previews advertises Clay as the show's narrator:

Stay tuned to the AI blog with the Atlanta Journal Constitution for further info. Need a review of the Season 2 contestants? Here is a page featuring the Top 12.
This weekend's telecasts begin with the New York auditions. To locate the times shows are scheduled for your area, check TV Guide or link to Zap2It.


Locate 'AI Rewind' telecast times at Zap2It!
Basic AI 2 Rewind Schedule
Sept. 29: NY Auditions
Oct. 6: Miami/Detroit Auditions
Oct. 13: Atlanta Auditions
Oct. 20: Austin Auditions
Oct. 27: LA Auditions
Nov. 3: Nashville Auditions
Nov. 10: Best of the Worst
Nov. 17: Hollywood Week, Part 1
Nov. 24: Hollywood Week, Part 2
December -- Reruns of the auditions/Hollywood episodes.
Jan. 5: Group 1
Jan. 12: Group 2
Jan. 19: Group 3
Jan. 26: Group 4
Feb. 2: Wildcard Show
Feb. 9: Top 12 to 11
Feb. 16: Top 11 to 10
Feb. 23: Top 10 to 9
Mar. 1: Top 9 to 8
Mar. 8: Top 8 to 7
Mar. 15: Top 7 to 6
Mar. 22: Top 6 to 5
Mar. 29: Top 5 to 4
Apr. 5: Top 4 to 3
Apr. 12: Top 3 to 2
Apr. 19: Final 2
Aprl. 26: Finale
PHOTO INTERLUDE: Recalling Clay's 2007 Summer Tour, this clickable interlude features graphics by Amazing_CA, photos by Invisible926, 1; Ambassador of Love, photos by HeatherW, 2; Cha Cha Trusty, photos by En Avant and Toni7babe, 3; Ambassador of Love, photos by FiveGoldens, Invisibleson, and Scrpkym, 4; and Amazing_CA, photos by Toni7babe, 5.

Friend Shares Grandparent Quotes
Many thnx for all your good wishes regarding the birth of our newest family member. My "Grandma Fog" is persistent, so I might as well switch topics.
With appreciation to Marlyne, below is a collection of quotes to be shared with a special grandparent in your life. I hope you enjoy!
What a bargain grandchildren are! I give them my loose change, and they give me a million dollars' worth of pleasure. ~ Gene Perret
Grandmas are moms with lots of frosting. ~ Author Unknown Perfect love sometimes does not come until the first grandchild. ~ Welsh Proverb
Becoming a grandmother is wonderful. One moment you're just a mother. The next you are all-wise and prehistoric. ~ Pam Brown
When grandparents enter the door, discipline flies out the window. ~Gene Perrett
Grandma always made you feel she had been waiting to see just you all day and now the day is complete. ~ Marcee DeMaree
Grandmas never run out of hugs or cookies. ~ Author Unknown
Grandmas hold our tiny hands just for a little while, but our hearts forever. ~ Author Unknown
Nobody can do for little children what grandparents do. Grandparents sort of sprinkle stardust over the lives of little children. ~ Alex Haley
If your baby is "beautiful and perfect, never cries or fusses, sleeps on schedule and burps on demand, an angel all the time," you're the grandma. ~ Teresa Bloomindale
What is it about grandparents that is so lovely? I'd like to say that grandparents are Gods gifts to children. And if they can but see, hear and feel what these people have to give, they can mature at a fast rate. ~ Bill Cosby
Below is a clickable of the opening graphic by ABeautifulMind: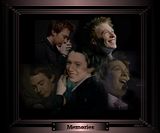 I'm off to find my flute. Have an wonderful weekend, Clay Nation!
Caro
RELATED TAGS: Clay Aiken, Season 2 American Idol Rewind, Ruben Studdard, grandson, grandmother, grandparents, Official Fan Club, Clay Nation