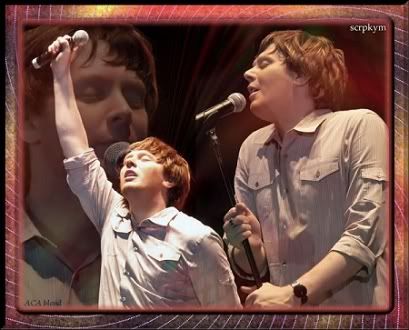 Clay Aiken performs during Summer Symphony Tour. -- Graphic by Amazing_CA, photos by Scrpkym.
Balloting To Begin for Claymmys
Online Shopping Benefits TBAF
For whatever reason, I have always been the rare gal who could care less about shopping, window or otherwise -- that is until the online phenomenon came into being. Christmas lists are a breeze when my computer and credit card get together.
During all the "grandmother-to-be" excitement of the previous entry, I was thrilled to learn that my online shopping for this special little tyke can now be funneled through GoodSearch's GoodShop to help raise funds for The Bubel Aiken Foundation's projects and curriculum of inclusion.
More than 100 great stores have teamed with GoodShop so that a percentage of each sale goes to one's designated favorite non-profit organization.
Just this brief sampling of merchants under the "most popular" tab is enough to inspire an online spree -- Amazon, Barnes&Noble, Buy.com, Circuit City, Gap, iTunes, Macy's, Nordstrom, Old Navy, Staples, Target, and Wall*Mart.
The process is quite simple. Be sure to designate TBAF as your charity, click on the store's logo from the GoodShop link, and then shop as you normally would. This takes you to the "GoodSearch Shopping" page where you click on the yellow bar: GOODSHOP THIS STORE.
That maneuver lands you at the designated site where if you have an account, you are welcomed. If not, you are asked to establish one.
One Penny per Search for TBAF
Clay Aiken fans already help raise funds for TBAF by conducting online searches through GoodSearch, a Yahoo! based engine that shares a portion of the advertising profits with non-profit organizations. Each search launched earns about 1 cent for the charity of one's choice.
Since inception, supporters have raised $4,637.88 for TBAF through GoodSearch and in the year 2007, $2,519.31. While the search revenues are calculated in real time, GoodShop data will be posted weekly.
Here are examples of how much TBAF can earn annually through GoodSearch and GoodShop with 100 supporters:
Two searches per day by 100 people = $730 per year. Purchases by 100 people totaling $500 @ 3% donated revenue = $2,230 annually.
With 1,000 supporters, add a zero: $7,300 through searches and $22,300 via shopping.
With 10,000 supporters, add another zero: $73,000 via searches and $223,000 by shopping.
Obviously, Clay fans need to spread the word. At this link, GoodSearch has provided several options for getting the information to family, friends, associates, readers, etc., via email, flyers, logos, footers, etc.
Ideally, each set of friends will spread the word exponentially. What an awesome way to make a huge difference for TBAF and inclusion!
Voting Set for Claymmy Awards
Voting is expected to begin Thursday mornig for the Fifth Annual Claymmy Awards sponsored by It's All About Love. Categories include avatars, banners, blends, concert pics, essays, fan art, miscellaneous, montages, poetry, stories, wallpapers, and websites. Multiple votes will be allowed.
This blog features many graphic artists, many of whom are entered in the blends and wallpapers categories.
Two montages I highly recommend are the latest by Aspiegirl: "More Than a Feeling" and "Listen." The images below link to these montages at YouTube.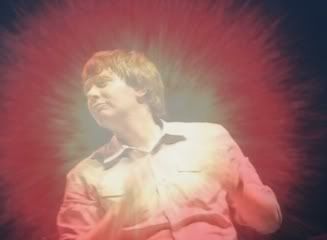 Screen cap links to 'More Than A Feeling' by Aspiegirl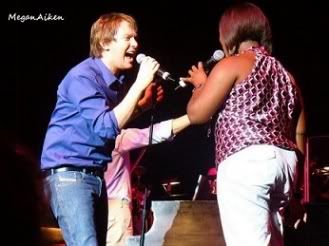 Megan Aiken's photo links to 'Listen' by Aspiegirl
All the best to those nominated for a 2007 Claymmy Award!
Fans Share 'Aiken Fog' Experiences
Recently, I wrote a blog describing how The Aiken Fog has played havoc with my normal routines of coffee-making, food preparation, and the surprising substitution of conditioner for hair shampoo.
Apparently I am not the only one in this boat, as reader comments were brimming with similar examples with no offers whatsoever for an intervention or desire for a cure. Below is the mailbag collection from the Sept. 4 blog.
Already, this entry's comments on the topic include such occurrences as drinking "invisible" coffee for extended periods, wearing sweat pants backwards, substituting shampoo for hand lotion, et al.
Galadriel even went so far as to offer a news flash from the near future: Today it was reported that a scientist discovered the cure for the ailment known as "The Aiken Fog" or TAF. The Nobel Peace Prize went to the lab assistant who accidentally destroyed all existing copies of his research data.
wildaboutclay: I can really relate to The Aiken Fog. During concert season, I've been known to stick things in the cupboard that belong in the fridge, put dinner in the oven and forget to turn on the oven. It's nice to know I'm not alone.
xMakeMeFeelItx: Poor you about the conditioner. I tend to forget how I've driven somewhere or what I'm doing there.
elizabethgerencser: I have to put things away as soon as I use them or I will leave them out until they spoil. When I deviated from my routine, I [once] lost a whole jar of mayo. Have you experienced TAF version where you put the cereal in the fridge?
kimmerstaraiken: At least we know that we are not alone in this fabulous yet frustrating fog!
cindilu2: I count at least two saucepans, several spatulas, and many, many side dishes down the garbage disposal in my list of things I've sacrificed to the Aiken Fog. I'd wish you a speedy recovery, but I'm thinking you don't *really* want that, do you?
Aspiegirl: I have put a cup in the microwave to heat and forgotten it was there. Then I turned around and put in another cup and knocked over the first one.
1H20uandme: Boy are you in trouble if you are expecting an intervention around here! I'm afraid TBAF has taken over just about everyone.

PHOTO INTERLUDE: This clickable interlude features the talents of seven visual artists. They include Amazing_CA, photo by Toni7babe, 1; Katt45, photos by KarenEh, 2; Amazing_CA, photo by Invisible926, 3; Ambassador of Love, photos by Irishbookgal and Toni7babe, 4; and Amazing_CA, photo by Toni7babe, 5.
Fog Victims Want No Relief
Marlyne: I call The Aiken Fog "Clayitis," and I sure have a bad case of it. It makes me happy, so I'm not trying very hard for a cure.
Margaret5828: I must still be in the Aiken Fog, too. I put a potato in the microwave for 60 minutes instead of six last night. It look a long time to rid the house of smoke because I did it twice, the first time between the Sterling Heights and Cary concerts. I think this Clay thing is getting worse. I had to buy a new microwave today!
Galadriel: Thank you for a much needed laugh. I drove the wrong way down a one-way street immediately after hearing the recorded version of "Solitaire" for the first time.
Siol: I've left the food out on the cupboard all night, and I've exploded things in the microwave also. I've made mistakes at work because of having Clay's music playing. It's got to be his fault/The Aiken Fog, right?
Freckles: I loved reading about your TAF and the results of the same. I know now that I'm not alone.
marianhookailo: I go about my day not realizing that in my head I not only hear but SEE Clay and the girls performing IWTKWLI. I am used to having music in my head all the time, but now this particular masterpiece just does not leave me. Thank you for allowing me to acknowledge that indeed I am and have been for a long time in a Clay Fog.
Ashes2: Everything you wrote I've done. I can add making the coffee and finding a nice ot of hot water because the coffee was still sitting on the counter.
Sally888: I've come to the conclusion that TAF is a permanent condition, and I'm not really interested in a cure anyway.
Below is the clickable of Amazing_CA's opening graphic: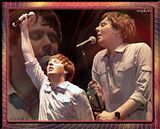 THANK YOU for your kind expressions in thoughts, prayers, candles, and online shower gifts for the upcoming birth of our first grandson. According to my daughter's doctor, the little guy currently weighs 5 lbs. 7 ozs., has good muscle tone (a whole lot of leg and arm exercising, his mother says), and is practicing his breathing exercises.

Anytime the ultrasound camera comes near, he displays his manliness and waves. Thursday the doctor set a delivery date of Sept. 27 for our family's newest Clay Aiken fan.
This little guy has already altered his grandmother's three-day blogging routine, which this time extended to five, inspiring several inquiring emails. I guess there's no more setting clocks by my blogging schedule, LOL!

Have a wonderful week, Clay Nation!

Caro

RELATED TAGS: Clay Aiken, A Thousand Different Ways, 2007 Summer Symphony Tour, The Aiken Fog, The Bubel/Aiken Foundation, GoodSearch, GoodShop, Claymmy Awards, Official Fan Club, Clay Nation