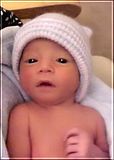 Grandson Changes Our World - Photos edited by Sally
Entire Family Taking Notes
Learning To Shoot Good Photos
It is sheer torture being a first-time grandmother 1,466 miles away from the action; but I am surviving, even learning a thing or two about photography. And I don't even have a camera -- yet!
In West Texas, life revolves around feeding, changing, and bedding a one-week-old baby. The last thing on anyone's mind is interrupting that schedule to snap photos for relatives several states away. On the other hand, we North Carolinians check our
email many more times daily, hoping for new pictures of the youngest member of our family.
After giving her baby a most meaningful name -- Tavarrius Kai'mana Mata'uaina -- my daughter and her grandmother have been calling him "Baby" and "Baby Love." This weekend I suggested "Jack" in honor of her late Texas grandfather.
Meanwhile, Tav, Tavis, Kai, Mata, etc., are also under consideration. I really love that Kai'mana means ocean/strong and Mata'uaina is Samoan for powerful speaker.

Still more than two weeks from his original due date, Jack sleeps much of the time. This trio of clickables shows him laughing, waking up from his favorite pastime, and proudly displaying his "Clay Aiken" feet and Grandmother Caro's natural limberness.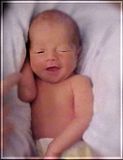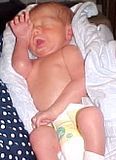 Now that's funny ... Just five more, please!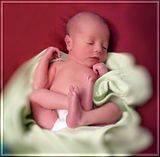 The Clay Connection
Photo edited by Sally

An outstanding photographer and photo editor, my friend Sally offered the family five main suggestions for obtaining better baby pictures:
* Use higher resolution.
* Use natural light when possible.
* Fill the frame with your subject.
* As a variation, get down on the baby's level.
* Check for distractions before you shoot.
Higher resolution will provide more pixels. In my experience, if allowed plenty of pixels, Sally's photo-editing expertise knows no bounds.
Natural light coming through a window or sliding door behind the photographer and falling on the subject is the best illumination for indoor photography. If it's nighttime or too gray for good natural lighting, use a flash. Red eye is no problem for a good photo editor.
To fill the frame, one may need to use the camera's zoom. Fill the view finder with the baby, not a lot of background. Having to crop away a busy background can result in very small pictures. On the other hand, when shooting landscape photos, include lots of background.
For a variation when photographing infants, get down on the baby's level, and fill the frame with his face. To vary your shot, lay down on your tummy and get as close as you can while maintaining focus. This also helps stabilize the camera.
Before you shoot, take a moment, look through the view finder, and check your shot. Remove any distractions or unnecessary items (cell phone, ash tray, glass, etc.) before taking the picture.
Sally also suggested we study the excellent photo tips at The Purple Stork.
REVIEW: Provide plenty of pixels, use natural light if possible, fill the frame, get down on the infant's level, and check for distractions just before shooting.
I look forward to the day when these are my assignments. That ... and holding my new grandson. Meanwhile, anyone for a nap?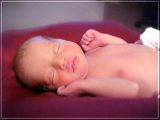 Clickable - Photo edited by Sally
There is more than enough room in my life for two very special guys. The Aiken is bound to return to this new grandmother's blog next time around.
Actually, he already did. Sweet Carolina Girl reported that due to the "CA feet" reference, she received a Google alert for this entry.
Have an awesome week, Clay Nation!

Grandma Caro
RELATED TAGS:
grandson
,
grandmother
,
photo tips
,
The Purple Stork
,
Clay Aiken
,
Official Fan Club
,
Clay Nation