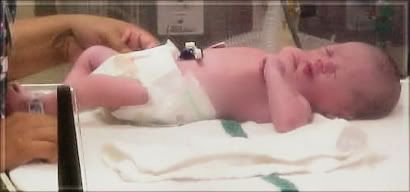 Grandson charms nursing staff in Odessa, TX.
'Grandmotherhood' Takes Over
New Life Begins Sept. 17, 2007
According to Google Maps, I am exactly 1,466 miles and 22 hours away from the newest member of our family; yet he already has had a profound effect on my ability to function normally.
Ironically, this little guy's birth was scheduled at the exact time I was to teach a cello lesson in nearby High Point Monday afternoon. "Be careful on the drive over," a friend warned. I was, but the person drifting into my lane on a curve wasn't. Thankfully, I swerved quickly enough to be here to report the birth of my first grandchild.
The minute I finished the 30-minute cello lesson I checked in with family in the waiting room and headed home with my cell phone on to await the birth news. This little guy who was about to steal my heart was already following his own agenda.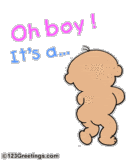 Within the hour -- at 2:24 p.m. CDT, to be exact -- Tavarrius Kai'mana Mata'uaina entered the world howling at the top of his lungs. Three weeks shy of full term, he measured 18.5 inches long and weighed in at 5 lbs. 2 ozs. A cellist with a beautiful voice, his mother has excellent relative pitch. Dare we hope for the pipes of Clay Aiken?
Daughter Jen's love for her adopted state of Hawaii is reflected in her son's middle names. She has always liked the name Tavarrius, which I think sounds musical and quite appropriate for our clan of instrumentalists. Kai'mana means ocean/strong, and Mata'uaina is Samoan for powerful speaker.
His North Carolina grandmother has friends who suggest there are several possible nicknames -- Tav, Kai, Mat, TKM, Tavis -- but we will just have to see what fits.
Meanwhile, mother and son are bonding and doing very well. As for grandmother, this morning she turned on the microwave oven with absolutely nothing in it. I look forward to the day I can travel to Texas and hold my precious grandson in my arms.
Thank you very much for your celebrations, good wishes, and many kindnesses along the way.
Have an awesome week, Clay Nation!
Caro
RELATED TAGS:
birth
,
grandmother
,
Clay Aiken
,
Official Fan Club
,
Clay Nation