CLAY AIKEN RERUN -- The Sterling Heights and Meadowbrook Concerts from the 2007 Summer Tour take another spin. Graphic by Ambassador of Love, photos by LynninNJ.
Field Notes Focus on Kenya
Rewind: 'Listen' Duet & Bugs!
Whether seated in the Freedom Hill Amphitheater at Sterling Hills, MI, or connected via cellcert stream thousands of miles away, fans immediately recognized that the impromptu "Listen" duet by Clay Aiken and Quiana Parler on July 23, 2007, would long be remembered as one of the most incredible, magical moments in a long line of stellar performances.

Subbing for the ailing Angela Fisher, the unrehearsed duo brought down the house and elicited exclamations that continue to this day wherever fans gather. Totally unrehearsed, the glorious vocals soared with beautifully balanced harmonies.
At the conclusion, music director Jesse Vargas joined the amazed audience in a spontaneous standing ovation.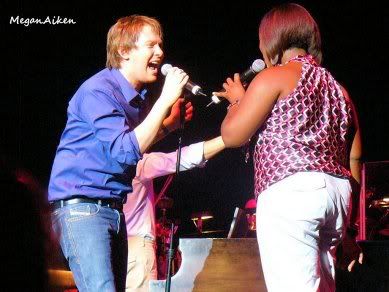 Photo by MeganAiken links to 'Listen' duet on YouTube.
The above Listen video posted by maxineismyhero can be viewed at YouTube. Downloads are still available at Clack Unlimited.

The same is true for the countless others, each reflecting a different angle by the videographer and all of which should be "researched" on this one-year anniversary. Of the many versions at YouTube, here are a few to get your started: Listen video by dlh7777; Listen video by austinclaymate; and Listen video by slg11.
Goldarngirl and Luckiest1, known for their concert montages, have one of the Sterling Heights Listen Duet that incorporates several videos and includes quite a bit of the before and after banter. Here is a Sendspace download of this 93MB Listen montage.
Let's Listen, a montage by malgosia19, highlights several Summer 07 concerts and is accompanied by the Clay-Quiana duet. You will find lots more for the day's celebration.
This 2007 Summer Tour rewind features the Sterling Heights and Meadowbrook concerts of July 23 and 25. Clay's final Field Notes blog about his recent UNICEF mission reports on the education situation in Kenya.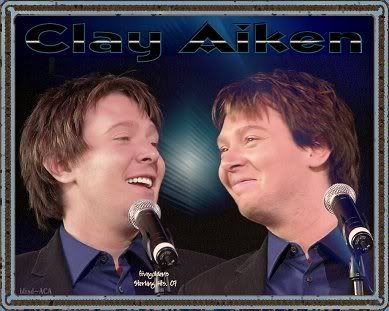 Amazing_CA's graphic links to Sterling Heights Slide Show.
Slide Shows Recalls Michigan Memories
The Sterling Heights concert was filled with many memorable moments. Photographers ClayIzzaQT, LynninNJ, FiveGoldens, Shamrock, and MeganAiken are featured in the above slide show from the 2007 performance.
One year later, the Freedom Hill Amphitheater website still showcases An Evening with Clay Aiken, a slide show of photos by Larry Garcia accompanied by a medley of CA songs.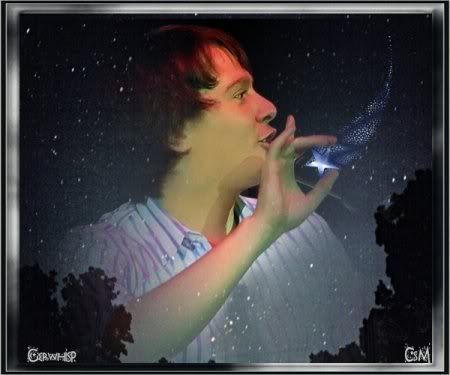 Claysmelody's graphic, photo by Gerwisp, celebrates Meadowbrook.
Insects Invade NH Center Stage
Meadowbrook is a beautiful setting for a summer concert; but on a hot New England night with high humidity, very little breeze, and a spotlight targeting Clay Aiken & Co., New Hampshire insects invaded center stage, attacked from all directions, and assured their legacy via the singer's famous spontaneity in banter and lyrical references all evening long.

The exact date was July 25, 2007; and because of the bright lights, bugs of all varieties were especially interested in the three singers ... "up my shirt, in my nose, plus I think I even swallowed one!" Clay interjected. During "1999" in The Classics Medley, he sang, "The sky was all purple; there were mosquitos everywhere."

Another time Clay joked, "The mosquitos are breeding, and my music is getting them in the mood!" Just as he made lemonade with the insect onslaught in banter and song, the entertainer put to good use a can of bug spray handed him mid-concert.

Belledisastre provides a swat of the bug-filled evening with her Meadowbrook Mosquito Debacle video at YouTube. For more Meadowbrook banter, here is a Sendspace of Scruffy's Best of SRHPT 2007 - Gilford montage.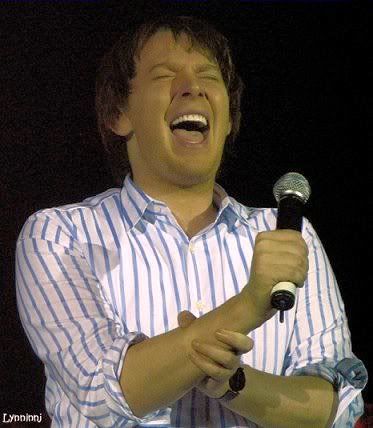 Link to Meadowbrook Slide Show with photo by LynninNJ.
The above Meadowbrook Slide Show features photos by LynninNJ, Tangerine, Gerwhisp, claytonsmyccf, claytonaiken43657, Tsunamimommy, and LonelyNoMore44.
Musicians Shine in 'The Bug Show'

Besides being remembered as "The Bug Show," Meadowbrook will go down in CA fan lore as the night the excellent musicians of the Nashua Symphony proved their merit. At 2:30 p.m., the discovery was made that all show scores -- as well as the stools for the three singers -- had inadvertently been left in Detroit on the 23rd.

Parts were faxed to the venue, and an abbreviated rehearsal commenced at 4:30 p.m. Clay applauded the Nashua musicians for learning the show in record time.

And as he did at every performance, the singer encouraged the concert attendees to support their local arts organizations and showered the evening's orchestra with well-deserved kudos.

"If you live in New England and don't support them [symphonies], they will leave and we won't have anyone to play with ... unless these horseflies learn to play the trombone!"

A musician who has dodged swarming mosquitos and competed with choruses of cicadas, I thought that was one of the funniest lines all night. Listening to the cellstream on my computer and reading the accompanying thread, I enjoyed a good laugh remembering all the outdoor concerts and weddings Clay's remark summoned for me.
PHOTO INTERLUDE
:
Included in this clickable collection are graphics created with photos from Clay's recent Samolia-Kenya travels. Visual artists featured are

Amazing_CA

, 1;

Claysmelody

, 2; UNICEF photographer

Nick Ysenburg

(Kenya), 3;

BettyJean

, 4; and

SmartyPantsSuz

, 5.
Kids in School a Kenyan Priority
Tuesday Clay's third and final Field Notes blog about his recent trip to Somalia and Kenya was posted on UNICEF's website. Parts are quoted below, and all can be read at Field Notes.


UNICEF Ambassador Clay Aiken recently visited the East African countries of Somalia and Kenya, where UNICEF provides children with health care, education, nutrition, clean water and sanitation. This is the last in a series of blog posts he has written about his experience in the field.

In early July, after visiting Somalia, I traveled to Eldoret, in Kenya's Rift Valley, to visit camps for internally displaced people. This is where some of the worst violence took place following the Kenya elections in early 2008. Thousands of children were made homeless by the unrest.

Everywhere we went, there were the charcoaled remains of homes, schools and shops. We drove for hours and everywhere we went, we saw people trying to get their lives restored.

Although many schools were re-opened, far fewer children are turning up for class than before. And classes are taking place in schools that have been completely destroyed. I saw children sitting on rocks and bricks—which used to make up the foundations and roofs of their schools—using them now as desks and chairs.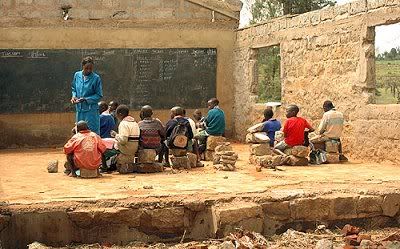 SCHOOL IN KENYA - UNICEF Photo by Nick Ysenburg
Getting children back to school is vital for their protection, and helps build a sense of normalcy in their lives. The re-establishment of schools in the most difficult circumstances is a testament to the commitment of UNICEF and to Kenyans. Many displaced parents told UNICEF that getting their children back to school was their top priority.



Read Clay's complete blog at Field Notes. Learn more about UNICEF's education programs at this link.
Below is a clickable of the opening graphic by Ambassador of Love: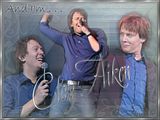 We bloggers appreciate your visits. A special thank you to those who take the time to leave a note. You don't have to be a member of Blogspot to make a comment, and you can add your screen name at the bottom of an anonymous remark.
All the best, Clay Nation. Enjoy the memories of this week's rewinds!
Caro
RELATED TAGS:
Clay Aiken
,
On My Way Here
,
2007 Summer Tour
,
Sterling Heights 'Listen' Duet
,
Meadowbrook Bugs
,
UNICEF
,
Somalia
,
Kenya
,
Field Notes Blog
,
Official Fan Club
,
Clay Nation