LOOKING BACK -- Amazing_CA's graphic takes a look back at the 2007 Summer Tour, which headed to the northeast the week of July 17 last year.
International Fans Finding Clay
Aiken Fans Recall 'Clayisms'
The times when Clay Aiken is on vacation or completing a UNICEF mission, as he is now with his recent trip to Somalia, the techniques with which message board members amuse themselves are plentiful and varied.

Read Clay's latest Field Notes blog -- Somalia: Keep Spreading the Word

-- at UNICEF. The interlude will feature new graphics of photos from the Somalia mission.
Current board pastimes include speculating about what's around the corner for the singer plus keeping tabs on On My Way Here sales, radio play, song/video rankings at several sites; sharing favorite photos; and making an assortment of lists.
A recent example of the latter: What three songs not previously sung in concert would you most like to see Clay perform?

A linear thread covers current events as well or better than cable news networks. Favorite recipes (even liver in the slowest of times!), jokes, meaningful quotes, as well as important events within these close communities of friends, make the boards.

Fans Share Favorite 'Clayisms'

One of the most enjoyable escapades this week was a challenge issued at Clayversity for memorable "Clayisms," a few of which are included below. Longtime CA fans will recall the precise origin of these quotes, some of which date back to 2003. You are welcome to add to the list in comments.

Interspersed are photo links to slide shows from two 2007 Summer Tour concerts that happened one year ago this week: Philadelphia, July 17, and Syracuse, July 18.

Also, here are two recent montages of "Clayisms" by Marie Drummond: Clay, Your Halo Is a Wee Bit Crooked and Clay Testosterone Contest.

God forbid the clack skip around!

I'm never wrong, people.

Breathe for me, honey!

Talk amongst yourselves.

I know your words.

Perfection takes time, honey!

You need another fact checker!

All done, darlin'.

Happy to save you money on your prescriptions (autographing "Clay = Female Viagra" poster)

They will be locked!

Lawd, Jesus! (fanning himself)

Hey Ruben, I got panties!

What do you have in there -- Radio Shack?

Git 'er done!

The twisty tie confuses me every time!

He hit me with his cane!

Stick me on the roof or fold me up and throw me in the trunk.


Photo by Solitaire30 links to Philadelphia Slide Show.
I don't have an accent, do 'ah'?

She didn't have the balls to send me the letter!

I think I'm gonna take a cold shower at intermission. **Deafening cheers** Let me try again; I'm gonna read a book.

In my life, I've had heartache and pain (pointing to Angela and Quiana).

Before the show is over they will have your email address, your phone number, your address; and the next thing you know, you will be driving them to Florida!

You can never get enough of Clay Aiken.

Now I am a man!

Here's to not caring!

Savor the flavor.

My teeth are blindingly white.

I was the only one that looked like Jesus.

Krispy Kremes, macaroni and cheese, and slooooooooow songs.

I love going up and singing on stage.

The fact that you are here will help when you get home. (to the men in the audience)

Clay talking about how classy the orchestra is and how he's not. A fan shouts out, "You're hot though!"

We're all family here, right?

I have my own Nation.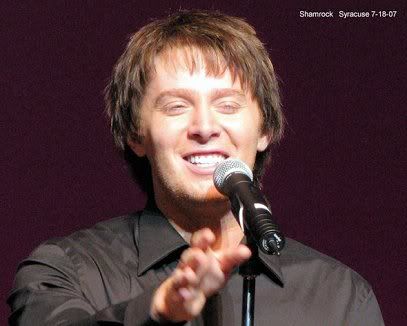 Shamrock's photo links to Syracuse Slide Show.

It doesn't really matter to me how I make a difference; I just wanna make sure that I do.

I'm going through puberty now, and you can say you were here when it happened.

I got beat up by a girl!

He really liked me for some reason..." (RE the horse on Kimmel)

Lord help the sex symbol world if I'm one of them.

Did you get that on video?

You know, I think I'm a stronger person for realizing that you can't make everybody love you.

It takes a whole team of people working 24 hours around the clock to make me look like this.

I'm being trained to shake the bon-bon appropriately.

I'm fine and have taken steps to prevent any foot wandering in the future.

We sing lots of sloooooooooooooooooooowwww songs.

Clay Aiken bringing families together!

Sometimes things come out of my mouth that don't even go through my brain.

Success is measured by how happy you are, not how much money you have.

It's a little less sweet and a little more suspect!

It's important that I make a difference in some way. If it's by singing and touching someone that way, great. If it's being a teacher and helping some kid understand something, even better.

Use your voice.

I'm Clay Aiken! (signing "thank you")
PHOTO INTERLUDE
:
This clickable interlude includes graphics of new UNICEF photos from Clay's trip to Somalia. Represented are
designs by
Claysmelody

, 1;

dev11588

, 2;

Claystruck

, 3; and

Fountaindawg

, (I Will Carry You), 4 and (Shine!), 5.

OMWH Featured in Olympic Promo
A well-celebrated video on Clay boards this week comes from South Korea in which "On My Way Here" is the background music for a TV promo of the 2008 Summer Olympics.
Snowluv4

of Clayversity capped the MBC-TV spot and translated the script. "The captions are pretty nice, beginning with how MBC staffs caught the precious moments of past Olympics."
Kim Chang-bae, cameraman, participated in three Olympics: 15 Gold, 25 Silver, 15 Bronze; Park Kyung-chu, announcer, participated in two Olympics:17 Gold, 22 Silver, 19 Bronze; Cho Duk-hyung, engineer, participated in three Olympics: 33 Gold, 27 Silver 32 Bronze.

Twenty-eight times of Olympics, 186 moments of glory, and the sweat and tears of 3,108 people; and we recorded all those moments although we're not the ones who play, sweat, and shed tears.

Now we're preparing for the 29th stage to experience again with you!
The video, Olympics On My Way Here, has been uploaded to YouTube by

olympicsdream

.
The brief promo can be downloaded with this
Sendspace
.

New Fans Connect in Cyberspace
Interest in Clay Aiken in countries outside of North America is on the move, as indicated by OMWH radio play, international memberships at various message boards and Clayonline, the singer's official fan club, CA Official Fan Club, as well as visits to the Internet Clay blogs from around the world.

At last count, the Carolina blog has been visited by citizens of 79 countries. I'm sure others along this beltway have as well.

OMWH has been introduced as a new song on Singapore's Power 98-FM radio station. According to

Hwee

, who heard the song while driving home, the DJ encouraged requests and votes for the song to enter the station's Daily Top 10 and Weekly Top 30 Countdown.
Japanese Fan Discovers Clay
Satoru

of Hiroshima, Japan, is an excellent example of how many Asian fans discovered Clay. Recently, Satoru posted translations of her MySpace blog,
Satoru Music Diary
, at the OFC.

Unless you speak Japanese, you won't be able to read her blog. However, here are translated passages that she posted in two journal entries at Clayonline:

About "C": First of Four Blogs
Ipod and Clay Aiken changed my music life. I bought a black Ipod in May 2006. Like many Japanese fans, I also discovered singer Clay Aiken on the TV program "American Idol," Season 5.

AI is a television program presented by Fox, but Season 5 was the first to be broadcast in Japan. Moreover, we can watch it only on paid TV. Although Clay is the runner-up in the 2nd season, he appeared at the final show of the 5th season as a surprise guest. He sang part of "Don't Let the Sun Go Down on Me" in only 2 minutes.

I was deeply impressed with his voice and smile. "Who is this guy?" I wondered. But knowing more about him was not easy.
Many Looks Confusing At First
In the next installment, Satoru explained how Clay's gorgeous voice and smile stayed in her heart but what a confusing process she had connecting the singer's many different looks between 2003 and 2005. Her first purchase was a used Measure of a Man CD, which became a constant companion on her walks.
All three pictures of him seem to show a different person. I searched for more information online. Then I found some notes written by US fans in their blogs: "I couldn't believe that was him! Great voice and he was such a good sport! His new look is HOTTTTT!" ... "Clay Aiken has emerged with a new look that has Claymates all over the world are rolling with glee."

There is also a web poll asking, "Do you like Clay Aiken's new look?" I realized that the American Idol 5 appearance was the first day of his new look.
For Satoru's very interesting journey, check out her blog translations in the OFC's
Recent Blog Posts
; or if you read Japanese, catch her at MySpace.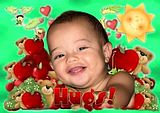 Kai Shares Day with Grandma Caro

July 17 is a momentous occasion for our family. Kai is celebrating his 10th month in the world, while his grandmother is marking many more moons. Thank you for all the birthday greetings in the blogs at the OFC and at the Carolina site.

Sending sweet Kai lots of hugs on "our" special day. Many thnx to Claysmelody for creating the above graphic.

Below is a clickable of Amazing_CA's lead graphic: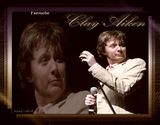 Have a wonderful weekend, Clay Nation!

Caro
RELATED TAGS:
Clay Aiken
,
On My Way Here
,
UNICEF
,
Somalia
,
Field Notes Blog
,
Clayisms
,
MBC-TV South Korea
,
Power 90-FM Singapore
,
Satoru Music Diary
,
Official Fan Club
,
Clay Nation