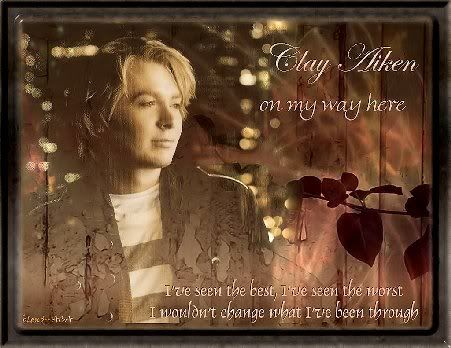 ON MY WAY HERE -- The meaningful lyrics of Clay Aiken's new CD, On My Way Here, lend themselves to powerful montages about the singer's humanitarian work. Graphic by Amazing_CA.
Somalia Field Notes Blog Now Up!
UNICEF Special Hits Home
With On My Way Here tracks keeping me company, I included a couple of errands in my 30-minute drive to teach music lessons in a neighboring city Monday. Despite riding in an air-conditioned car, the July heat and humidity had me immediately reaching for the bottle of water I always carry but this day had forgotten to pack.

As I paid an exorbitant $1.49 for bottled water at a fast food drive-through, I thought back to Sunday's CNN program, The Survival Project:One Child at a Time, during which viewers learned that one dollar would provide safe drinking water for a child for 40 days. My $1.49 would translate into 60 days.

The CNN special explored why 26,000 children die every day from preventable causes and the work UNICEF is doing to wipe out this statistic. Emphasized were water and sanitation in Laos, child protection in Iraq, HIV/AIDS prevention in Peru, and child survival interventions in Ethiopia.

According to the Tap Project, UNICEF estimates over 1 billion people worldwide have little or no access to safe water and that every 15 seconds a child dies of thirst or a water-related disease. That's nearly 6,000 children a day.

Donations can be directed to UNICEF's general fund (wherever needed most), core global programs (education, HIV/AIDS, immunization, water and sanitation) or regional/country-specific initiatives. See the links here.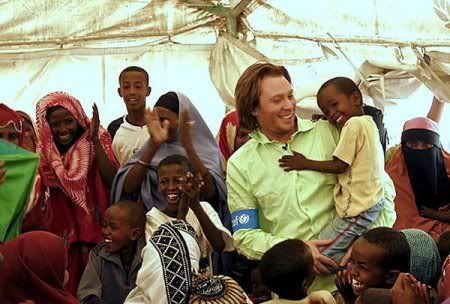 Clay with children in Somalia. (UNICEF Photo, enhanced by PermaSwooned)
Clay Blogs About Somalia Trip
As a UNICEF ambassador, Clay will post reports on his recent trip to Somalia at the UNICEF USA Field Notes site. The first blog -- "Where is the Outrage?" -- is now up, the opening graphs of which are printed below.
I recently returned from a UNICEF field visit that took me to northwest Somalia. What I saw there was both amazing and heartbreaking. In many ways, the children I was able to meet are doing better than their counterparts in the rest of Somalia. But in other respects, the situation there is still quite serious.
For starters, the lack of a permanent central government has contributed to Somalia's status as one of the poorest and most volatile countries in the world. Decades of civil conflict have shattered social structures and exacerbated poverty.

In such conditions—combined with an extremely arid environment and difficult terrain with settlements scattered over vast distances—a Somali child's chances of surviving to adulthood are among the lowest of children anywhere in the world.

Fortunately, UNICEF is there. It has been on the ground since 1972 and is the humanitarian organization with the largest presence in Somalia.

Read the complete blog at the Field Notes link above. Donations for UNICEF's Child Survival Programs in Somalia can be made online, via phone, or by mail here. With this link, Take Action Today, you can forward an email from Clay to others, complete with new pictures and an explanation about the situation in Somalia.

Tuesday UNICEF's Misbah Sheikh posted this story about the schooling of displaced children in Afgoye, Somalia: Temporary schools bring a sense of normalcy to young Somalis displaced by conflict.

This urgent worldwide battle for saving and improving lives is not only that of Clay Aiken and others connected with UNICEF. It is ours, too.


Montages Depict Humanitarian Work

With songs from his new album, On My Way Here, Clay Aiken fans have created montages on a variety of subjects. Those which incorporate the singer's commitment to UNICEF and the causes of children are listed below:

ASHES

Rise Up From the Ashes - UNICEF by Suereu

AS LONG AS WE'RE HERE

UNICEF - ALAWH by Suereu
ALAWH by Aspiegirl
ALAWH by Lampmstar

GRACE OF GOD

Survival Project - UNICEF by Gerwhisp
Clay Aiken in Somalia by Brolio42
Clay Aiken - Somalia Awareness by Yollie950
Grace of God (UNICEF Missions) by Emerson032

IT'S IN EVERYONE OF US (Bonus Track)

IIEOF (inspired by Clay's work with UNICEF and TBAF) by Emerson032

PHOTO INTERLUDE: This clickable interlude features graphics by Fountaindawg, 1 and 5; Amazing_CA, 2, photo by Tsunamimommy, and 4; and Invisible926, 3.


OMWH Tops AOL Countdown, Songs



Led by "On My Way Here," four of the five Sessions performances were in the first five of AOL's

Top 11 Music Video Countdown most of Tuesday.

As the clickable screen cap below indicates, they included "On My Way Here, 1; "Ashes," 2; "Where I Draw the Line," 4; and "Everything I Don't Need," 5.


Tuesday afternoon, with "On My Way Here" continuing its stronghold on the #1 position, four more tracks from Clay's CD were listed in the Top 24 "most played" songs at AOL. They included "Ashes," "Everything I Don't Need," "Falling," and "As Long As We're Here."

In the next tier of the Top 48 were "Lover All Alone," "Grace of God," "Where I Draw the Line," "Something About Us," "Sacrificial Love," "The Real Me," and "Weight of the World."

Both listings are constantly changing. To stream OMWH songs and videos, use these links:

* Audio song tracks: AOL Music
* Five-song video performance: AOL Sessions
* OMWH video at Yahoo Music

To email or view all montages previously listed, see updated links in this journal's June 28 blog entry: Aiken Fans Share OMWH Virally.

Clay #3 in Lycos 50

Despite the misspelling of his UNICEF destination and the misdirected arrow, "Clay Aiken: Visiting Samalia" was the third most searched subject in the Lycos 50 for the week of July 7.

He is one of seven -- and the only male -- to have been in the Top 50 for 448 consecutive weeks. The others include Paris Hilton, Pamela Anderson, Britney Spears, Dragonball, WWE, and Jessica Simpson.
Below is a clickable of Amazing_CA's opening graphic: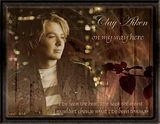 Have a wonderful week, Clay Nation!
Caro
RELATED TAGS: Clay Aiken, On My Way Here, UNICEF, Somalia, The Survival Project: One Child at a Time, montage, Ashes, As Long As We're Here, Grace of God, It's in Everyone of Us, AOL Music, AOL Sessions, AOL Top 11 Countdown, Yahoo Music, Lycos 50, Official Fan Club, Clay Nation