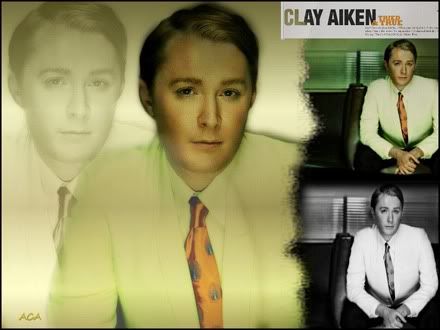 TRIED & TRUE - The vintage 1950's green hues in this album cover graphic by AmazingCA help the Carolina blog celebrate Earth Week.
First Official Press Photo Revealed

Fans Plan T&T CD Celebrations
With countdown clocks steadily ticking toward the June 1 drop date for Tried & True, Clay Aiken's first album with Decca Records, fans have begun organizing parties to celebrate the new CD.
Pulling out all the stops is the Hollywood CD Release Party with a website coordinated and designed by Pam Bassett. The above link and double clickable image below will take you to "The Celebration Team 2010" page where you will be greeted by Clay singing "Mack the Knife."
Fans planning to attend the Hollywood CD Release Celebration should register as soon as possible. Payment is not due until May 12.

Double click on image to see Hollywood party website.
In the early planning stages, other CD release parties listed at Clayonline (Anything Clay >> Clay Soiree) include Raleigh and Southeastern Michigan (May 31) and Toronto, Ontario (June 5). More will be listed as plans are posted.
To set up a celebration website Hollywood style, click on this link and get started. You can choose from 2,000+ templates; customize the site with your own logo, graphics, text, domain name; and publish to the web with a click of a button.
Easy-to-use tools include point-click-drag images and text with no HTML required. Following a 30-day free trial, the fee is only $4.99/month.

Are You Ready for Clay Aiken 2010?
Montage by gerwhisp
In Are You Ready for Clay Aiken 2010, her latest montage,

gerwhisp

combined an earlier CA favorite, "Here You Come Again," with excerpts from the singer's March interview in Raleigh and promotional images from the PBS concert taping and upcoming Timeless Tour.
PHOTO INTERLUDE: Featured are double clickable T&T and Timeless TourAmazingCA (1, 3) and Fountaindawg (2).
Tour Ticket Sales Dates Revised
Despite conflicting reports, Timeless Tour tickets for the MGM Grand Foxwoods (Marshantucket, CT) venue are on sale through Ticketmaster now. For more information, check with the venue (866-646-0050) if you want to attend the Aug. 7 concert. This is the promo for Clay and Ruben from the MGM site:

Since coming to national attention on the second season of American Idol in 2003, where he was the unexpected runner up, only to become the biggest selling male artist the show has ever featured, Clay Aiken has evolved into a versatile and beloved popular entertainer.

He has also toured nine times, written a New York Times bestselling memoir, sold more than six million albums, produced and hosted television programs, starred on Broadway, and devoted considerable energy and resources to improving the lives of children all over the world.

After Idol, Ruben Studdard released his first single, "Flying Without Wings" and it debuted at #2 on the Billboard Hot 100. Advance orders for his debut album, Soulful, topped the 1 million mark before it was released and it debuted at #1 on the Billboard 200 album chart.

Studdard received a Grammy Award nomination for Best Male R & B Vocal Performance and in March 2004, Ruben won the NAACP Outstanding New Artist Award.
Other public ticket sales for the Clay Aiken-Ruben Studdard 17-city summer tour slated for Friday, April 30, include the following venues:
The Hammerstein - New York City, NY (Aug. 11 concert): Phone 212-279-7740. American Express Pre-sale Thursday, Aug. 22, 10 a.m. EDT - Thursday, April 29, 10 a.m. EDT; live nation pre-sale Tuesday, April 27, 10 a.m. EDT - Thursday, April 29, 10 a.m. EDT; general public, Friday, April 30, 10 a.m. EDT.
**Horseshoe Casino - Hammond, IN (Aug. 13 concert): Phone 866-711-7463. (Originally set for April 30, tickets will be on sale through Ticketmaster and at the box office on Friday, May 21.)
Ruth Eckerd Hall - Clearwater, FL (July 26 concert): Phone 727-791-7400, 800-875-8682. Ticketmaster and box office April 30. (Check back for time).
The coast to coast tour, which has been added to Clay's Decca site (under "Events"), begins July 23 in Asheville, NC, and ends in Biloxi, MS.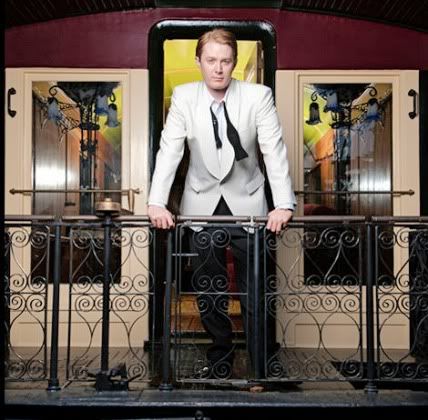 Clay Aiken Official T&T Press Photo/Vincent Soyez
A few minutes before I started teaching Friday, Clayonline added the final piece of the T&T photo shoot puzzle. Below are clickables of full-length and cropped versions of Clay on the train at the American Tobacco Campus in Durham, NC.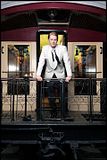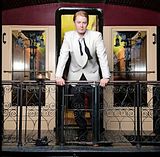 Clickables of official T&T press photo.
Have an awesome weekend, Clay Nation!
Caro