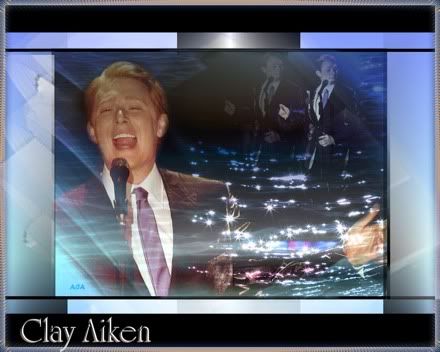 AmazingCA integrated photos by Jim R. Bounds in new PBS graphic.
For Aiken CD, Tour, Special
Snippets Unravel Puzzle Pieces
Everyday Clayonline, the official fan club site for Clay Aiken, reveals a new square of a Tried & True photo shoot picture.
Add to that the snippets of information popping up via Tweets, Facebook posts, and routine Cyber searches; and the insatiable Clay Nation slowly but surely is unraveling one puzzle piece after another.
Members of Clayonline can check the news section a little after noon EDT for the latest addition. So far, three pieces of the photo have been unveiled. Accompanying all this are the harmonious sounds of a new official website under construction.
Decca Records has scheduled a June 1 release date for the TNT CD, which can be pre-orderd at Amazon, Barnes and Noble, and CD Universe, as well as in countries outside of North America, including Japan, Germany, and the United Kingdom.
Over the weekend, additional promo pictures from Clay's PBS Special were discovered at AP Images. Glimpses of the photos shot by Jim R. Bounds following the March 12 Raleigh concert appear in the opening graphic by AmazingCA, as well as the Time Square design by LovesClaysVoice in the clickables below.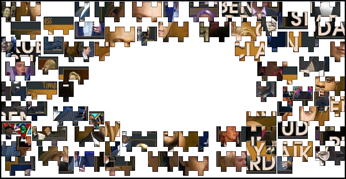 Even more proof that life is a giant puzzle is the site Jig Zone where fans can solve jigsaws of recent graphics by Fountaindawg. Fastest and average solve times are shown for each puzzle.
In addition to the graphic jigsaws linked below, you can upload images to create your own puzzles.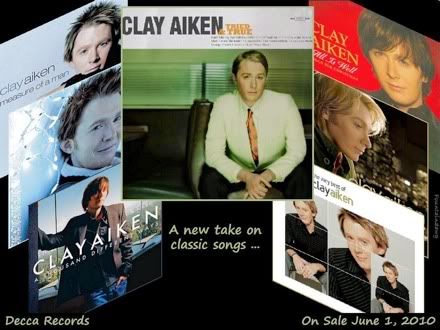 Graphic by Fountaindawg
91-piece online CD puzzle at JigZone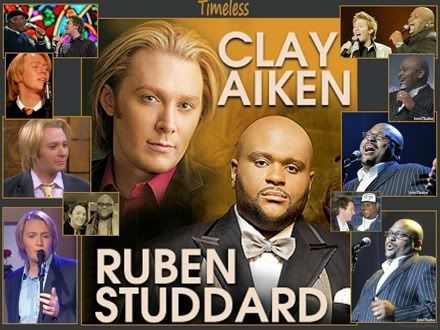 Graphic by Fountaindawg
79-piece online Timeless Tour puzzle at JigZone
One venue of the Clay Aiken-Ruben Studdard 17-city Timeless Tour -- MGM Grand Foxwoods (Marshantucket, CT) -- will begin selling tickets Friday, April 23. The Hammerstein (New York City, NY) and Horseshoe Casino (Hammond, IN), originally set for the 23rd, have rescheduled ticket sales for April 30 and May 21, respectively. The Hammerstein also has designated pre-sale times.
The latest ticket sale information is outlined in the previous Carolina entry. The coast to coast tour, which is now on Clay's Decca site (under "Events"), begins July 23 in Asheville and ends in Biloxi, MS.
PHOTO INTERLUDE: Featured in this clickable interlude are graphics by AmazingCA (1, 2, 3) and LovesClaysVoice, 4. Photos by Jim R. Bounds appear in the second and fourth graphics.
DLTS Fundraiser Concludes Sunday
Supporters of the National Inclusion Project have until 11:59 p.m. EDT Saturday, April 24, to cast a vote and make a donation in Raleigh's annual Dancing Like the Stars fundraiser for the charity co-founded by Clay Aiken and Diane Bubel in 2003.
Biographical information and videos of the participating dance couples are provided at the DLTS link. Every dollar donated counts as one vote toward the contestant of choice with a minimum online bid of $10. Donations are 100 percent tax deductible. Vote and donate for inclusion here.
Sponsored by the Inclusion Project and A Step to Gold International Ballroom, the event will conclude with a 1 p.m. Sunday performance during the Southern Women's Show, emceed by Faye Parker, Clay's mother.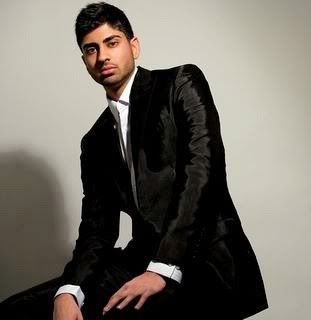 Anoop Desai to perform at fundraiser.
Pop artist Anoop Desai, finalist from the eighth season of American Idol, will perform at the Sunday's finale. The singer's first independently-released EP All is Fair is due out this spring.
New York Teachers Meet Mikayla
The April edition of New York Teacher features an article by Kimberly Rush, "First Person: Mikayla's Voice," chronicling the mother's pride in her daughter's accomplishments and the support the young girl has received from her friends and schoolmates.
Mikayla is our beautiful daughter. Now 15 years old, she was born with profound brain damage resulting in spastic quadriplegic cerebral palsy, severe mental retardation, seizure disorder, legal blindness, hearing impairment, and numerous medical conditions related to her disabilities.

Despite the severity of Mikayla's disabilities, my husband and I have always strived to give her as normal a life as possible. When we moved to Pennsylvania eight years ago, the idea of full inclusion for a child with severe developmental disabilities was relatively new to our school district.

In keeping with our own personal philosophy, we requested that Mikayla be included in a regular first-grade class. This year Mikayla is in eighth grade, still fully included, and very popular with her friends.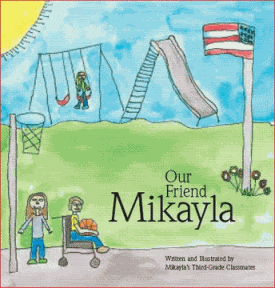 A class project by third-grade students at Lower Nazareth Elementary resulted in the book Our Friend Mikayla, is an honest portrayal of the children's first reactions to Mikayla, their barriers to acceptance, and finally the true friendships they formed with her.

Our Friend Mikayla

was made possible by a grant from the National Inclusion Project, whose mission is to create awareness about the diversity of individuals with disabilities and the possibilities that inclusion can bring.
The book, which makes an excellent gift for teachers, schools, and other children, can be purchased at the Inclusion Project site. Proceeds help fund programs for children with disabilities in other schools and communities.
Spring Recital To Feature Variety
My piano and violin students are polishing pieces for this year's Spring Recital on May 23. In addition to classics, a fiddle tune medley, piano duets, student compositions ("Midnight Sea" and "God's Painting"), and an Evanescence finale ("Good Enough") with piano, violin, and vocalist are planned.
If any of these musicians are reading, go practice, LOL!

Have a wonderful week, Clay Nation!
Caro