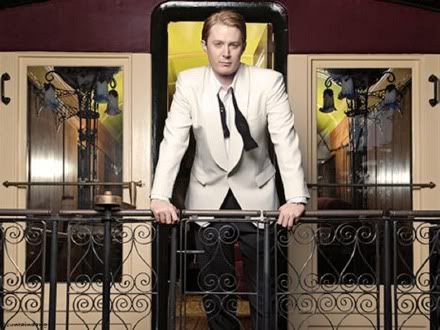 ALBUM PHOTO -- Clay Aiken and the American Tobacco Campus train in Durham, NC, are featured in the first official release from the CD shoot. Photo by Vincent Soyez/graphic by Fountaindawg.
Clay Aiken: Tried & True

CD Photo, Track List Excite Fans
The excitement stemming from Friday's revelation of the first official photo from the Clay Aiken "Tried & True" CD shoot escalated Sunday with an expanded deluxe track list at Amazon, adding "Breaking Up Is Hard To Do" and bringing the album's song total to 13.

The first event has naturally inspired an outpouring of new designs from graphic artists among Clay Aiken fans. The second added a new song, as well as information about participating musicians on the the much-anticipated album scheduled to be released June 1 by Decca Records.

Amazon Deluxe Track List
1. Can't Take My Eyes Off You




2. What Kind Of Fool Am I?

(featuring jazz saxophonist David Sanborn)
3. It's Only Make Believe
4. Misty
5. Mack The Knife
6. It's Impossible
7. Unchained Melody
8. Suspicious Minds
9. Crying (duet with Linda Eder)
10. There's A Kind Of Hush
11. Moon River (featuring Vince Gill)
12. Who's Sorry Now
13. Breaking Up Is Hard To Do
Fountaindawg's opening graphic of Vincent Soyez's train picture is posted below as clickable regular and wide screen wallpapers:



Cotton

's designs of the Vincent Soyez photo shoot picture will enlarge with a click.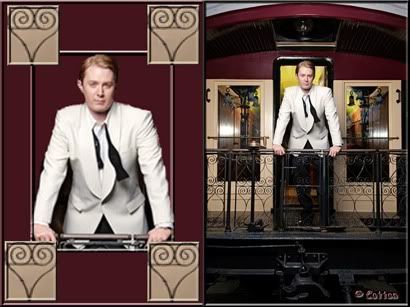 T&T photo by Vincent Soyez (Graphic by Cotton)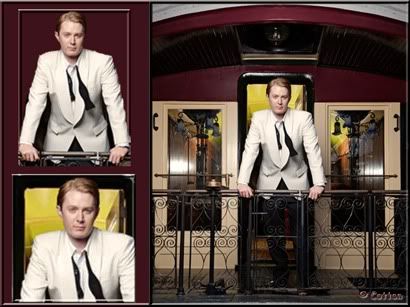 T&T photo by Vincent Soyez (Graphic by Cotton)
'Tried & True' Scores at Decca Site
The interest in Clay's upcoming CD is reflected in the number of visits to the Decca Records Community.
For example, "Tried & True" is currently #2 on the most viewed products list. #1 is the "Mama Mia!" movie soundtrack. Other top 5 albums have tracks available, and CA fans look forward to the the day "T&T" joins the ranks.

Join the Decca site, and you can post T&T reviews are added at the album link. A map of the Timeless Tour is featured under the Events tab on Clay's page.

Among the suggested albums on Clay's page is Here And Gone by David Sanborn, the featured saxophonist on "Tried & True."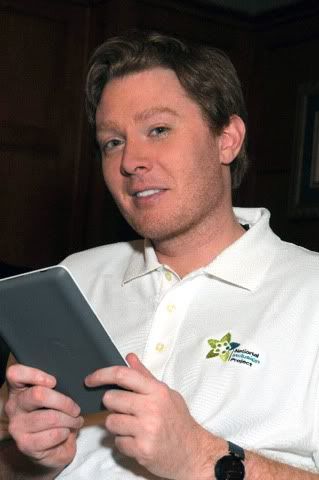 Aiken Photo Promotes B&N Nook
Whether your preference is Kindle, Sony, or Nook, the e-reader most discussed on CA message boards this weekend has been the latter. A photo of the singer taken at Golfing for Inclusion in February is being used to promote the Barnes & Noble e-reader:

CLAY AIKEN AT THE NATIONAL INCLUSION PROJECT - Just before the start of a National Inclusion event held in Florida, singer and actor Clay Aiken stole a few moments backstage to catch up on a little bit of reading on his nook. Clay is a co-founder of the National Inclusion Project.
Cotton

's graphic of the photo is clickable: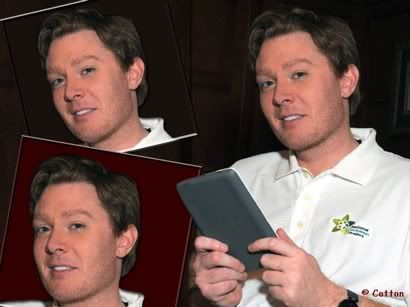 Barnes & Noble graphic by Cotton
145 Countries Dot 'Carolina' Map
Though unscientific, indicators of Clay's worldwide popularity appear daily in the Carolina blog's ClustrMap and Feedjit Live Feed, which register home countries of this site's visitors. Since December 2007, residents of 145 nations have dropped by this corner of the Internet for the latest Clay Aiken news.
New countries since December 2009 include Iraq (Asia); Tunisia, Mauritania, Libyan Arab Jamahiriya, and Angola (Africa); Macedonia, Cyprus, and Armenia (Europe); Saint Kitts and Nevis, Netherlands Antilles, and Nicaragua (North America). Average daily visitors register between 100-500.

WORLDWIDE - Clay Aiken fans span the globe. (Carolina ClustrMap)
The 145 countries representing all continents but Antarctica suggest Clay's fanbase is definitely global with a possible worldwide tour in the offing.

ASIA: Guam, Hong Kong, India, Indonesia, Israel, Japan, Korea, Malaysia, Micronesia, Oman, the Philippines, Saudi Arabia, United Arab Emirates, Singapore, Thailand, Brunei, Qatar, Republic of Korea, Taipei, Taiwan, Vietnam, Pakistan, Iran, Bahrain, Kuwait, Azerbaijan (Baku), Bangladesh, Cambodia, Mongolia, China, Sri Lanka, Lebanon, Maldives, Palestinian Territory, Brunei Darussalam, Asia/Pacific Region, Jordan, Nepal, Yemen; Iraq

AFRICA: South Africa, Egypt, Morocco, Madagascar, Seychelles, Somalia, Kenya, Nigeria, Mozambique, Algeria, Uganda, Mauritius, Burkina Faso, Tunisia, United Republic of Tanzania, Djibouti, Angola, Cote D'Ivoire, Ghana, Congo, Tunisia, Mauritania, Libyan Arab Jamahiriya, Angola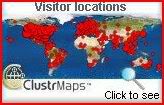 Thumbnail Carolina ClustrMap
Click to view larger version.

EUROPE: Austria, Czech Republic, Denmark, Estonia, Finland, France, Germany, Great Britain, Greece, Hungary, Iceland, Ireland, Italy, Lithuania, Netherlands, Norway, Portugal, Sweden, Romania, Scotland, Slovenia, Spain, Switzerland, Bulgaria, Belgium, Poland, Russian Federation, Luxembourg, Slovakia, Croatia, Serbia, Ukraine, Turkey, Malta, Georgia, Federation of Bosnia and Herzegovina, Sicilia, Andorra, Latvia, European Union, Moldova, Albania, Kazakstan, Macedonia, Cyprus, Armenia

NORTH AMERICA: Canada, Costa Rica, El Salvador, United States, Mexico, Panama, Puerto Rico, Jamaica, Bermuda, Saint Lucia, Guatemala, Nassau, Bahamas, Grenada, Trinidad and Tobago, Dominican Republic, Anguilla, Honduras, Saint Kitts and Nevis, Netherlands Antilles, Nicaragua

SOUTH AMERICA: Argentina, Brazil, Chile, Colombia, Paraguay, Peru, Uruguay, Venezuela, Ecuador, Bolivia

AUSTRALIA: Australia, New Zealand, Tasmania, Solomon Islands

Have a wonderful week, Clay Nation!

Caro

For more information on the "Tried and True" photo shoot, see the March 28 Carolina entry:

Diary Details Clay Aiken Shoot

.