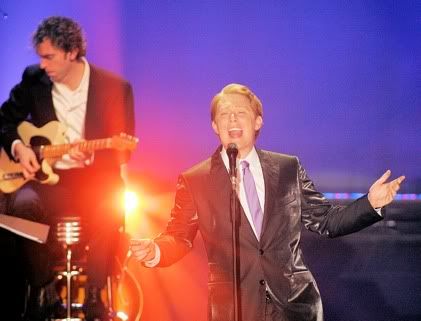 Clay Aiken performs on Raleigh stage. AP Photo/Jim R. Bounds
Dancers To Benefit Inclusion
NC Theatre Slates Fundraiser
Clay Aiken will be among five featured performers for "Bringing Broadway Home," June 21 fundraiser for the North Carolina Theatre Group. Subscriber tickets for the musical evening at Raleigh Memorial Auditorium got underway yesterday with general seating set for Monday, April 19.
In addition to Singer Man, the benefit concert celebrating 27 seasons of Broadway at the NC Theatre will star Lauren Kennedy, Sharon Lawrence, Terrance Mann, and Quiana Parler. Brief bios of all five are printed below.
Tuesday afternoon WRAL's Out and About column and Playbill posted stories promoting the NC Theatre benefit. Broadway World is also featuring the release, Aiken Joins Broadway Stars for NC Theathre Concert:
North Carolina Theatre, the region's only producer of professional Broadway musical revivals, announces "Bringing Broadway Home," a spectacular benefit concert on Monday, June 21st at 8 PM in Raleigh Memorial Auditorium at the Progress Energy Center for the Performing Arts in downtown Raleigh.

This one-night-only event will celebrate 27 seasons of Broadway at North Carolina Theatre and will feature Clay Aiken, Lauren Kennedy, Sharon Lawrence, Terrence Mann and Quiana Parler.

Clay Aiken is a multi-platinum recording artist and is set to release his sixth album, Tried and True, this summer.

Since his meteoric rise to fame on the hit TV show American Idol in 2003, Aiken has launched eight tours, authored a New York Times best-selling book called Learning to Sing: Hearing the Music in Your Life, starred on Broadway in Monty Python's Spamalot, and has guest starring roles in TV's Scrubs, 30 Rock, and Saturday Night Live.

Before all of these accomplishments and more, Aiken performed on the North Carolina Theatre stage in Shenandoah and 1776 in 1996.

Cotton

, a Clay Aiken fan from North Carolina, outlined the following plan for those who would like to secure tickets during this week's NCT membership pre-sale. Pricing is shown on the double-clickable flier above.
For the subscriber membership, you can buy two of the three shows offered in the Mini Pack (Cinderella, Annie, Little Shop of Horrors). You have to order tickets for specific shows and locations (i.e., Sun Aug 1 2PM, Mezz).

If you choose weeknights and balcony, you can become a subscriber for $100 or so plus fees. A weekend ticket subscription comes to around $120. I was able to buy eight benefit tickets Tuesday morning with no problem.
NC Theatre on Facebook suggests: Call 919-831-6941 x6943 or x6944. Hurry - tickets are going FAST!

Benefit To Celebrate 27 Seasons

Abbreviated bios and clickable photos of the five featured NC Theatre fundraiser performers are printed below. Their benefit concert will celebrate the theatre's 27 seasons. The above flier is double clickable. CLAY AIKEN, a Raleigh native, rose to fame in 2003 as the runner-up on the second season of American Idol. The multi-platinum singer has recorded five albums with RCA Records; and his first CD with Universal Decca, "Tried and True," is scheduled for release June 1.
Aiken has launched eight North American tours and performed on a variety of holiday, comedy, and talk shows on television. His 2008 Broadway debut as Sir Robin in Monty Python's Spamalot received rave reviews from audiences and critics alike.
The singer won honors in North Carolina when he performed "This Is The Moment" from Jekyll and Hyde. In 1996, he performed on the NC Theatre stage in Shenandoah and 1776.

LAUREN KENNEDY, a native of Raleigh, is an actress and singer who has performed many roles on Broadway. She most recently originated the role Off-Broadway at Second Stage last summer.

Among her Broadway roles include Lady of the Lake in "Spamalot," Fantine in "Les Miserables," and Betty Schaefer in "Sunset Blvd." Kennedy is a member of the Board of Directors at The North Carolina Theatre, an Artistic Advisor at Farmer's Alley Theatre, and Producing Artistic Director at Hot Summer Night's at The Kennedy.


SHARON LAWRENCE
, a seasoned stage actress, Sharon Lawrence was recently nominated for an Ovation Award and won the LA Drama Critics Circle Award for her acclaimed performance as Vivian Leigh in Pasadena Playhouse's Off-Broadway hit "Orson's Shadow." Her last Broadway appearance was as Velma Kelly in "Chicago."

Among her many TV credits are NYPD Blue, Desperate Housewives, Monk, Law and Order:SUV, Grey's Anatomy, and Curb Your Enthusiasm. She will star in a new comedy pilot for CBS entitled Hitched.

TERRENCE MANN
made his big break-through in the original Broadway cast of Andrew Lloyd Webber's Cats, playing the lead role of Rum Tum Tugger. Other Broadway performances include Javert in the original Broadway cast of Les Miserables, Beast in Beauty and the Beast, and Chauvelin in The Scarlet Pimpernel.

Mann is currently playing the role of Mal Beineke in The Addams Family, which opened on Broadway on April 8.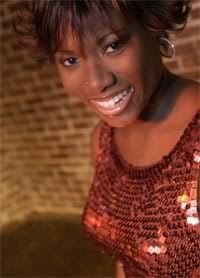 Quiana Parler
QUIANA PARLER
, a native of Charleston, SC, began her professional career singing for Calvin Gilmore of the "The Carolina Opry." In 2003 she parlayed a Top 48 placement on American Idol Season 2 into touring vocalist with Clay Aiken.
Parler's vocals can be heard on albums by Clay, Bianca Ryan, and Renee Olstead. She has recorded with some of the industry's most respected producers and performed on numerous national television programs. She debuted in 2008 as Effie in the NC Theatre production of Dreamgirls.

After years on the road, the singer has returned home and assembled an incredible group of players and singers. Quiana Parler and Friends is an exciting, interactive band, a group with deep-rooted musical sophistication and an extremely diverse song list that travels throughout the USA and abroad.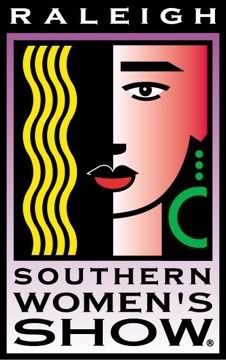 Celebs Dance for Inclusion Project
In an annual benefit for the Foundation, the National Inclusion Project and A Step to Gold International Ballroom will co-host Dancing Like the Stars at Raleigh's Southern Women's Show on April 25.
Local celebrity participants have been practicing with their professional dance partners to provide great entertainment for the show attendees. Bios of the celebrity participants and their dance partners, as well as each couple's practice video, are provided here.
DLTS participants include Renee Chou (weekend morning anchor/reporter for WRAL-TV) and Dan Barber; Billy Dukes (music director/night DJ at 94.7 WQDR) and Kay Truitt; Scott Fitzgerald (WPTF 680AM radio personality, author, playright) and Melanie Dale; Bill Reh (meteorologist for NBC-17) and Amanda Shannon; Tina Seldin-Cash (WRAL TV) and Mike Gepner.
After watching the practice videos, use this link to vote for your favorite couple and make a donation to the National Inclusion Project. Every dollar donated will count as a vote towards the contestant of your choice (minimum online bid of $10).
Donations are 100 percent tax deductible. Voting will end at 11:59 EDT Saturday, April 24.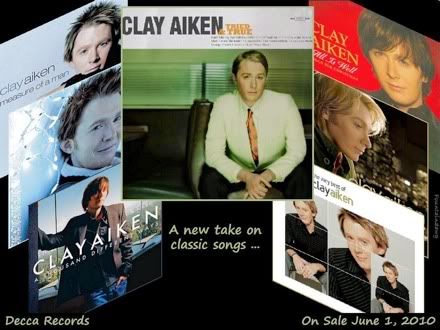 A MUSICAL STROLL - Founaindawg's latest graphic highlights Clay Aiken's six RCA albums and the much anticipated June 1 release with Decca, "Tried & True."
Fans on TNT Snippet Alert
Clocks have slowed to Larghissimo and Lenton assai tempi as time draws near for Amazon to post snippets of the upcoming "Tried & True" CD tracks. You can bet CA fans are staying in close contact with sites that will soon reveal smidgens of the new album's songs.
Another safe bet would be the Clay Aiken page at Decca Records.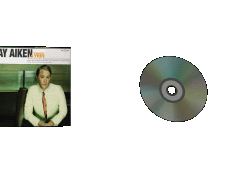 Animation by gerwhisp
Larghissimo and Lento assai are slower than Largo, Lento, and Grave. I know I'm ready for the Vivace, Vivacissimo, and Vivacissimamente variety. How about you?
Below is a clickable of Fountaindawg's wallpaper: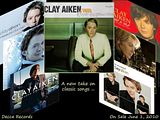 Have a great week, Clay Nation!
Caro