Clay and Ruben Together Again
Montage by LovesClaysVoice
Link to YouTube for full page view.
Download video with this Sendspace file.
Summer 2010 Timeless Tour

Ticketmaster Tango on the Move
The Ticketmaster Tango for the summer's Timeless Tour by Clay Aiken and Ruben Studdard officially got underway in the wee hours Tuesday as fans unexpectedly discovered a "live" purchase button for the Chautauqua Institution venue.
Word quickly spread throughout the fan club network, and the stressful ticket-buying dance began ...
I can't get the purchase page to give me a link for Asheville tickets! Is anyone else having this problem? ... Now the page has crashed! HELP!!! ... Tickets for Chautauqua went on sale at midnight with no warning or announcement!!!

If anyone in the US can help, the Chautauqua site seems to be throwing errors for Canadians. I can paypal the money immediately! . . . This is insane. I can't even get through without the site crashing.

This is a freaking nightmare. Biltmore crashes, and the phone line is constantly busy ... I got tickets!!!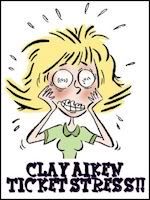 Got reserved and did it online. I was on hold when the web page started working again ... I can't believe we got second row center seats! That never happens for me!!!

What a ticket mess -- couldn't get through on the phone and by the time I finally got online, the premium tickets were gone. Oh, well, we're in the door!

It's a good frakkin' thing I love this guy!
Tickets on Sale at Five Venues
Kicking off July 23 in Asheville, NC, Clay and Ruben will take their Timeless Tour to 17 cities across North America. This is the first time the two artists will tour together.
Tickets for the 17-city summer tour are on sale this week at the following sites:

Biltmore Estate: Ashesville, NC, July 23, 8 p.m. Tickets on sale NOW!

Concert is Friday, July 23, 8 p.m. EDT. Tickets became available through the estate at 8 a.m. Tuesday, April 6. Use the above link or call the box office: 800.411.3812 or 828.225.1333.

Silver Legacy Casino: Reno, NV, July 31, 8 p.m. PDT. Tickets on sale NOW!
Concert is Saturday, July 31, 8 p.m. PDT. Tickets availabe through Ticketmaster, or call the site: 800.687.8733.

Chautauqua Institution: Chautauqua, NY, Aug. 6, 8:15 p.m. Tickets on sale NOW!

Concert is Friday, Aug. 6, 8:15 p.m. (Eastern). Unannounced, Chautauqua tickets went on sale around 11 p.m. Monday night. Use the aboe link, or call the box office: 716.357.6250.

The Florida Theatre: Jacksonville, FL, July 24. Tickets on sale Friday, April 9.

Concert is Saturday, July 24, 8 p.m. in Jacksonville's Florida Theatre. Tickets will be available Friday, April 9, at 10 a.m. EDT online through Ticketmaster or by calling the box office (904.355.2787).

Turning Stone Resort and Casino Showroom: Verona, NY, Aug. 12. Tickets on sale Friday, Aug. 9.

Concert is Thursday, Aug. 12, 8 p.m., at Turning Stone. Tickets will be available at Friday, April 9, at 10 a.m. EDT through Ticketmaster. Site phone numbers (800.771.7711, 315.361.7711)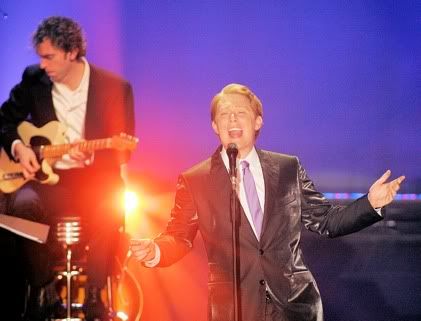 Clay performs in Raleigh Concert. AP photo/Jim R. Bounds
Decca To Unleash Incredible Voice

So what's all the excitement about? PermaSwooned described it best in a message board post about Clay's March 12 PBS Special taping, a prelude to to the June 1 release of "Tried & True, his first album with Decca Records. The special airs this summer.
The thing I tried to tell everyone who would hold still for it was that Clay was able to do things that no one else on today's music scene could do. He got both praise and pans for his unique phrasing, but I loved it.

Clay could bring out the meaning of the lyrics because he could tie two phrases together without a break. He could do that because he had amazing breath control.
Most other singers couldn't do that if they wanted to because they couldn't sustain a phrase that long. It made him unique. He could dramatize a song because he could change keys and head for the stratosphere because he had no serious breaks between his lower, middle and higher registers.

Me, I always had to at least take a breath between B natural and C because I had a break between registers the size of the Grand Canyon.



Gif by ezz

He could change key for drama also because he had a HUGE range. Two octaves in a song?? Child's play. Just wait until you hear the four key changes in "Build Me Up, Buttercup" from the taping. Left me breathless, as well as Clay!

So when the PBS taping started and he grabbed ahold of that microphone and bit into "Mack The Knife" with everything he had and more, I was just ecstatic.

And when he finished it with that endless last note, I leaped to my feet with tears pouring down my face because finally, FINALLY a label was going to unleash him and let him just let it rip!

And he did! And it was incredible!!! And NO ONE was going to mistake him for anyone else. That was CLAY AIKEN, truly one of a kind!
Below are clickables of graphics by

Fountaindawg

relating to the Summer 2010 Timeless Tour of Clay and Ruben:
Summer 2010 Tour: Concert List
Jul-23 - Asheville, NC - Biltmore Estates (Tickes on sale NOW)
Jul-24 - Jacksonville, FL - Florida Theater (Tickets on sale April 9)
Jul-25 - Melbourne, FL - King Center For Arts (Ticket sale: TBA)
Jul-26 - Clearwater, FL - Ruth Eckerd Hall (Tickets: TBA)
Jul-29 - Snoqualmie WA - Casino- Mountain View Plaza (Tickets: May 8)
Jul-31 - Reno, NV - Silver Legacy Casino (Tickets: NOW)
Aug-01 - Los Angeles, CA - Club Nokia (Tickets: May 7)
Aug-03 - Milwaukee, WI - Potawatomi Casino (Tickets: TBA)
Aug-05 - Windsor, ON - Caesar's (Tickets: TBA)
Aug-06 - Chautauqua, NY - Chautauqua Institution Amphitheatre (Tickets: NOW)
Aug-07 - Mashantucket, CT - MGM Grand Foxwoods (Tickets: April 23)
Aug-08 - Lancaster, PA - American Music Theater (Tickets: TBA)
Aug-10 - Hampton Beach, NH - HB Casino (Tickets: April 14)
Aug-11 - New York, NY - Hammerstein (Tickets: April 23)
Aug-12 - Verona, NY - Turning Stone Casino (Tickets: April 9)
Aug-13 - Hammond, IN - Horseshoe (Tickets: TBA)
Aug-14 - Biloxi, MS - Beau Rivage (Tickets: TBA)

For up-to-date information/links, see Clayonline News, Ticketmaster, and (via Google) the concert sites.

Have a wonderful week, Clay Nation!

Caro