Season 10 Dancing With the Stars - Viennese Waltz
With Clay Aiken singing 'Everything I Have'
Montage by LovesClaysVoice
More Venues To Sell Tickets
Video Pairs DWTS, Aiken Vocals
Hampton Beach, NH, and Beau Rivage, MS, venues will this week be among the seven Clay Aiken-Ruben Studdard "Timeless Tour" sites selling tickets. Contact info for the new locations has been added to the listing below.
The opening Everything I Have montage by LovesClaysVoice pairs the beatiful vocals of Clay Aiken with three popular Dancing with the Stars couples from Season 10's recent renditions of the Viennese Waltz.
The dancers include Nicole Scherzinger and Derek Hough, Jake Pavelka and Chelsie Hightower, and Evan Lysacek and Anna Trebunskaya.
EIH is a track from Clay's A Thousand Different Ways album. The montage can be viewed in the player above or full screen at YouTube. You can download the montage with this Sendspace file.
NH, MS Venues To Sell Tickets
When Hampton Beach and Beau Rivage open for business on April 14 and 16, respectively, seven of the 17 venues of the three-week summer tour of Clay Aiken and Ruben Studdard will be dispersing tickets.
Hampton Beach will begin selling tickets to Insider Club Members at 10 a.m. EDT Wednesday, April 14, in person at the box office or by phone (603.929.4100). General public tickets will go on sale Friday, April 16.
Beginning at 9 a.m. CDT on April 16, Beau Rivage will sell tickets through Ticketmaster and via phone at the casino (888.566.7469, 888.567.6667).
The 17 Timeless Tour concert sites are linked below. For up-to-date information on ticket sales, see Clayonline News, Ticketmaster, and the concert sites.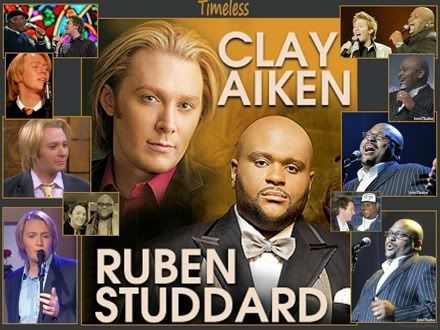 TIMELESS - Clay and Ruben (Graphic by Fountaindawg)
2010 Timeless Tour: Concert List
Jul-23 - Asheville, NC - Biltmore Estate (Tickets on sale NOW)
Jul-24 - Jacksonville, FL - The Florida Theater (Tickets on sale NOW)
Jul-25 - Melbourne, FL - King Center For Arts (Ticket sale: TBA)
Jul-26 - Clearwater, FL - Ruth Eckerd Hall (Tickets: TBA)
Jul-29 - Snoqualmie WA - Casino- Mountain View Plaza (Tickets: May 8)
Jul-31 - Reno, NV - Silver Legacy Casino (Tickets: NOW)
Aug-01 - Los Angeles, CA - Club Nokia (Tickets: May 7)
Aug-03 - Milwaukee, WI - Potawatomi Casino (Tickets: TBA)
Aug-05 - Windsor, ON - Caesars Windsor (Tickets: TBA)
Aug-06 - Chautauqua, NY - Chautauqua Institution Amphitheatre (Tickets: NOW)
Aug-07 - Mashantucket, CT - MGM Grand Foxwoods (Tickets: April 23)
Aug-08 - Lancaster, PA - American Music Theatre (Tickets: TBA)
Aug-10 - Hampton Beach, NH - Hampton Beach Casino (Tickets: April 14)
Aug-11 - New York, NY - The Hammestein (Tickets: April 23)
Aug-12 - Verona, NY - Turning Stone Casino (Tickets: NOW)
Aug-13 - Hammond, IN - Horseshoe Casino (Tickets: TBA)
Aug-14 - Biloxi, MS - Beau Rivage (Tickets: April 16)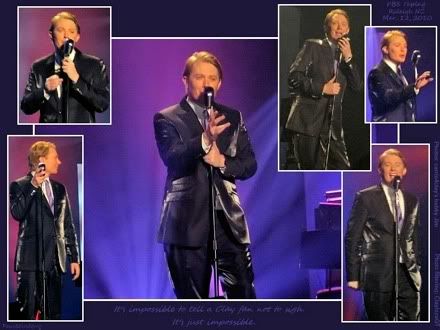 Clay performs for PBS Special. (Fountaindawg graphic/photos Jim R. Bounds)

TNT CD/DVD Set List a Hot Topic
Both Amazon and New Music Tipsheet have three listings for "Tried and True," Clay's CD set to drop on June 1. They include a CD, a CD/DVD combo [Deluxe Edition] and the single DVD, for which Clay is listed as director.
The CD's playlist parallels songs performed during the PBS Special concert in Raleigh March 12; so fans have fingers crossed that the video represents a similar set.
According to the new album cover, CD tracks include Can't Take My Eyes Off You / What Kind of Fool Am I? / It's Only Make Beleive / Misty / Mack the Knife / It's Impossible / Unchained Melody / Suspicious Minds / Crying / A Kind of Hush / Moon River.
Not counting the Big Band Medley performed during PBS taping, that leaves You're Just Too Good To Be True / You Don't Have To Say You Love Me / Eso Beso / Who's Sorry Now / I'll Take Romance / Breaking Up Is Hard To Do / Build Be Up Buttercup / In My Life in the "available column" also.
See the complete concert set list in the 3/13 Carolina blog: Clay Aiken PBS Concert Magical.
Fandom Sleuths Cover Bases
Facebook members are keeping a watchful eye on several sites: PBS, International Media, Decca Label Group, Decca Records, Clay Aiken. The same is true at Twitter.
Another much-visited portal in the information search is the recently-opened Clay Aiken page at Decca.
While "suspicious minds" speculate about the DVD's fare, only time will tell, which --according to the countdown clocks throughout Clay Cyberspace -- is a mere 50 days away today!
Below are regular/wide screen clickables of Fountaindawg's "Timeless" and "It's Impossible" graphics plus the high resolution TNT cover edit by cindilu2:
Have a wonderful week, Clay Nation!
Caro