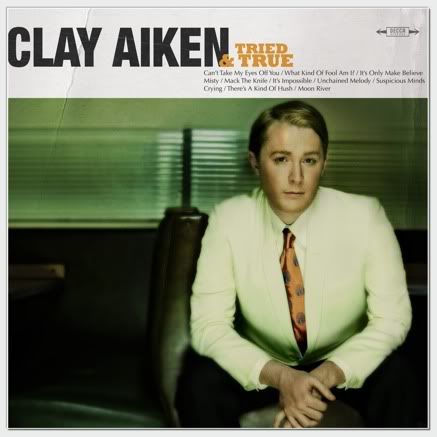 Decca reveals new TNT cover. (High resolution edit by cindilu2)
Label Requests Fan Opinions
'Tried & True' Train Leaves Station
The "Clay Aiken: Tried & True" promo train is leaving the station!
In the past two days, Decca Records has replaced the CD's cover photo and begun constructing the singer's page at the label website.

Decca has even asked @ClayAiken fans their opinion about the new TNT cover art via Twitter. As expected, the CA fandom's responses are running the gamut. One person asked what happened to Clay's green eyes; others offered additional editing suggestions; and another hinted for a single soon!
At the New Music Tipsheet, there are three specific "Tried & True" listings for June 1: a CD, a CD-DVD combo (deluxe edition), and a DVD.
The Clay Aiken page at Decca's website currently includes the cover shot and several fan "reviews." Biographical info and news will be added, along with media, photos, and a player that stands ready to help promote selected tracks of the new TNT album.
Cindilu2, Kareneh, ClaySTO, Cotton, and SueReu are among the visual artists who expanded and/or edited the new cover. Their clickables/double clickables are posted below:

Inclusion Project Goes International
It won't be long before the National Inclusion Project might have to change the first word of its name to "International." According to an includingkids tweet on Thursday morning, the Project met with with visitors from Oman's Ministry of Education to talk about Let's All Play.

A couple of hours later, the word was:
How about this? Let's ALL Play and Together We Make a Difference in Arabic? Yep! Possible training in Oman? Yep!
Timeless Tour Tickets on Sale
Word of the three-week, 17-city summer tour of Clay Aiken and Ruben Studdard has spread like wildfire and not a minute too soon. Five sites are already selling tickets with more set to start next week.
All 17 concert sites are linked below. For up-to-date information on ticket sales, see Clayonline News, Ticketmaster, and the concert sites. The Hampton Beach site is featuring a video of the AI2 finale duet by Clay and Ruben, "Ain't No Stopping Us Now."
One of the most attractive advertisements for the "Timeless Tour" appears on the Lancaster, PA, website:
Clay and Ruben are coming to the

American Music Theatre

in central PA (Aug. 8, 7 p.m.)!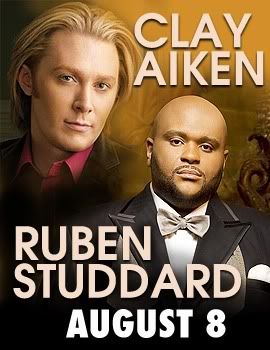 Timeless Tour at Lancaster, PA, site.
Summer 2010 Tour: Concert List
Jul-23 - Asheville, NC - Biltmore Estate (Tickets on sale NOW)
Jul-24 - Jacksonville, FL - The Florida Theater (Tickets on sale April 9)
Jul-25 - Melbourne, FL - King Center For Arts (Ticket sale: TBA)
Jul-26 - Clearwater, FL - Ruth Eckerd Hall (Tickets: TBA)
Jul-29 - Snoqualmie WA - Casino- Mountain View Plaza (Tickets: May 8)
Jul-31 - Reno, NV - Silver Legacy Casino (Tickets: NOW)
Aug-01 - Los Angeles, CA - Club Nokia (Tickets: May 7)
Aug-03 - Milwaukee, WI - Potawatomi Casino (Tickets: TBA)
Aug-05 - Windsor, ON - Caesars Windsor (Tickets: TBA)
Aug-06 - Chautauqua, NY - Chautauqua Institution Amphitheatre (Tickets: NOW)
Aug-07 - Mashantucket, CT - MGM Grand Foxwoods (Tickets: April 23)
Aug-08 - Lancaster, PA - American Music Theatre (Tickets: TBA)
Aug-10 - Hampton Beach, NH - Hampton Beach Casino (Tickets: April 14)
Aug-11 - New York, NY - The Hammerstein (Tickets: April 23)
Aug-12 - Verona, NY - Turning Stone Casino (Tickets: April 9)
Aug-13 - Hammond, IN - Horseshoe Casino (Tickets: TBA)
Aug-14 - Biloxi, MS - Beau Rivage (Tickets: TBA)
Tornado Talk Starts Music Lessons
When music students returned for piano/violin lessons after Spring Break, several who had been in the path of the Triad's Palm Sunday tornadoes first had to to share their storm stories. Having lived in West Texas for several years, their teacher has a few of her own.
In 2008, I included recollections of the Lubbock Tornado of 1970 in a Carolina blog. Warnings that I should get to the storm cellar went unheeded, and I unwisely rode out the center of the F-5 storm in a mobile home.

One of the most interesting twists of the this tornado occurred at the Lubbock Club where my husband, a Texas Tech student at Texas Tech, worked as maitre d' part-time.
Betty, keyboardist in a duo performing at the Lubbock Club, was using a wonderful old fake book that my husband had discovered in a long-forgotten pile in a symphony rehearsal hall.

Patrons and employees alike had evacuated the Lubbock Club in haste the night of the tornado.

A month later when the musicians returned for the club's reopening, Betty apologized for just leaving that wonderful old book of tunes on the organ.

She was flabbergasted when Mr. Caro explained that the tornado had apparently closed the book and placed it safely beside the organ pedals.
I still own the infamous fake book, which this week served as a great segway from tornadoes to the music at hand.
Have an awesome weekend, Clay Nation!
Caro