TOGETHER AGAIN - Clay Aiken and Ruben Studdard have announced venues of this summer's 17-city "Timeless Tour." Collage by Fountaindawg.

TNT Cover, Tracks Released (NEW!)
Clay, Ruben Announce 'Timeless Tour'
No fooling, Clay Aiken and Ruben Studdard confirmed in an April 1 announcement on their respective fan club sites that they will hit the road together for three weeks this summer, taking their "Timeless Tour" to 17 cities throughout North America.
UPDATE: Scroll down for the "Tried & True" cover, track list, and Movers & Shakers ranking at Amazon.

In their first tour together, Clay and Ruben will kick off the "Timeless" agenda in Asheville, NC, July 23, and perform at such famed venues such as New York's Hammerstein Ballroom, LA Nokia Live in Los Angeles, and Pennsylvania's American Music Theater.
"I couldn't ask for a better tour mate. To be able to share the stage with him again is so exciting," said Clay Aiken. "He is such a talented artist. He inspires me daily and I think that respect and admiration will truly be reflected in our show."

"It is truly a blessing and an honor to be on the stage with my friend," said Ruben Studdard. "The relationship that we have built over these past eight years will definitely translate into a great show for our fans. And I'm really looking forward to singing the timeless classics every night."

Concert goers can expect an entertaining evening as two friends and colleagues blend their talents for an unforgettable show. Clay and Ruben will be performing their renditions of classic hits from the past five decades. Fans can look forward to duets and special surprises throughout the tour.

In 2003, on the second season of American Idol, with over 24 million votes cast by the TV viewing audience, Ruben Studdard won the title, while Clay Aiken was the very close runner up.

The two became instant friends and have shared the joys and pressures of their success over the past seven years. Since Idol, both artists have released albums, performed around the country, and made multiple appearances on TV.
Wednesday night Ruben appeared on American Idol 9 to sing his current single, "Don't Make 'Em Like You No More." He also plugged this summer's "Timeless Tour."



Ruben Plugs Tour on Idol

The singers plan to perform separately and in tandem. They also promise surprise guests at different tour stops. Listed below are tour dates as of March 28:
CURRENT TOUR DATES

:


Jul-23 - Asheville, NC - Biltmore Estates
Jul-24 - Jacksonville, FL - Florida Theater
Jul-25 - Melbourne, FL - King Center For Arts
Jul-26 - Clearwater, FL - Ruth Eckerd Hall
Jul-29 - Snoqualmie WA - Casino- Mountain View Plaza
Jul-31 - Reno, NV - Silver Legacy Casino
Aug-01 - Los Angeles, CA - Club Nokia
Aug-03 - Milwaukee, WI - Potowanami Casino
Aug-05 - Windsor, ON - Caesar's
Aug-06 - Chautauqua, NY - Chautauqua Institution Amphitheatre
Aug-07 - Mashantucket, CT - MGM Grand Foxwoods
Aug-08 - Lancaster, PA - American Music Theater
Aug-10 - Hampton Beach, NH - HB Casino
Aug-11 - New York, NY - Hammerstein
Aug-12 - Verona, NY - Turning Stone Casino
Aug-13 - Hammond, IN - Horseshoe
Aug-14 - Biloxi, MS - Beau Rivage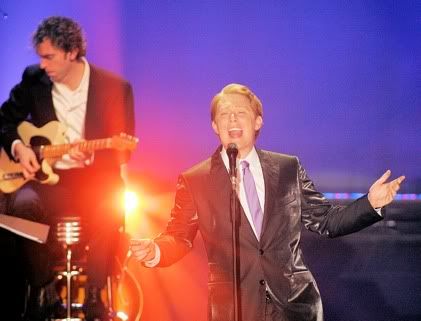 Clay at March 12 PBS Special concert taping. (Jim R. Bounds).
The Timeless Tour, which has also been tagged "Time to Soar" and "The Cluben Tour," is already receiving media buzz. Wednesday night
The Marquee Blog
(CNN) included this blurb:
I forgot that Ruben Studdard was performing tonight. He sings his new single, "Don't Make Them Like You," and he looks good. He's still the Velvet Teddy Bear, but now there is less stuffing.

He's going on tour with Clay Aiken, and I can't wait to see them on stage together again.
A few of the many websites featuring the Timeless Tour story include:

Clay Aiken, Ruben Studdard To Tour Together (Billboard)
Clay Aiken & Ruben Studdard's 'Timeless' Tour (Pollstar)
Aiken, Studdard to hit road together (USA Today/includes poll)
Clay Aiken Tour 2010 (lalate)
Ruben Studdard to tour with Clay Aiken (celebs.gather.com)
American Idol's Clay Aiken and Ruben Studdard Reunited! (eOnline)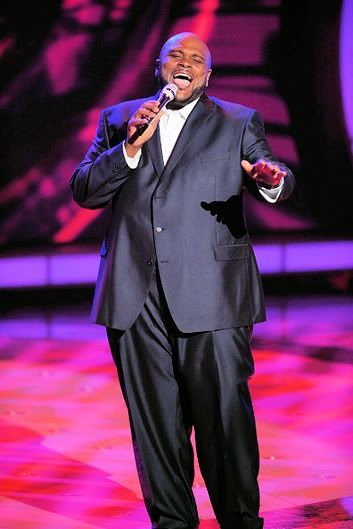 Ruben performs at Wednesday's AI9 show. (Fox Photo)
The Speakeasy blog (Wall Street Journal) about Season 9's Top 10 elimination opened with the Ruben-Clay tour news:
First off, Season Two champion Ruben Studdard paid a visit to the set. How long does Idol hold on to these former contestants! Tough to say whether the slimmer Velvet Teddybear was going for R&B, pop or gospel this time.
Like a lot of returning heavyweights, he was polished. Wow, Ruben is going on tour with Clay Aiken. Those two deserve a buddy comedy.
For more information and to purchase tickets, visit the singers' websites: Ruben Studdard

and

Clayonline.
Below are clickable Clay-Ruben wallpapers by
Fountaindawg
. The first two are the regular and widescreen versions of the opening art.
TNT Cover, Track List Set

Breaking news continued into Thursday night when the Tried & True 50's retro cover and track list were released at Amazon.
Clay Aiken: Tried & True tracks include:

Can't Take My Eyes Off You, What Kind of Fool Am I, It's Only Make Believe, Misty, Mack the Knife, It's Impossible, Unchained Melody, Suspicious Minds, Crying, There's a Kind of Hush, and Moon River.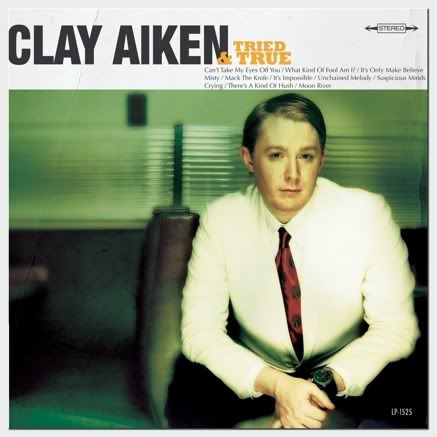 With all the tour and CD news, April 1 seemed a bit like Christmas Day. At 10:30 a.m. Friday, TNT was #6 in Amazon's Movers & Shakers list. Within a couple of hours, it was #1.

Have a wonderful weekend, Clay Nation!

Caro