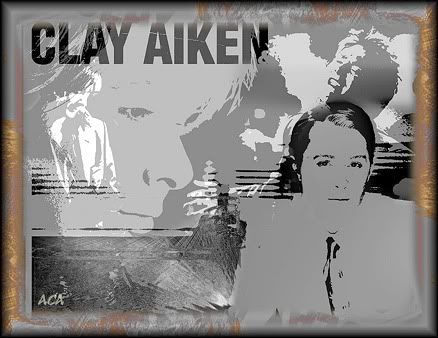 MAGIC MOMENTS - In addition to the cover of Tried & True, AmazingCA's graphic recalls memorable events of singer Clay Aiken's career.
AI Appearance Just a Rumor
Aiken's CD Release Days Away
With less than a week remaining before Clay Aiken's Tried & True album drops on June 1, fans are putting finishing touches on CD release parties and online listening gatherings while staying abreast of the latest reviews, appearances, and spin surrounding the singer's new music.

Longer previews of T&T tracks went live at Decca Records Tuesday, and this computer joined many throughout Clay Cyberspace in playing them non-stop.
Clay is a confirmed guest for Good Mornng America and The Joy Behar Show on June 1 and The View the following morning. Check local listings for air times.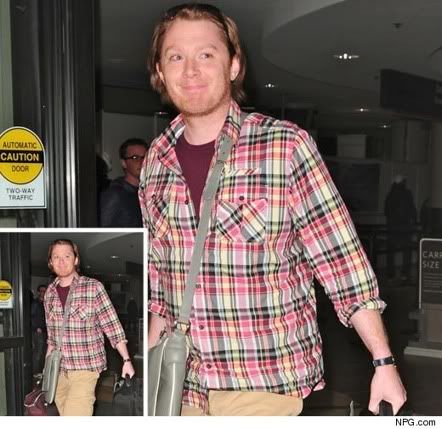 Clay's arrival at LAX sends speculation over the top.
Hints, Tweets Spell AI9 Surprise
Clay Aiken arrived at LAX Monday, setting off all kinds of speculation RE a possible appearance during American Idol's finale and causing "Idol Found, Game Over" fans to program taping devices.
For most fans, the fact that Quiana Parler is in California with Clay and Ruben tweeted that he was flying off to "visit some family" completes the puzzle.
During Tuesday's sing-off between Season 9's top two contestants, host Ryan Seacrest promised lots of surprises for the two-hour finale Wednesday.
Now, the morning after, fans know there was nothing Clay-like about the American Idol finale.
A Lad in Plaid

Clay Aiken arrives at LAX airport on Monday (May 24) in Los Angeles.

The 31-year-old singer is gearing up for the release of his new album, Tried and True, on June 1! Clay and Ruben Studdard will also be hitting the road this July for a summer tour featuring classic songs!
Read more and view additional pictures of Clay and Quiana in Santa Monica at Just Jared, Pacific Coast News Online, and People StarTracks.
Idol Jumps the Shark
In Season 9: Idol Jumps the Shark, Michael Glitz of The Huffington Post provides a blow by blow of this year's results and performance shows:
One of the strengths of Idol is that you don't need to win in order to launch a career -- see Jennifer Hudson, Clay Aiken, Daughtry and many others.

[snip]



But Crystal is gonna pull a Clay Aiken on him and deliver the goods. They can both flourish in their careers but there can be only one American Idol and to everyone's surprise, it was Lee.

AI2 Maintains Ratings Crown
When AI Finale ratings are compared, Season 2 is "still the one":
AI09/2010:

24.2 M

(overnights; final tally due soon)
AI08/2009:

28.8 M


AI07/2008:

31.7 M


AI06/2007:

30.7 M


AI05/2006:

36.4 M


AI04/2005:

30.3 M


AI03/2004:

28 M


AI02/2003:

38.1 M


AI01/2002:

22.5 M
PHOTO INTERLUDE: Below are clickables of graphics by AmazingCA, 1 and 3, and Fountaindawg, 2.
The Examiner Rates 'T&T' 8.7/10
Monday's Examiner spotlighted several artists with LP's dropping on June 1, all of which can be read at this Sneak REVIEW link:
Clay Aiken Tried & True (Decca)

This is Clay's fifth studio album, and it features classic songs from '50s and '60s. The American Idol Season 2 runner-up does have a great ear for good melodic songs.

To wit, Tried & True cuts like "Can't Take My Eyes Off You," "Moon River," "Crying," Herman's Hermits' much-under-appreciated "There's a Kind of Hush," "Suspicious Minds" and "Misty."

Aiken also includes two songs he made his signatures on Idol: "Unchained Melody" and "Mack the Knife," which are the perfect vehicles for his soaring vocals. Congrats, Clay Nation, your idol will be out on the road with Ruben Stoddard this summer.

IN OTHER WORDS: Love his style or not, Clay's a great vocalist, and these terrific selections are right up his alley.

Sneak REVIEWs ANTICIPATION RATING: 8.7/10
Add to this the Billboard review in the previous Carolina entry and T&T is deservedly receiving music industry approval.
MARK YOUR CALENDAR
May 26: American Idol Finale (LOL, so much for rumors!)
June 1: Tried & True CD drops
June 1: Good Morning America (7 a.m. ET, ABC)
June 1: The Joy Behar Show (9 pm ET, CNN Headline News)
June 2: The View (11 a.m. ET, ABC)
June 12: Chicago preview of Clay Aiken - Tried & True: LIVE! (WTTW11, 7 p.m. CDT)
July 23-Aug 14: Timeless Tour
Spring Recital "clack" is gradually coming together, so look for a recap in the next blog. Below is a photo of Chase, a cool-headed first-year pianist of 8. Special thnx to Sally for assisting with the edit.
Chase's final spring lesson Tuesday followed a class picnic, and Sunday's suave, polished performer was completely hidden beneath a full palette of face paint.
Have a wonderful week, Clay Nation!

Caro