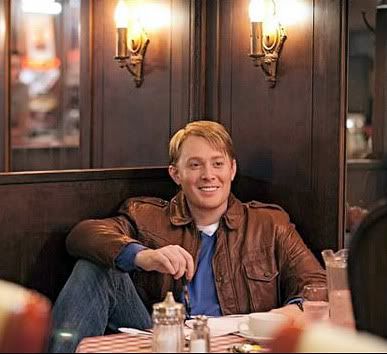 THE BOOTH or THE JACKET - Clay Aiken photo by Vincent Soyez
Nashville Responds to Tragic Flood
Int'l Media Photos Delight Fans
International Media added three new photos to the Clay Aiken Tried & True Live! page Tuesday, boosting fan excitement to higher orbits. Celebrations continue, and message board posts filled with EEEEE's are naturally the norm.
Due to width limitations of this template, the panel reproduction below is different from the original at the Int'l Media's Clay Aiken Tried & True Live! site.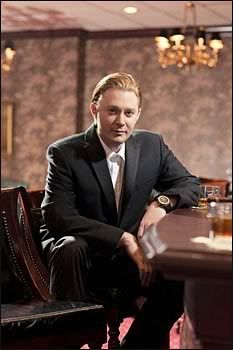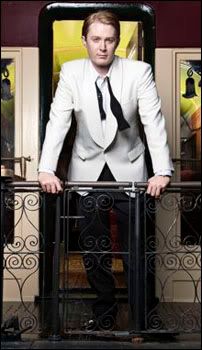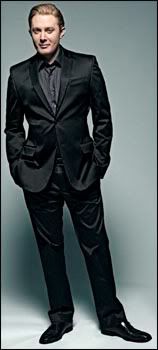 CLAY AIKEN TRIED & TRUE LIVE! - Panel of photos by Vincent Soyez
advertise the singer's June 1 Decca CD release and August PBS Special.


THE BOOTH PICTURE - Double click new photo of Clay to expand.
Internet fans wasted no time in nicknaming the above Vincent Soyez photo, now known in CA circles as "the booth picture" and/or "the jacket picture."
Tuesday morning I had the pleasure of sending the new photos to a few friends, one of whom responded, "Did y'all know it's hard to type from the floor?"
I wouldn't doubt this type of viral sharing turned into an all-day process as other Clay fans emailed friends and casual supporters the photos and link to the singer's International Media page.

Below is Cotton's clickable graphic of the three new photos:
Late Tuesday the Clay Nation received another treat, a radio spot advertising the July 26 Clay Aiken-Ruben Studdard Timeless Tour Concert at Ruth Echerd Hall in Clearwater, FL.
For a preview of "Mack the Knife," "Can't Take My Eyes Off You," and "Suspicious Minds," download the audio file with the "radio spot" Sendspace link above.
Fountaindawg combined the PBS pictures of Jim R. Bounds, the Soyez photos, and the radio spot to create the above video, which can be downloaded with this Sendspace link.
Clearwater's advertisement also links to SueReu's Best AI Season Ever - Clay Aiken & Ruben Studdard, Timeless montage.

Clay Aiken & Ruben Studdard, Timeless
Montage by SueReu
Link to YouTube for full page view.
Download video with this Sendspace
Venues Set Timeless Ticket Sales

The popular "Timeless" duo of Clay and Rubin will again share the concert stage when they launch the summer's much-anticipated 17-city tour in Asheville, NC, July 23.
Ticket sales for the tour are underway at nine venues with the remaining eight scheduled to begin on the May dates below:
May 7 - Ruth Echerd Hall, Clearwater, FL (July 26 concert)
May 7 - King Center for the Arts, Melbourne, FL (July 25 concert)
May 7 - Club Nokie, Los Angeles, CA, May (Aug. 1 concert)
May 8 - Mountain View Plaza, Snoqualmie, WA (July 29 concert)
May 15 - American Music Theater, Lancaster, PA (Aug 8 concert)
May 21 - Caesar's Colosseum, Windsor, ON (Aug 5 concert)
May 21 - Horseshoe Casino, Hammond IN (Aug 13 concert)
May 28 - Potawatomi Casino, Milwaukee, WI (Aug 3 concert)

All 17 Timeless Tour concert sites are linked below. For up-to-date information on ticket sales, refer to Clayonline News, Ticketmaster, and the venue links.

Clay and Ruben at Lancaster, PA, site.
2010 Timeless Tour: Concert List
Jul-23 - Asheville, NC - Biltmore Estate (Tickets on sale NOW)
Jul-24 - Jacksonville, FL - The Florida Theater (Tickets on sale NOW)
Jul-25 - Melbourne, FL - King Center For Arts (Ticket sale: May 7)
Jul-26 - Clearwater, FL - Ruth Eckerd Hall (Ticket sale: May 7)
Jul-29 - Snoqualmie WA - Casino- Mountain View Plaza (Tickets: May 8)
Jul-31 - Reno, NV - Silver Legacy Casino (Tickets: NOW)
Aug-01 - Los Angeles, CA - Club Nokia (Tickets: May 7)
Aug-03 - Milwaukee, WI - Potawatomi Casino (Tickets: May 28)
Aug-05 - Windsor, ON - Caesars Windsor (Tickets: May 21)
Aug-06 - Chautauqua, NY - Chautauqua Institution Amphitheatre (Tickets: NOW)
Aug-07 - Mashantucket, CT - MGM Grand Foxwoods (Tickets: NOW)
Aug-08 - Lancaster, PA - American Music Theatre (Tickets: May 15)
Aug-10 - Hampton Beach, NH - Hampton Beach Casino (Tickets: NOW)
Aug-11 - New York, NY - The Hammestein (Tickets: NOW)
Aug-12 - Verona, NY - Turning Stone Casino (Tickets: NOW)
Aug-13 - Hammond, IN - Horseshoe Casino (Tickets: May 21)
Aug-14 - Biloxi, MS - Beau Rivage (Tickets: NOW)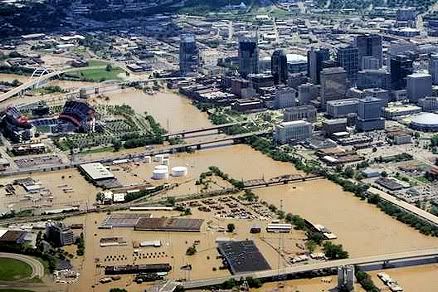 Cumberland River flows through the streets of Nashville.
Epic Flood Strikes Nashville Area

Throughout the weekend's catastrophic flood in Nashville, TN, our family's home for many years and still very much a part of us, thoughts have been with friends and the tragedies suffered there. Our former home in Bellevue, a western suburb, was overrun by the flood waters Saturday and many in the neighborhood forced to evacuate.
In some areas, the torrential rain totals of May 1 and 2 were greater than 17 inches. The Cumberland River crested at 51.86 feet in Nashville, a level not seen since 1937. See May 2010 Tennessee floods.
President Barack Obama Tuesday declared four Middle Tennessee counties a disaster area so that federal assistance can begin immediately for flood victims. Metro Nashville schools have no projected re-open date. In addition to the above Tennessean link, see WSM-TV for videos of amazing rescues.
FB Friend Shares Flood Reports
Stephanie Morris DeKeyser, a resident of Hermitage, suburb on the other side of Nashville, has kept Facebook readers informed with links to local media reports, videos, and photos. Her Monday blog, The Flooding of Nashville, features excellent links, including photos of famous Music City landmarks such as the Grand Ole Opry and the Opryland Hotel, all under water.
Betty, a musician friend, sent word that the new Schermerhorn Symphony Center lost two Steinway grands and the $21.5 million organ console stored in the basement. The rising water stopped just before reaching the concert hall.
It is heartwarming to read how Nashville residents and relief organizations are offering assistance (the use of a pickup truck, pasture for horses, food, clothing) for those in need. To volunteer or donate, see Great Nashville Flood of 2010, as well as the American Red Cross.
The best news of the day arrived a little after 9 p.m. when my friend Judy sent an email that she is all right. Entitled "Water, Water Everywhere," the email arrived from Belmont University where she was able to sign onto the Internet. Normally a foot across, the creek behind my friend's house is presently 50-60 feet wide with a strong current.
Filled with the losses and challenges of friends and structures in the Bellevue area, Judy's report was was not without a grin:
Huge Sunday paper delivered itself! Floated from street past car, turned down sidewalk following current and right past the front door!
Sending prayers and good vibes to all Music City residents. Have a great week, Clay Nation!
Caro