Clay Aiken Tried & True: LIVE! Promo
Decca Posts Press Release, Bio

PBS Video Renders Album Peek
Decca Records and International Media released glimpses of CLAY AIKEN - TRIED & TRUE: LIVE! Thursday afternoon, and the Clay Nation has been feasting ever since. Saturday's brand new promo link has been added to this blog.

This is the information on the International Media TV Channel at YouTube:
Tried and True, American Idol Super Star Alumni Clay Aikens first Public Television special, reaches back into the romantic past of the 50s and 60s, featuring many of the most iconic love songs ever written.

Shot at the Memorial Auditorium in Clays home town of Raleigh, North Carolina, Tried and True features a full orchestra and big band.

Clay is joined on stage by special guest and American Idol colleague Ruben Studdard, along with special guest Linda Eder, who is widely recognized as one of the best female vocalists of our time.

This special concert is the world premiere live performance of Clays forthcoming album, Tried and True, being released on Decca this Spring.
The video can be viewed full screen at the International Media YouTube channel, and hits/comments there are important. However, I know readers from some countries are unable to see YT videos. Here are Sendspace downloads for the T&T preview in video and audio formats.
Below are regular and widescreen clickable wallpapers of Clay's Tried & True: Live! preview by
Fountaindawg

:

Fans Embrace T&T Sneak Peak
So what do fans think of the sneak peak? Here are six, slightly edited comments from the YouTube Channel and this blog:
cindilu2: This needs to be on my TV NOW!!!! What a fantastic concert -- and this teaser is only the tip of the iceberg. Wait until you hear "Unchained Melody,"" Crying" (with the incredible Linda Eder). and all the fun with Ruben. Awesome!

vstreamer: Clay looks and sounds fantastic. He is in his element here; entertaining is in his blood. Oh, and the sound and lighting are also top notch.

GjpgD: I remember during Idol's Top 12 when Clay had to fill out a biographical form on the show's website. When asked his preferred genre of music from any era, he stated, "Big Band." Guess he's finally living his dream, thanks to a supportive label and fiercely loyal, tried & true fans. Rock on, Clay! You're a rock star of the heart and spirit, no matter what you're singing!

claydreamer: jhjujw45 5t rg5 ty 6 5t5 uhrg 5 t= !!!!!!!! That is from my four-year-old granddaughter who couldn't stop dancing as we listened to Clay sing! This is so wonderful. Clay's voice is always the best!

artz11: Yes, this is singing! The band and arrangements even in these small doses sounds incredible. A voice for now and forever!
Truth Rules: Full screen and headphones! I can't stop watching, and I was there! It's great that those who couldn't be in Raleigh that night finally get a taste of what we saw and why this got dubbed the OMG concert.
With special thanks to Bottlecap (1-5) and Cotton (6, 7), below are seven screen caps from "Mack the Knife," "Who's Sorry Now." and "Build Me Up, Buttercup." Click on the caps to enlarge.
Decca Releases T&T Story, Updates Bio
Decca Records
has released a media story about the T&T album and updated Clay's bio. Both can be read in their entirety on the singer's site. See the
NEWS
and
BIO
headings on Clay's page at Decca:
Clay Aiken Comes Full Circle with Album
of Timeless Classics Tried and True

May 7, 2010 (New York, NY) -- Clay Aiken has never sounded more at home than he does singing the lushly arranged classics on his fifth studio album Tried and True — the international pop phenomenon's first album for Decca Records.

Showcasing Aiken's powerful voice and considerable interpretive gifts, the new CD is comprised of songs from the '50s and '60s that Aiken grew up listening to as a child. The platinum-selling artist and idol to many has arguably never sounded better. Tried and True will be available everywhere on June 1st.

For Aiken, Tried and True (so named because he feels the songs have stood the test of time) was about getting back to himself after a career performing more pop-oriented material.

"There are a lot of elements to this album that are about me returning to what I'm comfortable with," Aiken says. "To me, older songs are more melodically appealing and beautiful. So doing this album was an opportunity to just be myself."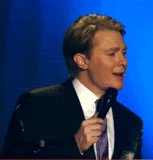 Gif by LovesClaysVoice
Have a wonderful weekend, Clay Nation!
Caro