Clickable banner by LovesClaysVoice
New 'Gifts' Unveiled Daily
Decca, Fans Celebrate T&T CD
The Christmas-birthday celebratory mood continues for Clay Aiken fans with Decca's video of the singer discussing the making of the Tried & True CD, his obvious excitement about the participating musicians, love for the songs selected, and joy that his hometown of Raleigh, NC, was involved in the process.

The video can be viewed in the player below or on the opening page at Decca Records-US. For the largest play, expand the Decca page by 200 - 400% or link to Clay Aiken-The Ideal Idol. Thanks to claysidney, here is a Sendspace download of the video.
Note the clever pairing of the "Suspicious Minds" lyric "We're caught in a trap" with the photo shoot picture of Clay on a golf course.

Clay Aiken talks about the making of T&T.
Chicago To Preview Special in June

Monday Pink Armchair made the message board rounds with the announcement that viewers in the Chicago area will enjoy a preview showing of CLAY AIKEN - TRIED & TRUE: LIVE! on PBS station WTTW (Channel 11) at 7 p.m. CDT Saturday, June 12.
This is an exclusive pledge drive and premium telecast for Chicago. However, links will be provided for fans who wish to order the CD ($55) and DVD ($75) versions of the concert.
Below is the beginning of a press release in the pdf format for Chicago's T&T LIVE! preview:


WTTW11 to debut new music special

Clay Aiken: Tried & True – Live! to premiere June 12 at 7:00 pm CDT

Chicago – All it took was a few bars of an old Heatwave song, and Clay Aiken was on his way. American Idol viewers in January 2003 were taken by surprise when an unknown singer strode confidently into the audition room, announced to the judges that he was their choice, and backed up that claim with an electrifying rendition of "Always and Forever" that instantly caught the attention of millions watching at home.

Many of them -- like judge Randy Jackson -- must have wondered, "Where is that voice coming from?" Well, Clay knew…and he's never looked back.
Adding to the dilemma of those who want to see Clay's special NOW is the fact that it is vitally important to support one's local PBS station's August pledge drive when the show is telecast.

See Wikipedia for a listing of PBS member stations.
Awesome news for the lucky Chicago fans! The rest of us will have two extra months to practice the virtue of being patient.
Int'l Media Releases New Info
International Media has added more information to the Clay Aiken Tried & True Live! page. For example, here is the program description:
Tried and True, American Idol Super Star Alumni Clay Aiken's first Public Television special, reaches back into the romantic past of the 50's and 60's, featuring many of the most iconic love songs ever written.

Shot at the Memorial Auditorium in Clay's home town of Raleigh, North Carolina, Tried and True features a full orchestra and big band. Clay is joined on stage by special guest and American Idol colleague Ruben Studdard, along with special guest Linda Eder, who is widely recognized as one of the best female vocalists of our time.

German born Alex Christensen is handling production and arrangements, and brings the considerable skills he developed working with Paul Anka on his acclaimed 'Rock Swings' album and Michael Bolton on his major Sinatra tribute 'Bolton Swings Sinatra' to this concept, as well as the more contemporary sounds of his own project Alex Swings & Oscar Sings, featured recently on the Oprah Winfrey show.

This special concert is the world premiere live performance of Clay's forthcoming album, Tried and True, being released on Decca this Spring.
T&T News of Note
CA fans are getting a thrill seeing Clay's Tried & Tried CD listed at the top of Metacritic's upcoming releases for June 1.
1 June Tuesday
Clay Aiken
Tried & True
Residents of the US can pre-order Tried & True at Live Nation and receive an instant MP3 download of the "Suspicious Minds" track. From all reports, the recording is amazing. Is patience really a virtue?
Clay's life and career will be featured on "TV Guide Close Up" (TVGN) at 3:30 p.m. EDT May 26. The singer will appear on ABC's "The View" on June 2.
Decca and International Media seem to enjoy unveiling a few gift-wrapped tidbits little by little. The atmosphere throughout Clay Cyberspace is charged with excitement as the counters tick ever closer to June 1. Look for daily additions to this segment during this blog entry's three-day run.
The double clickable retro graphics by Fountaindawg below include one with T&T tracks, one without, and a the third that appropriately highlights the theme "There's no place like home."
Students Prepare with Mock Recitals
The rite of passage known as the Spring Recital is just days away for my Greensboro and Wesleyan Christian Academy piano and violin students. Before they perform for Sunday's audience of family and friends at Jamestown United Methodist Church, they are supposedly presenting daily mock recitals, complete with a musician bow, to anyone who will listen.

The reason their teacher insists on attention to musicality and numerous trial runs dates back to my recital as a 10-year-old when I couldn't remember a Grieg solo and ran off the stage in tears. I decided long ago this would never happen to my students.

Sunday's audience will be entertained from start to finish, beginning with an Irish/American fiddle tune medley by four violinists --

Anna

,

Erica

,

Ora

, and

Nick

. At one time or another, all are playing back-up with the piano. Just as entertaining as the music has been the evolution of the group's choreography.

The students have even worked out the exact note ("the high one") on which they will stand for the medley's various solo/duo/quartet combinations. The finale is a rip-roaring "Old Joe Clark/Bile 'Em Cabbage Down." As in years past, they will all say "hippopotamus" as they bow together.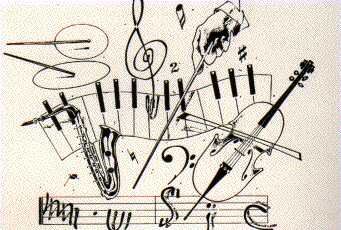 During the 50-minute recital, the audience will be entertained by eight piano solos ranging from "Quiet River" by Jay, "Come to My House," by Chase, and "I've Been Wishing" by Brenda to Chopin's Waltz in B Minor, Op. 68, No. 2, performed by high school senior Emily.
The five violin solos encompass literature from the famous "Twinkle Variations" by first grader Tatum to Dvorak's "Humoresque" by Anna.

In between, there will be seven piano duos from Mitch and Miranda, students of one month, to "How Great Thou Art" and "Crown Him with Many Crowns" performed by cousins Jeremy and Jessicca. Two budding composers, Caleb and Joseph, will share their latest creations -- "Media Nox Marmor" (Midnight Sea) and "La Pienture de Dieu" (God's Painting), respectively.

The concert closer will be the Evanescence song "Good Enough" performed by Emily and friends Austin, vocalist, and Valerie, violinist. Y'all come!

Have an awesome week, all!

Caro