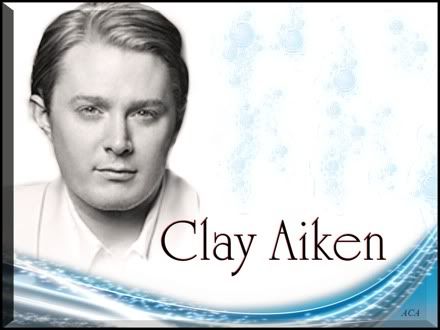 CELEBRATION TIME - From new CD photo shoot pictures to more release party plans, May calendars of Clay Aiken fans are filling up. - Graphic by AmazingCA.
Clay Aiken Tried & True Live!
Soyez Shoot Touts Three Locales
New Clay Aiken photos from the singer's Vincent Soyez Tried & True shoot; initial promotion of the August PBS Special by International Media; and CD release party plans for Raleigh, NC, and Red Bank, NJ, are causing May to seem a lot like Christmas.

In Saturday's Examiner, Randy Hamilton unveiled the first photographs from the Tried & True shoot, representing three locations in the Raleigh-Durham triangle -- the Treyburne Country Club, the deck of the train car on the American Tobacco Campus, and the upstairs dining area of the famous Mecca Restaurant.
Readers of a previous article in this column, about the

photography shoot for Clay Aiken's next album, may be delighted to learn that the first of those photos have been released. These initial images are representative of the three locations for the day-long session.

The album cover has been available for a while, and you can view it on any number of the usual merchant sites. The album cover photograph was taken in the Mecca Restaurant in Raleigh in the upstairs dining area.

In addition, other images are approved and are now or will soon be posted on photographer's Vincent Soyez's web site

. Whether or not any of these photographs (other than the cover shot) will appear in the CD package remains to be seen.
The complete article and comments can be read at the Examiner link. Below are clickables of three new photos by Vincent Soyez revealed in the column. To view them at the photographer's link, slide the rule 2/3 of the to the right -- or just wait for them to scroll by.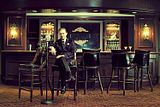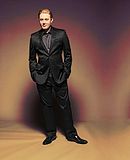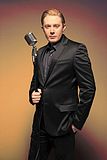 New T&T photos by Vincent Soyez
International Media Promos Special
Clay, you sing lie Andre Agassi plays tennis, perfection, perfection. And I would kill to write and produce your first CD. - Neil Sedaka, American Idol 2 guest judge
This memorable 2003 comment by Sedaka leads the new Clay Aiken Tried & True Live! page on the International Media site. The clickable banner below headlines the programs International Media is currently promoting.

The company that produced Clay's PBS Special has begun promotion for the August telecast of the special concert taped in Raleigh on March 12.
Tried and True, American Idol Super Star Alumni Clay Aiken's first Public Television special, reaches back into the romantic past of the 50's and 60's, featuring many of the most iconic love songs ever written.

Shot at the Memorial Auditorium in Clay's home town of Raleigh, North Carolina, Tried and True features a full orchestra and big band.

Clay is joined on stage by special guest and American Idol colleague Ruben Studdard, along with special guest Linda Eder, who is widely recognized as one of the best female vocalists of our time.

This special concert is the world premiere live performance of Clay's forthcoming album, Tried and True, being released on Decca this Spring.
The page is filled with a wealth of information including CD and DVD premiums, meet and greet opportunities, etc.
Another famous quote about Clay appears at the bottom of the site:
I always like the idea that you can turn on the radio and say, 'Oh, that's Clay Aiken. Oh, that's Barbra Streisand. Oh, that's Frank Sinatra, Oh, that's Tony Bennett.'They're a star if you can identify them immediately by their sound. That kid has his own sound. He's got energy. He's got soul. He's got it all. That voice pours out of him. - Merv Griffin
Like most fans, I have bookmarked Clay's International Media page. Despite 80-degree weather in the Carolinas, the lyric that keeps coming to mind is ... "It's beginning to look a lot like Christmas!"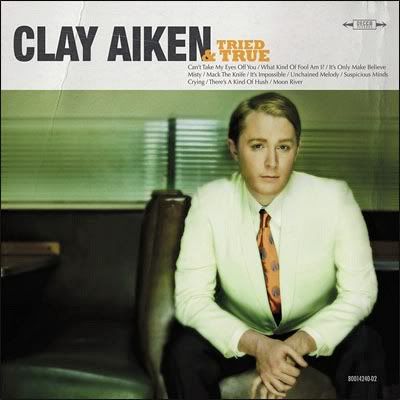 Raleigh Party Begins with BBQ
Fans in the Raleigh area plan to celebrate the release of Clay Aiken's Tried & True album with a "Picnic in the Woods" barbeque party and National Inclusion Project fundraiser at the Community Hall, New Community Church, 9621 Six Forks Road at 7 p.m. Monday, May 31.
Backyard Barbeque Pit of Durham will furnish the fixings, including BBQ chicken, BBQ brisket, macaroni and cheese, potato salad, collard greens, hush puppies, desserts, sweet and unsweetened tea.
The evening's activities center around music, interactive games, line dancing, raffles, silent aucitons, culminating with new TYT CD purchases at 12:30 a.m. June. 1. See the double clickable flyer for additional info: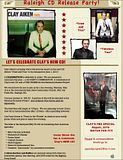 Cost of the event is $35 per person, a portion of which will go towards a donation to the Inclusion Project. Deadline for reservations is May 23. Paypal and correspondence should be sent to specialprojects2@nc.rr.com. For more information, see the Raleigh CD Release Party website.
Pink Jackets Plan T&T Dinner
The Pink Jacket Ladies invite New Jersey Clay fans as well as those from neighboring states (New York, Connecticut, and Pennsylvania) to join them in a "spectacular Clay Aiken-Tried and True CD Release Party" on Monday, May 31.
Information about the Red Bank, NJ, event with a four-course sit-down dinner at the historic Molly Pitcher Inn, clack celebrations, fundraising activities for the National Inclusion Project, and middle-of- the-night CD purchases, is available on the double clickable flyer below.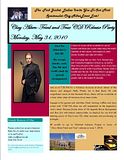 Cost per attendee is $55. For further details, reservations, and payment arrangements, contact Betty Roy, the organization's treasurer, at betty.roy@verizon.net or 908.705.7618.
Below is a clickable of AmazingCA's opening graphic: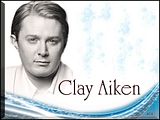 Have a wonderful week, Clay Nation!
Caro