Latest promo for Clay Aiken: Tried & True
CD available everywhere on June 1!
View at YouTube
Tried & True Coming June 1

Fan Club Site Opens Without Me!
Wouldn't you know the new Clay Aiken Fan Club site rolled out Thursday just as I completed spring music lessons ... and I have yet to gain admittance to what sounds like a wonderful showcase for the singer and meeting place for him and his fans!
Everywhere I read -- Twitter, Facebook, and 3-4 message boards -- almost all CA fans are having a blast settling into the new digs, befriending each other, listening to a trio of Tried & True tracks, including "Unchained Melody," the song I will play first when I purchase the CD on June 1!
I understand the three full tracks originally playing on the new site have reverted back to snippets. While I'm happy for Clay friends, it has been painful reading all the adjectives, exclamation points, and "squeees" describing songs I couldn't hear.
Even as I deleted Temporary Internet files/browsing history and tried every trick imaginable to log in with either IE or Mozilla, my email box was receiving requests for assistance getting into the site, posting a new avatar, and whatnot.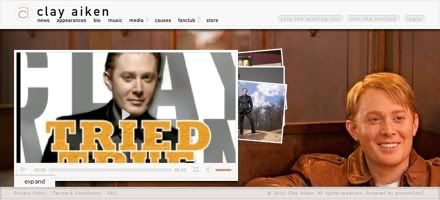 Clickable cap of new Clay Aiken website. (Thnx to SueReu!)
Ground(ctrl) Hosts Clayaiken.com
Hosting clayaiken.com is an impressive group over at ground(ctrl. Clay's new web masters have been nothing but courteous, personable, and very helpful to anxious fans with access problems. For some, all it takes is a phone call or an email and they are in. Below are US/international/web support contact info (M-F, 9 am - 5 pm. PT):
U.S. Support 1 (877) 463-2975
International Support 1 (916) 443-9205
support@groundctrl.com
For those of us still riding the caboose, the new Clay Aiken fan club home will happen in due time. According to a tweet from Team Clay on Thursday, "the new site needs to propagate throughout the Net." This can take between 24 and 72 hours.
Definitely the WORD OF THE DAY for CA fans, propagate means "to cause to spread out and affect a greater number or greater area." For a better understanding of what many are experiencing, see What is DNS propagation and why does it take so long? by Rich Smith.
Before leaving for the Memorial Day Weekend, ground(ctrl) personnel provided active users with login problems an alternative for entering the site:
If you are still experiencing problems logging in to the new Official Fan Club on www.clayaiken.com with your old OFC email and password, PLEASE use the new password clay2010 along with your OFC email address to log in. Once logged in, quickly reset your password in your Account Settings.
All day I was seriously wondering which would come first -- Clay's website or his new Tried & True CD. Right after uploading this blog, 24 hours into the new roll out, I finally crossed the Cyber threshold into the singer's new digs.
Have an awesome weekend, Clay Nation!
Caro
NEXT: America Honors Military Heroes