Clay Aiken - An Amazing Seven-Year Journey
Montage by SueReu at Yahoo Video
Download with Sendspace: Yahoo version or Higher quality
May 20, 2003 Anniversary

Clay Nation Celebrates Journey
May 20, 2003, the memorable American Idol 2 finale when Clay Aiken came in second to Ruben Studdard for the title, is celebrated not only as an anniversary of beginnings for the singer's many musical accomplishments and charitable endeavors but also for the bond between entertainer and fans and the close friendships formed among faithful followers worldwide.
SueReu's "Seven Year Journey" montage portrays in song and video the millions of CDs sold, countless television and tour appearances, a foundation dedicated to inclusion for all children, a UNICEF ambassadorship, and a star turn in the Broadway hit "Spamalot" since May 2003.
On June 1, Clay will release "Tried and True," his fifth studio album and the first with Decca Records, followed closely by a 17-city July-August "Timeless Tour" with Ruben, and his first PBS Special to be telecast in August.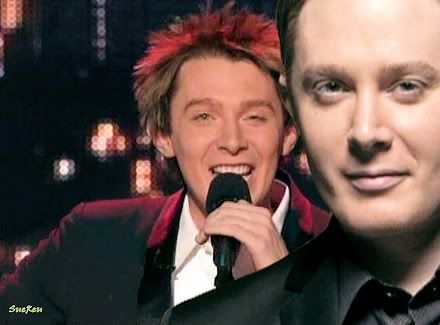 Amazing Journey montage screen cap - SueReu
On the May 20 anniversary, Mamarose10 posted the perfect accompaniment to the "Seven-Year" montage. With her permission, it is shared below:
The Anomaly ... Just the Beginning!

And so it began ... seven years ago tonight! Well, in truth, it began when a young man named Clayton Holmes Aiken stepped up to a mic at the beginning of American Idol Season 2 and sang that first word.

But for many of us, seven years ago tonight was our "galvanization," as it were. After the results were read on that fateful night in 2003, which would come to be known as "The Anomaly," everything truly did begin.

After that night we stumbled together, sought each other out, many in shock and disbelief, still reeling and stunned and in need of solace. We came together to commiserate and cry and moan and shake our fists at the fates and unfairness.

But what is most important is that WE CAME TOGETHER. The shock had indeed galvanized us, startled us into the activity that would make us who we are as Clay fans and forge a bond between us and the young man who had won our hearts, a prize far more important than any American Idol title would ever be.

The shock of that night would be the catalyst to all that the Clay Nation would become.

The shock of that night would strengthen our resolve to right that wrong and any future wrongs to come.

The shock of that night would prepare us for all that the next years would bring. It would stiffen our spines and solidify our resolve. In looking back, I feel no sadness about that night. In fact, I think I am grateful in many ways. I truly believe all things happen for a reason.

Now our hearts are tried and tested and we know the truth, and we are still here.

As the Chicago song goes, it was "Only the beginning of what I want to feel forever. Only the beginning. Only just the start ..."

Graphic by Fountaindawg
Billboard Reviews T&T
Billboard has virtually put a stamp of approval on Clay's change of direction with the "Tried & True" CD. Here is the review on
Yahoo News
where those who agree can "buzz it up":
NEW YORK (Billboard) – After a series of so-so soft-rock efforts, Season 2 "American Idol" runner-up Clay Aiken looks back to the music of the '50s and '60s on "Tried & True," a big-band-style collaboration with German producer Alex Christensen, whose resume includes work with Paul Anka, Sarah Brightman and Right Said Fred.

Given the cabaret-ready character of Aiken's voice, the change in direction suits the singer. Where he used to sound like an oldster attempting to crash the top 40, here Aiken's vocals exude a relaxed vibe that seemingly reflects his recent stint on Broadway in "Spamalot!"

That even goes for a surprisingly authoritative version of "Mack the Knife," where Aiken summons a swagger he never previously displayed. Other songs include "Moon River" (with a tasty acoustic-guitar solo by Vince Gill), a jazzy take on Conway Twitty's "It's Only Make Believe" and "Unchained Melody," which gets the full Hollywood-orchestra treatment.
T&T News of Note
Decca Records has uploaded the tracks for the DVD that will be released on July 27. See
Tried & True DVD
:
1. Mack The Knife 03:38
2. Can't Take My Eyes Off You 04:50
3. It's Impossible 04:12
4. You Don't Have To Say You Love Me 04:13
5. Eso Beso 03:46
6. Who's Sorry Now 03:52
7. I'll Take Romance 02:13
8. Breaking Up Is Hard To Do 03:13
9. Misty 04:18
10. What Kind Of Fool Am I? 03:41
11. Crying 04:59
12. Suspicious Minds 03:50
13. Build Me Up Buttercup [Live] 02:59
14. In My Life 03:38
15. It's Only Make Believe 03:18
16. There's A Kind Of Hush 03:03
17. Unchained Melody 05:31
18. Moon River 04:12
Amazon has posted previews of the Tried & True CD tracks. The 'Tried & True' CD already has a page on Wikipedia.
Below is a clickables of

SueReu

's 'Journey' screen cap and the graphic by

Fountaindawg

:
RECITAL COUNTDOWN
: The polished performances at Friday's final day of lessons prior to the spring recital Sunday hinted that all will be well. Students range from first timers to seasoned veterans, but one never knows for sure the effect of whimsical butterflies.



Marianhookailo

, a member of Clayonline and a professional singer, sent this message to my piano and violin students:
There is nothing like playing musical instruments together and hearing the beauty you give to the listeners. Keep up the good work!
Tune in for Sunday's recap. Have a wonderful weekend, Clay Nation!
Caro