Clay Aiken: Tried & True ~ LIVE! Preview
View video full screen at YouTube.
For 'Tried & True' Telecast

UNC-TV Plans Special Shindig

Clay Aiken and his fans will party down Saturday night when the singer's celebrated special kicks off the UNC-TV SeptemberFest pledge drive.

Premiere telecasts of Clay Aiken: Tried & True ~ LIVE! are slated for 8 p.m. and 9:30 p.m. Several members of the Clay Nation have volunteered to answer pledge drive phones, but two lucky fans will be there as a special guests of UNC-TV on Facebook.
To celebrate Clay Aiken and all the FB fans who love him, we're offering a Sept. 11, UNC-TV tour and "meet and greet" with Clay for our 4000th fan and the person who recommended them.
Those who can't be in the studio can watch the concert on television and keep track of the fun at the "Tried & True Twitter Party" planned from 8 - 11 p.m. Follow @UNCTV on the Twitter social network.

Among the activities planned are live tweeting of Clay photos, videos, and trivia. Fans from around the globe can join the fun by logging into Twitter with the hashtag #unctvclay.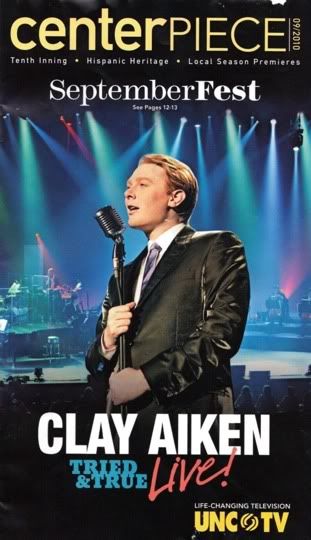 Click to view September scans of centerPIECE.
Clay Fans Become UNC 'Likers'

If you haven't already become a "liker" of UNC-TV on Facebook, you need to do so right now. The 4,000th fan will win a tour of the studio and have a Meet & Greet with Clay.
If the station doesn't reach 4,000 fans by the Friday deadline, the UNC-TV fan with the most mutual friends who are also UNC-TV fans will win. If the 4,000th fan cannot be present at Saturday's telecast, he or she can gift the prize to a friend who can.

The Clay Aiken: Tried & True - LIVE! concert special has been airing on PBS stations throughout the nation since July 31. In the concert, Clay performs iconic songs, including "Mack The Knife," "Unchained Melody," "Moon River," "Crying," and "Build Me Up Buttercup." Guest stars are Linda Eder and Ruben Studdard.

As you can see in the Carolina sidebar, Houston, TX, is another city in countdown mode to Clay Aiken's PBS Special this week.
Because the singer is scheduled to be in the KUHT-TV studios for Wednesday's 8:30 p.m. telecast, several Houston area fans have volunteered to answer pledge phones for the PBS station. Future airings are slated for 2:30 a.m. Friday and 8:30 p.m. Wednesday, Sept. 15.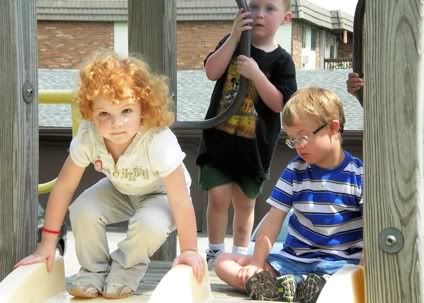 The National Inclusion Project serves to bridge the gap between young people with disabilities and the world around them. Supporters are voting to secure a $50,000 grant during September's Pepsi Refresh Challenge.
Fans Tweak Pepsi Refresh Strategy

National Inclusion Project supporters have tweaked their campaign strategy to secure $50,000 for the foundation during September's Pepsi Refresh Challenge. The outline below has been shared on several Clay Aiken message boards where members sign up to vote the various groups.

In this blog, eligible voters (legal US citizens at least 13 years old) should include the "Everyone" list and choose one of the other groups to best distribute each day's 10 votes. One Internet vote and one text vote are allowed the organization.
Below is the plan designed by SueReu to include charities reciprocating votes with the National Inclusion Project. Check back daily for possible variations.

Everyone Vote For:
National Inclusion Project - Text 102308 to 73774 (Pepsi)
National Federation of the Blind - Text 101913 to 73774 (Pepsi)
Group A

Tree House for Disabled Kids - Text 102672 to 73774 (Pepsi)
SWOOP (wheelchair ramps/Triangle area) - Text 102191 to 73774 (Pepsi)
Courageous Disabled Kids - Text 100058 to 73774 (Pepsi)
Foxroad Elementary - Text 102179 to 73774 (Pepsi)
Mckemy Middle School - Text 100283 to 73774 (Pepsi)
Saving Shelter Pets - Text 102190 to 73774 (Pepsi)
St. Joseph's School - Text 100242 to 73774 (Pepsi)
Screamfest Film Festival - Text #100848 to 73774 (Pepsi)

Group B
Charlotte Peace (domestic violence) - Text 100011 to 73774 (Pepsi)
Add iPad - Text 100053 to 73774 ( Pepsi)
Ella's Hope for Autism - Text 100288 to 73774 (Pepsi)
The Bag Ladies - Text 101126 to 73774 (Pepsi)
Family fun Events - Text 102684 to 73773 (Pepsi)
BRIDGES (special needs/Triangle) - Text 101364 to 73774 (Pepsi)
Little Tree Preschool (autism) - Text 101735 to 73774 (Pepsi)
Blind Cat Rescue - Text 102422 to 73774 (Pepsi)
Boise Bicycle Project - Text 102464 to 73774 (Pepsi)
Health Shots Reminder - Text 102084 to Pepsi 73774 (Pepsi)
Wild and Wonderful Pet Pantry - Text 100040 to 73774 ( Pepsi)
Mentored Chem-Bio Tech Lab - Text 101997 to 73774 (Pepsi)
RATCO - Text 100570 to 73774 (Pepsi)

Once voting is completed, return to each charity and copy/paste a message similar to the one below:
A vote from the National Inclusion Project! Help us help kids with disabilities experience life with their peers. We're going for $50K. http://www.refresheverything.com/nationalinclusionproject Thank you for your support!

Canadian Finds Way To Help
Throughout the Pepsi campaign, Clay Aiken fans from other countries have been left out. Monday
From Claygary
posted ways that non-US citizens can help with the project:
Last night I went through my "liked" pages on Facebook. (Profile/Info/Likes and Interests).

Lots of them are pages where I can post a note on their wall. On an intermittent basis, I will post a note asking for their help as well. Probably a weekly post with the necessary voting link, info. Among the "likes" on my list are:

1.

Christie Cookie

-- they helped us last year, and I'm sure some of the staff would be happy to vote for the National Inclusion Project.



2.

The Voice

- Linda Eder's newsletter. Maybe they would include the information?

3.

Casey Thompson Music

- definitely!

4.

Quiana Parler and Friends

- definitely!

5.

Ornamentea.com

, a local Raleigh store.

6.

ground ctrl

... why not?

7.

Morgan's Wonderland

, an entertainment facility in Texas for children with disabilities. Wouldn't they be interested?
The Sparkle Effect

, teen cheerleader organization awarded a grant by the National Inclusion Project in 2009 for their work with young people with disabilities, has also been suggested as a group to contact. No doubt they would be willing to help, and teen texting skills are through the roof!
Hopefully, these suggestions spark several more ideas of people and organizations to contact for voting assistance in the National Inclusion Project's September campaign for $50,000.

Have a wonderful week, Clay Nation!

Caro
Thank you for your blog comments and props for the contributing artists. To leave a remark, scroll to the bottom of that section, click on the "Post a Comment" link, and write in the box provided. Many thnx for stopping by today! - Caro