Never Forget - Montage by Aspiegirl
A tribute to the fallen firefighters of 9/11.
View full screen at YouTube.
Iron and Steel Biker Brigades
Firefighters Honor 9/11 Fallen
On a day the world remembers the men and women who died in the 9/11/01 terrorist attacks on the United States, we also pay tribute to the 343 firefighters who perished at ground zero in order to save others.
The montage above was created by Clay Aiken fan

Aspiegirl

at the request of the mother of "California Mike," who had joined hundreds of firefighters in the 2009 Iron and Steel memorial bike ride from New York City to the National Infantry Museum at Fort Benning, GA, where an I-beam was dedicated to Army soldiers who have served this nation since the 9/11 attacks.

Among those honored in 2009 was New Yorker Rick Rescorta, a Vietnam hero who gave his life helping to save others on 9/11/01.

Riding in formation, the firefighter biker brigade
was met at each state line by highway patrol and escorted to the next state line. Along the way, they were saluted by cheering Americans on highway overpasses, as well as at designated fire company stops.



2010 Brigade Bikes to Virginia



In August, two weeks before the ninth anniversary of 9/11, firefighter bikers assembled at ground zero and delivered steel beams from the World Trade Center to the Arlington County (VA) Fire Department, whose members were the first responders after a third plane crashed into the Pentagon. The beams will be incorporated into a memorial yet to be designed.

"California Mike," son of CA fan

Sally

, also participated in the 2010 event and is scheduled to arrive back at his home fire station today.

His bike can be seen in the final frame of the featured montage.

In 2008, the first Iron and Steel biker brigade escorted a two-beam cross section to the volunteer fire company in Shanksville, PA, initial responders to the crash of United Flight 93, the fourth plane commandeered by terrorists.

The montage also honors families and loved ones
who have pulled together since 9/11/01. Nearly 3,000 people died in the 9/11 attacks, including 23 New York Police Department officers and 37 Port Authority police officers, as well as victims in Pennsylvania and at the Pentagon.

The "Never Forget" montage is accompanied by Creed's recording of "With Arms Wide Open."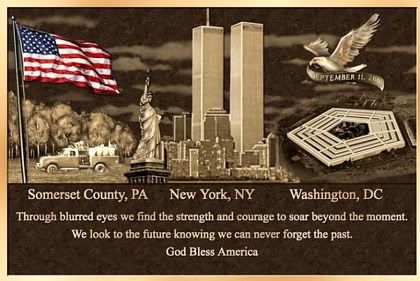 America will never forget.

Caro
See previous Carolina On My Mind entry for National Inclusion Project voting links in the Pepsi Refresh campaign for a $50,000 grant.

Thank you for your blog comments and props for contributing artists. To leave a remark, scroll to the bottom of that section, click on the "Post a Comment" link, and write in the box provided. Many thnx for stopping by today! - Caro