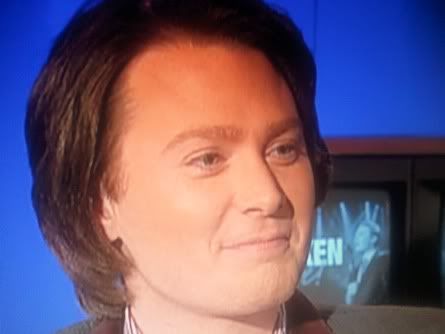 Clay Aiken on KUHT-TV InnerVIEW: Photo by keepingfaith.
Clay Aiken Comes 'Home'
KUHT 'InnerVIEW' Runs Gamut
Clay Aiken, featured on Thursday's "InnerVIEW" with Ernie Manouse of KUHT-TV, Houston's PBS station, literally spoke non-stop on subjects running the gamut form A to Z.
According to reports by Houston fans, Manouse just let Clay talk. Most CA fans know the basics of the topics covered, but the Houston PBS special resulted in a much more in-depth interview.

The overview below was shared in message board recaps by

keepingfaith

,

merrieeee

,

JoJobugs

, and

texwriter

. The screen caps were taken with keepingfaith's cellphone camera.
CLAY

: There's a song on my first album I've never been comfortable with and never performed. I didn't like it and didn't like the way it was produced.
ERNIE

: Your fans are going to want to know which.
CLAY

: Oh, they are well aware of which one.
*

He has become comfortable with his life now and doesn't mind when he is recognized in public.
*

Clay talked about the Idol process and said that he had been cut three times, once in Charlotte, once in Hollywood, and on the final show. At the end, he said, "That's it; I'm not losing anymore."
*

Clay thinks that since he had a quick rise, it took him a while to know what he wanted. At the beginning he was content to let people dictate what to record.
He likes to think that after doing what he's been doing for seven years, he has gained the respect of the people who work around him enough that in the areas where he has a grasp on things, he's good at saying, "I want to do it this way."
*

He's not a diva, but he's picky and believes he is more involved in the nuts and bolts of his career than any of his peers.



Song Choices Must Meet 'Live' Criteria



*

His goal for every song from now on is that it's something he loves to sing "live."

*

There was a line somewhere in the past seven years that when he crossed it, things stopped being so "GASP" and became just his life.
*

Clay talked about being at the Apple store with a friend waiting in line. He told his friend to watch while he signed into Twitter on his iPhone. Almost immediately, there was a tweet: "I'm standing in line next to Clay Aiken at the Apple store!"

The photos below were taken by

keepingfaith

with her cellphone. Click to expand:

Clay Always Loved Singing
*

Faye Parker, Clay's mother, always said he was singing at 18 months. It didn't seem like a big deal until he had Parker, who is "almost 2" and barely talking. Clay believes he got his musical talent "biologically."

There aren't a lot of four-year-olds who are great talents; there also aren't a lot of four-year-olds who are willing to stand up and sing for people anytime. He always loved it.
*

Having a child changes everything. He can't just think about himself. He has to think about how his actions affect his son. It changes most of his decisions in everything he does.
*

Most people who are picky in their regular jobs are called "Type A." In Clay's business, they are called "divas." He considers himself Type A because he is a micro-manager and likes to have control. He's picky. He never pretends to know things he doesn't. He's quick to defer to others when it's not his experience.
*

He wasn't passionate about Idol until the Wild Card spot, and that's when he decided he really wanted it.
ERNIE

: Is there a time when you worry that Clay Aiken is no longer yours?
CLAY

: I worry about that; it's something that I'm aware of; and I'm aware that when I go out, I still am me. So I don't know if Clay Aiken has been lost, but I don't get to be "off."
Singer Records T&T Sans Lyrics
*

Choosing songs is easy for him. He chuckles when people ask him, "How do you get yourself in that place to ... ?" And he says, "I don't know; I listened to my iPod and picked some songs I liked. Either that cheapens me or makes me brilliant."
*

When he recorded

Tried & True

, Clay went into the studio without the lyrics because he knew the songs so well.
*

He thinks he's now the "original me." Everything is shed, he's more comfortable being himself and saying what he wants. He has no pretense, walking to that interview in his pajamas and "cinnamon toast crunch" t-shirt.
*

He had little pretense before, and he has none now. Last words: "I am me."
KUHT Membership Nets Interview
The exclusive interview, which will air again in Houston and in select markets after January. Check with your local PBS station for more information.
Fans may purchase a copy of the KUHT-TV interview for a basic membership fee of $40. If you are interested, place your order with the Houston station: (713) 748-8483.

"The interview was 90 percent Clay talking! I didn't want it to end. He came across as very articulate and smart,"

merrieeee

reported.

Ernie asked him questions, and he let Clay answer. Thirty minutes of hearing Clay talk was great. The info was a lot of what "we" already know, but he was allowed to expand on his responses.

If you did not know him before, it was a good introduction to Clay Aiken, not just the star but also a human being.

I think he succeeded in distancing himself from the tabloid stuff and the stars that crave that kind of attention. He seemed to be so real and finally where he wants to be with regards to his life and career.

The last few months it seems to me that Clay Aiken has finally come "home"!



Keepingfaith

added, "Where he stays in LA is close to a paparazzi mecca; and every time he goes out, 30 minutes later a picture of him walking down the street appears on a website.

He is constantly amazed that people care. And someone will say, "Well, you know you can't walk out of the house without doing your hair. And I say, "Why not? Everybody else does."
According to

texwriter

, "Keepingfaith will have quite a challenge in translating everything because Clay talked a mile a minute. Poor Ernie could hardly get a word in edgewise."
At #17, NIP Still Needs Votes!
The National Inclusion Project, stuck on #21 for days, has moved to #17, still seven slots shy of the target top 10 needed to secure a $50,000 grant in September's Pepsi Refresh Challenge.
Send prospective new supporters to
Clay Aiken Fans Campaign for $50k Inclusion Grant
for information and handy voting links.
To order a 2011 calendar by the Nov. 22 deadline, see
2011 Clay Aiken Calendars Slated for Gala
. This is also an Inclusion Project fundraiser.
Have an awesome weekend, Clay Nation!

Caro
Thank you for your comments in the Carolina blog. To leave a remark, scroll to the bottom, click on the "Post a Comment" link, and write in the box provided. Many thnx for stopping by today! - Caro