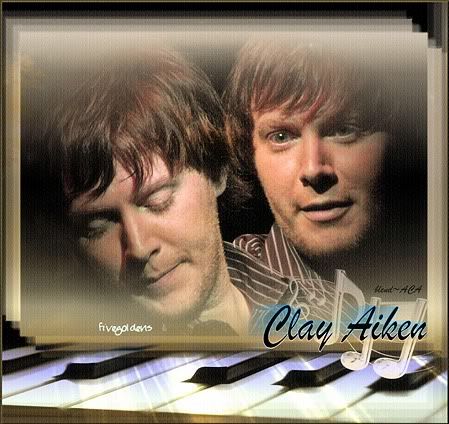 ON THE RISE -- Gazing at Clay Aiken photos just might affect one's blood pressure. Graphic by AmazingCA, photo by fivegoldens.
Blood Pressure Penance
Heart Checkup Nets Homework

Looking through photos of Clay Aiken can send a gal's blood pressure soaring, and this week mine took a leap at just the wrong time -- in the doctor's office!
Since a couple of stents came into my life three years ago, semi-annual checkups with a cardiologist are a staple on my calendar. I always walk into the lady's office with my fingers crossed, hoping all is well and that there's no need for more hardware.
After making my way through the obstacle course created by building construction repairs, I failed the first part of the exam with elevated blood pressure. It's been years since I have registered a reading as high as 170/90.
Next up was the electrocardiogram (EKG) -- 10 minutes to set it up and literally 10 seconds to run. I passed this test with flying colors, though some of the sticky goo that holds the electrodes in place accompanied me home and hung around for several hours.
'White Coat Syndrome' Strikes
I supposed Dr. T liked what she heard with her stethoscope because our post-exam session centered around the elevated BP. She admitted that blood pressure can register high due to any number of reasons, one being the "white coat syndrome."
Could be, but my "homework" for a week is to take my BP and pulse twice daily with a computerized get-up. So far, the readings have been nothing but normal except for the night I wrestled with the cuff several minutes to place it in the correct position. I learned my lesson though; anywhere in the zone is just fine with me.
I have three physicians in this one building. Thinking I was safely on an every other year schedule, I double-checked with the OB-GYN desk just to be sure. Me and my big mouth -- I now have an appointment for that department in September.
I had planned to stop by the grocery store on the way home. When I finally left the doctor's office two hours later, the humidity was dense, the temperature off the charts, and I was still kicking myself for opening my mouth in the OB-GYN office.
I opted instead to drive through Hardee's for a double bacon cheeseburger!
PHOTO INTERLUDE: These Clay Aiken graphics promise to boost a little blood pressure. Featured are cindilu2, 1 (August calendar); AmazingCA, with photos by fivegoldens, 2 and 3, and Tasapio, 4; and cindilu2, photos by scrpkym and toni7babe, 5. Widescreen versions of the August calendar graphics are available at the artist's Yuku page.

Blue-Bound Bird for Dinner
I finally made it to the grocery story Saturday morning. A staple of my weekly shopping is a Harris Teeter roasted chicken, which the deli normally secures with red string. Today, however, it was blue.
Having watched my share of movies this summer, my first thought was "Bridget Jones's Diary" in which the lead character accidentally prepares blue soup due to the color of string. As much as I love blue, I sure hope that only happens in the movies.
Friday members of Clay's fan club were treated to another round of Questions and Answers by the singer. The most popular reply came when he hinted that news is just a week or two away.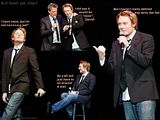 Is It Soon Yet?
Graphic by Fountaindawg
Have a wonderful weekend, Clay Nation!
Caro
TECHNORATI TAGS:
Clay Aiken
,
blood pressure
,
cardiology
,
stent
,
white coat syndrome
,
calendar
,
Question and Answer Thread
,
Official Fan Club
,
Clay Nation