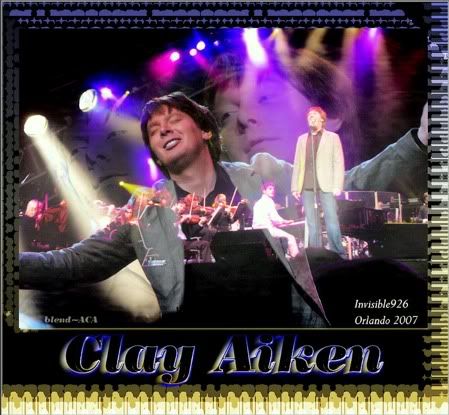 FINAL CURTAIN - AmazingCA's design highlights scenes from the Orlando SRHP Concert. Photos by Invisible926.
Icing on FOURIDA Concerts

NC Fans Fly Home with Clay
Final notes of the inspired performances by Clay Aiken & Company still echoed through Hard Rock-Orlando, site of the Soft Rock Hard Place Tour finale, when a delightful, little known postscript unfolded for three North Carolina fans.
All aboard the Virtual Tour Bus for a spin back to August 2007 ...
Icing on the FOURIDA for three North Carolinians arrived seconds before take-off when Singer Man bounded onto their Delta flight home. This is the story of three fans -- Cindydoe, NCClayfan, and MAL -- who politely allowed Clay much-needed space but still managed to express their appreciation for the summer tour.

Once home, Cindydoe and NCClayfan told their tale in back-to-back posts at Clayversity. Minus the emoticons, here is their commentary:

CINDYDOE: Clay was on our flight home!!!!! EEEEEEEEEEEEEEE!!!!!

As we sat on the plane, NCClayfan had just said to me, "As long as that door is open, there is still hope." Ten seconds later, there he was! Of course, we didn't say anything, but he had to notice the difference in cabin pressure as the three of us gasped for breath at the same time.

I'm sure I'll have a bruise on my arm and leg tomorrow from the two Mary Ann's. He sat four rows behind us and across the aisle with Jamie. He was in the window seat. We did not turn around to stare; and that was hard.
Trio Sends 'Off the Chain' Note
When the stewardess arrived with drinks, the excited fans quietly asked if they could have Clay Aiken's cup. She said, "So that was him? I thought it looked like him!"

We wondered if he would be at the baggage check, what we should say to him, if anything. We decided we would get off the plane as usual and give him his privacy. But, we did write a note on our Delta napkin:

"Thanks for the tour. It was OFF THE CHAIN!"

We got off the plane and asked the stewardess if she would give the note to Clay; she said she would. We got to where he couldn't see us, and peeped though a tiny window and watched as he stood in the door of the plane and read "our note."

Yes, we are 12 years old!!! That was certainly the icing on our sweet cake of a weekend!!!
NCCLAYFAN
: He was on our plane, he was on our plane!!! We breathed the same air for two hours!!!

One ticket to see Clay Aiken -- $100.00
Four days of Clay in Florida -- Over $1000.00
CLAY AIKEN on your return flight home -- PRICELESS!!!!!!!!!!

I was looking through the tiny peep hole giving a play by play. "He's in the doorway ... She handed it him ... He's reading it!"

After Clay read the note, he looked up, and I am pretty sure I saw a smile. He held the note in his hand as he went over to claim his bag on a rolling cart beside the plane. As he headed to the awaiting car, he still held our note in his hand!
As Clay enters the Universal Decca era, fans are counting the days until new music, concert tours, and memorable postscripts come their way again.
PHOTO INTERLUDE: Featured in this clickable interlude are graphics by AmazingCA. Photographers include fivegoldens, 1, 2; Invisible926, 3; dc4clay, 4; and xxx4clay, 5.
Cousins Present Summer Recital
Last Monday three of my students -- two pianists and a violinist -- presented a special summer recital for their grandmother, mothers, uncle, and a little brother. Counting the teacher, that was nine of us in the close quarters of a studio-practice room.
The program featured Disney, pop, and patriotic favorites, hymns and folk tunes, accompanied by the teacher. There were at least three video cameras running throughout, so there is bound to be clack. Most special, however, were the grandmother's audible compliments for each performer after every song.
The final selection, a simple unison arrangement of "Merrily We Roll Along," was planned by the cousins, who also designed their final bow. Standing in the middle, the violinist played the first verse. She was joined on the next stanza by her brother on the piano an octave higher. Their cousin added a lower octave on the third verse.
When they finished, the trio turned toward their mothers' video cameras and bowed as one. What the teacher wouldn't give for a screen cap of that!
Have an awesome weekend, Clay Nation!
Caro
TECHNORATI TAGS:
Clay Aiken
,
2007 Soft Rock Hard Place Tour
,
Hard Rock-Orlando
,
Orlando Concert
,
airplane
,
Off the Chain
,
student recital
,
clack
,
cousins
,
Official Fan Club
,
Clay Nation