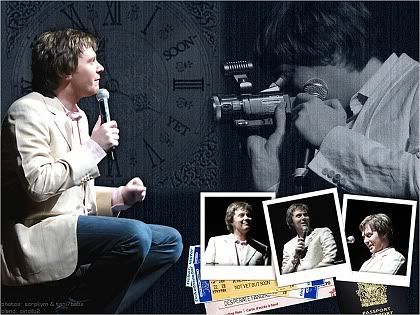 SINGER TURNED CAMERA MAN -- Clay Aiken joined the clack gatherers during the Ft. Myers SRHP Concert. Graphic by cindilu2, photos by toni7babe and scrpkym.
SRHP Memory for the Ages
Clay Videos Clack in Ft. Myers
August 16 is a day many Clay Aiken fans remember exactly where they were and what they were doing in 2007. Those of us from a certain generation can give you the same run down for 1977, the day Elvis Presley died.
My husband was on the road with the country singer David Houston when news of the death of Elvis Presley hit the airwaves. I, on the other hand, I was glued to the TV coverage in our Nashville, TN, home.
In 2007 I was not in the arena for the famous Fort Myers SRHP Concert. The next best thing, however, was listening via cellcert to the hilarious shenanigans Clay employed as he dealt with a series of unusual occurrences.
To this day, fans agree the circumstances of 8/16/07 evolved into one of the funniest concerts ever in the annals of Clay ...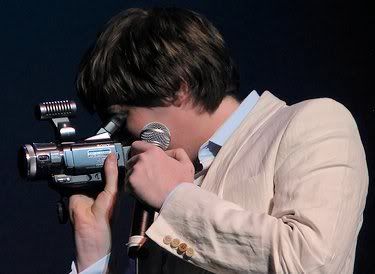 CLAY TAKES HIS OWN CLACK
Scrpkym's photo links to YouTube video.
F
t. Myers 07 a Hoot from Get-Go
The Ft. Myers SRHP concert of Aug. 16, 2007, was Clay Aiken doing what he does best -- sharing his incredible pipes as well as his amazing comedic, improvisational skills.
After scrunching around on his stool imitating a videographer's gyrations for "making sure the clack doesn't skip around," Clay borrowed the front row camera and gathered footage of his backup musicians.

The fan didn't miss a beat and pulled a backup camera out of her bag to continue filming the show. "She's got a whole Radio Shack in her purse!" Singerman exclaimed to the audience.
Clay Aiken Takes His Own Clack
captures the scene as videoed by the singer and Scarlett

, one of this fandom's most revered "clack goddesses."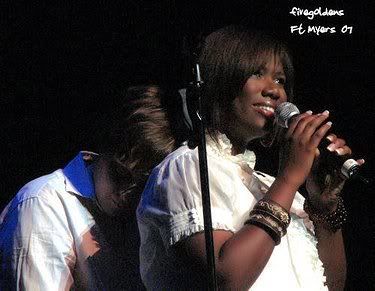 LIGHTS GO DOWN ON QUIANA
Photo by Fivegoldens links to YouTube video.
The Ft. Myers lighting person must have been a Claydawg or a Claymate because the spot followed the headliner wherever he went. After several attempts to keep the light on Quiana for her solo, appropriately titled "When the Lights Go Down," Clay finally sat on the stool behind his backup singer so she could be seen.

According to

Wandacleo

, Quiana had to put up with Clay's constant tickling throughout. It was only fair (and funny as heck) when his hand appeared from behind burlesque style to appeal for more audience applause. Not that it was needed!

Another fan favorite from the Ft. Myers concert was Clay's performance of "Measure of a Man." Here is

Canfly172

's video of MOAM on YouTube.

The Ft. Myers Slide Show below features pictures by photographers

LynninNJ

,

SmartyPantsSuz

,

FiveGoldens

, and

Scrpkym

. The photo links to a show with a choice between gallery and revolving views.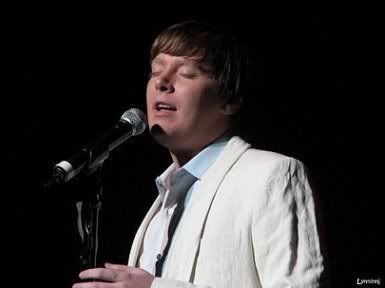 Photo by LynninNJ connects to Ft. Myers Slide Show
In her concert recap, SmartyPantsSuz reported that Clay impressed several of the venue's ushers, who said they really enjoyed the show.
One woman in particular -- "she's a goner!" -- gladly shared her address so Suz could send her DVD's of other shows. As usual, the venue staff was amazed with the enormity of the bus line following the concert.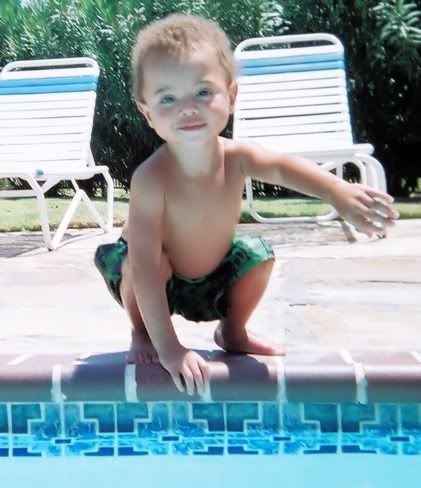 Grandson Kai tests water in apartment pool.
Out west, an important camera's digital connection has been revived, thanks to Amazon ... and Grandma. For those in Kai's "fan club," here are some shots of him enjoying the pool.
Playing the park, keeping cool in the pool, and finding new adventures daily have filled the summer calendar of Kai, who will be two next month.
Next time -- catching up with baby sister Lia!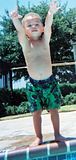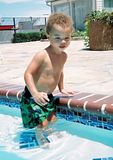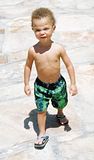 Clickables of Kai at the pool.
A Distinct Difference
No image, but I wouldn't doubt this "word picture" will be succinctly sufficient. I take my evening meds with dinner. When I went to the grocery store, I bought a small bottle of vinegar instead of the large one I usually store in the refrigerator.
After nuking last night's meal, I grabbed what I thought was a bottle of water and quickly returned to the movie I had been watching in the den. The pills and accompanying gulp from the bottle were followed by a record dash to the fridge. Water never tasted so good!
Below is a clickable of cindilu2's opening graphic: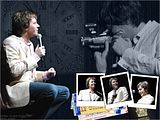 Have an awesome week, Clay Nation!

Caro
Another blog celebrating the 2007 Ft. Myers Concert is
Clay Aiken News Network
.
RELATED TAGS:
Clay Aiken
,
On My Way Here
,
A Thousand Different Ways
,
Measure of a Man
,
2007 Summer Tour
,
Soft Rock in a Hard Place
,
Ft. Myers SRHP
,
Elvis Presley
,
grandson
,
Official Fan Club
,
Clay Nation