Senator Edward M. Kennedy, 1932 - 2009.
'The Dream Shall Never Die'
America Honors Teddy Kennedy
Edward M. Kennedy - the husband, father, grandfather, brother and uncle we loved so deeply - died late Tuesday night at home in Hyannis Port.

We've lost the irreplaceable center of our family and joyous light in our lives, but the inspiration of his faith, optimism, and perseverance will live on in our hearts forever. -- from the Kennedy family statement
The life of Ted Kennedy, compassionate lion of the Senate and patriarch of the Kennedy family, not only touched the citizens of Massachusetts, whom he represented for 37 years, but all Americans, many of whom could not speak for themselves.
In the Senate, Kennedy was the driving force behind dozens of landmark bills that changed the social fabric of the nation, expanding the availability of health care, education and housing and advancing the rights of immigrants, women, minorities, gays and the disabled.
Battling brain cancer, Sen. Kennedy, 77, died without realizing what he called "the cause of my life," an overhaul of the nation's health care system.
His death followed by two weeks that of his sister Eunice Kennedy Shriver, 88, who founded the Special Olympics and championed the rights of the mentally disabled.
Besides online media, official websites of interest include Senator Kennedy.org and Edward M. Kennedy Institute. At Ted Kennedy.org, citizens can share memories, view photographs and video highlights of the Senator's life, and read the latest news.
As I gathered information for this blog, Clay Aiken's "Measure of a Man" track seemed to be on constant replay in my mind. The photo of Senator Kennedy (from his website) links to Measure of a Man, a montage by gerwhisp.
While the images honor the singer's work as a UNICEF Ambassador, the lyrics and music also describe the life, compassion, and service of the Massachusetts senator.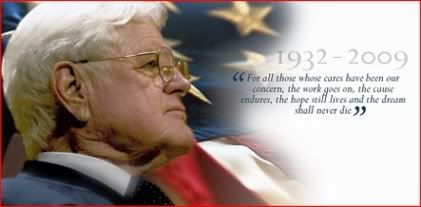 Photo links to Measure of a Man montage by gerwhisp.
Tributes Recall 'Lion of Senate'
Tributes to the legendary lawmaker's life, marked by tragedy and triumph, headline media telecasts, websites, and conversations around the world. Here are some:
President Barack Obama - For five decades, virtually every major piece of legislation to advance the civil rights, health and economic well being of the American people bore his name and resulted from his efforts.
An important chapter in our history has come to an end. Our country has lost a great leader, who picked up the torch of his fallen brothers and became the greatest United States Senator of our time.
Peter S. Canellos (Boston Globe) - Over 2500 pieces of legislation affecting all of us in one way or another. Who among us will leave behind over 2500 accomplishments in our lives.What an amazing individual life. Overcoming tragedy, fighting demons, and often making poor choices, Teddy surely lived a life of privilege and fought for all that do not.


Bill by bill, provision by provision, he expanded government health support to millions of children and the elderly, helped millions more go to college, opened the immigration doors to millions of new Americans from continents other than Europe, and protected the civil rights bulwark of the '60s through a long period of conservative domination.
Richard Lacayo (Time Magazine) - When people were getting tired of hearing about racism or the poor or the decay of American cities, he kept talking.
When liberalism was flickering, there was Kennedy, holding the torch, insisting that "we can light those beacon fires again."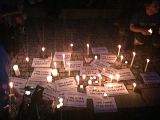 Dupont Circle Candlelight Vigil
Clickable by xiann
Vice President Joe Biden - Teddy spent a lifetime working for a fair and more just America. H
e restored my sense of idealism and my faith in the possibilities of what this country can do. It was infectious. He made everybody he worked with bigger, both his adversaries and his allies.
The unique thing about Teddy was he was never about him; it was always about you. We will never see the likes of him again.
Sen. Harry Reid (D-NV) - Ted Kennedy's America was one in which all could pursue justice, enjoy equality, and know freedom. Ted Kennedy's life was driven by his love of a family that loved him, and his belief in a country that believed in him.
Ted Kennedy's dream was the one for which the founding fathers fought and for which his brothers sought to realize. The liberal lion's mighty roar may now fall silent, but his dream shall never die.
Sen. John Kerry (D-MA) - He taught us how to fight, how to laugh, how to treat each other, and how to turn idealism into action, and in these last fourteen months he taught us much more about how to live life.
Sen. Judd Gregg (R-NH) -Ted was always willing to not only reach across the aisle, but had the unique ability to pull people together to get things done, with both substance and a great sense of humor. He was undoubtedly one of the single most effective senators in this history of our country.
Gordon Brown, British Prime Minister - "Senator Edward Kennedy will be mourned not just in America but in every continent. He is admired around the world as the Senator of Senators.
He led the world in championing children's education and health care, and believed that every single child should have the chance to realise their potential to the full.
More reactions to the senator's death can be read at NPR and Legacy.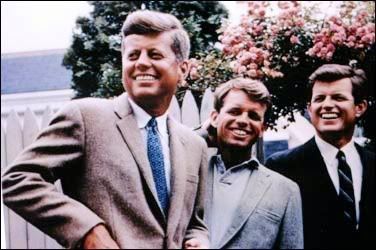 The Kennedys: Jack, Bobby, and Teddy. (Getty Image)
Kennedy Clan Committed to Service
On Nov. 22, 1963, I was participating in a college student recital when I learned of the death of President John F. Kennedy. A stricken department head, who was also my oboe professor, interrupted the performance with the announcement that "our president has been shot."
Assassination was the farthest thought from my mind, and I remember wondering, "Who in the world would want to kill Dr. Vardell?" [the college president] My suite mates and I literally camped out in front of dorm TV sets as we followed proceedings around the clock for the next few days.
Keeping up with Sen. Robert F. Kennedy's presidential campaign, I was watching television the night he was shot in June 1968. Again, I mourned the loss of a Kennedy whose life was tragically cut short.


In Memory of Edward M. Kennedy
Montage by Copingincalifornia

Set to "An Irish Lullaby" (Too Ra Loo Ra Loo Ra), the above montage can be viewed at YouTube in a larger player.
In the days ahead, this country honors the legacy of Senator Kennedy, a man of privilege who fought for the powerless throughout a life of service:
For all my years in public life, I have believed that America must sail toward the shores of liberty and justice for all. There is no end to that journey, only the next great voyage.

We know the future will outlast all of us, but I believe that all of us will live on in the future we make. -- Senator Edward Kennedy
Among the specials scheduled are MSNBC's The Kennedy Brothers: A Hardball Documentary at 9 p.m. ET Wednesday (replay at 7 p.m. Thursday) and Teddy: In His Own Words, a CNN documentary from 7-9 p.m. Wednesday.
Ted Kennedy will be buried beside his brothers in Arlington National Cemetery on Saturday. A prolific sailor, he has told his own story in his memoir, appropriately titled True Compass, scheduled for release Sept. 14.
Rest in peace, Senator Kennedy -- compassionate advocate, champion of all people, and true "Measure of a Man"!
Caro
TECHNORATI TAGS:
Senator Edward Kennedy
,
True Compass
,
Lion of Senate
,
lifetime of service
,
Clay Aiken
,
Measure of a Man
,
montage
,
Clayonline
,
Clay Nation