Parker's First Birthday - Montage by Yollie950
With 'Aunties' Around the World
Parker Celebrates First Candle
When Parker Foster Aiken was born at 8:08 a.m. August 8, 2008, the more artistic members of his father's fan base went into overdrive welcoming the new arrival with an outpouring of beautiful graphics and montages.
Today, as the son of Clay Aiken and Jaymes Foster blows out his first candle, the celebration continues in rhyme, rhythm, and song with thousands of "aunties" around the globe marking the birthay milestone.
The opening montage -- Parker's First Birthday - Yollie950 -- features his father singing "Look What Love Has Done" and a charming birthday poem by ymarie that closes with these verses:
You're a precious little boy,
The source of so much pride and joy.
You not only made their wishes come true,
You have thousands of aunties who love you, too.

We wish you the best on this special day
Congratulations again, Jaymes and Clay.
You done good!

Happy Birthday, Parker Foster Aiken!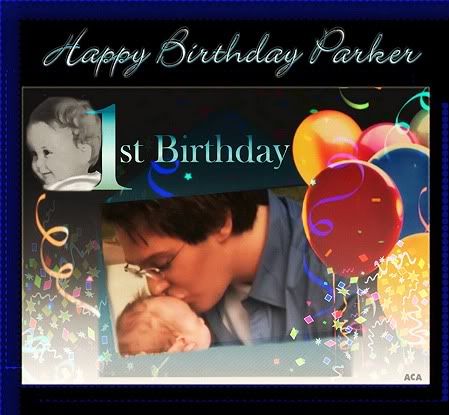 PARTY TIME -- Clay and Parker. Graphic by AmazingCA.
The occasions of Parker's birth, his dad's first Father's Day, and the anniversary of his arrival have resulted in countless special donations to The Bubel/Aiken Foundation, now the National Inclusion Project, by members of Clay Aiken fan clubs and message boards.
Amazingly, the infant inspired generosity among his father's fans as baby showers held in his honor benefited local families and children in need. In most cases, gifts were contributed by those in attendance, as well as many who forwarded items. Below is a photo from one such shower.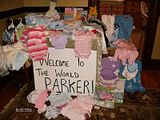 Boston Baby Shower
Clickable by Sandy
Glimpses from occasional outings, publications, and TV appearances during this little guy's first year have produced an amazing collection of photos, graphics, and montages by the fandom's creative "aunties."
The Father's Day montage by LovesClaysVoice is accompanied by Clay singing "I Will Be Here." Below are representatives from this blog's Parker photo album.
Beginning with August 2008, the first set includes graphics by Laura08, 1; Fountaindawg, 2 and 4; GMA screen cap of the family, 3; and AmazingCA, 5.
As Clay celebrated Father's Day, Parker crawled into toddler land. The graphic artists followed, and these clickable designs were created by

cindilu2

, 1;

AmazingCA

with photo by

PermaSwooned

, 2;

Fountaindawg

, 3 and 5; and

AmazingCA

, 4.
Wishing Parker and his family a very special birthday celebration! Happy weekend to the Clay Nation "aunties" around the globe!
Below is a double-clickable of AmazingCA's birthday graphic: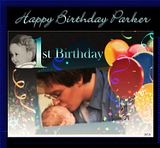 Caro
TECHNORATI TAGS:
Clay Aiken
,
Jaymes Foster
,
Parker Foster Aiken
,
birthday
,
montage
,
graphic design
,
National Inclusion Project
,
Official Fan Club
,
Clay Nation
Other blogs holding parties for Parker's birthday include:


Clay Aiken News Network

There Was a Man

Clay-The Man

Clay Aiken Journey

All That Is Clay Aiken