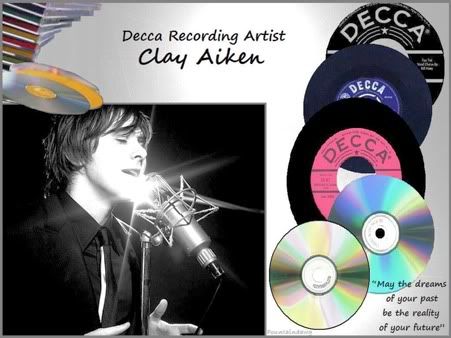 ON HIS WAY HERE -- Clay Aiken and fans celebrate his new Universal/Decca home. Graphic by Fountaindawg.
2010 Music Highly Anticipated
Fans Celebrate New Label, Gala
On my way here
Where I am now
I've learned to fly
I have to want to leave the ground

I've fallen hard
But I've been loved
And in the end it all works out
My faith has conquered fear
On my way here.
The long, winding road to Monday's Clay Aiken-Universal/Decca merger mirrors the lyrics of "On My Way Here," title track of his 2008 album. Two days after the announcement, the journey and new record label are still being celebrated in full mode on the singer's fan boards.



On My Way Here - Montage by Dreamlarge
An instant fan favorite, Dreamlarge's 2008 On My Way Here montage can also be viewed at YouTube.
Current message board festivities also include Wednesday's record-setting, four-minute sell out of tickets for the 2009 Champions Gala Benefit.
Hosted by the National Inclusion Project, formerly The Bubel/Aiken Foundation, the annual gala is set for Oct. 17 at the Raleigh Marriott City Center. Honoring the inclusion of people of all abilities, the gala will feature a special performance by Clay, silent/live auctions, dinner, and special awards.
A new link for supporters to bookmark is the Inclusion Project's online newsletter in pdf format: The Voice.

Fans Explore Decca Trails
Clay Aiken is listed at Wikipedia's Decca site under Pop/Crossover Artists, and the news section of the official Decca website is being watched closely. Familiar screen names are already following Decca Label Group on Twitter.
Paraphrasing propounder, a fan whose post has hopscotched across several message boards because it speaks to the hope of countless fans around the globe:
Universal/Decca landed a very talented entertainer, "a singing sensation with an amazing unique voice, superb work ethics, and a devoted fan base."
His star quality is evident and easily appreciated by those in the biz, a biz hungry for stars who can sell.

I hope this will be a happy and mutually beneficial relationship with Clay being supported to realize his potential and Decca richly rewarded for nurturing a great talent.
PHOTO INTERLUDE: Featured in this clickable interlude are graphics by AmazingCA (1, 5) and Fountaindawg (2, 3, 4), including regular and wide screen versions of the opening design, as well as a collage from the 2008 Gala. Photographers include Tangerine, 1; toni7babe and SmartyPantsSuz, 3; and ClayIzzQT, 5.

Broadway Media Joins Festivities
Clay's signing with Decca Records has been reported by multiple entertainment sites, including media from his theater days,
Broadway World
and
Playbill
. The story below is from the latter:
"American Idol" finalist Clay Aiken, who made his Broadway debut in Monty Python's Spamalot, has signed with Universal Music's Decca Records.

According to the singer's official website, he will release a new CD in the first half of 2010. No other details have been announced.

Aiken — who was bested by Ruben Studdard during the second season of "American Idol" — has gone on to sell more than six million albums, co-author a best selling book ("Learning to Sing: Hearing the Music in Your Life") and play six sold-out concert tours. He was a focus of the short-lived Off-Broadway musical Idol: The Musical and has appeared on "Ed," "Saturday Night Live" and "Scrubs."

Aiken released his fourth album, "On My Way Here," last spring.
The Best Is Yet To Come


Prevailing sentiments in Cyberspace are tremendous anticipation for the promise of new Clay Aiken songs by early 2010. When not listening to Singer Man's music, CA fans just might be caught humming "The Best Is Yet To Come" ...
Out of the tree of life, I just picked me a plum
You came along and everything started to hum
Still it's a real good bet, the best is yet to come.

The best is yet to come, and won't that be fine
You think you've seen the sun, but you ain't seen it shine

The best is yet to come, and won't that be fine
The best is yet to come ...
Have an awesome week, Clay Nation!

Caro
TECHNORATI TAGS:
Clay Aiken
,
montage
,
On My Way Here
,
Universal Music Group
,
Decca Records
,
Wikipedia
,
Broadway World
,
Playbill
,
National Inclusion Project
,
Champions Gala Benefit
,
Clayonline Fan Club
,
Clay Nation