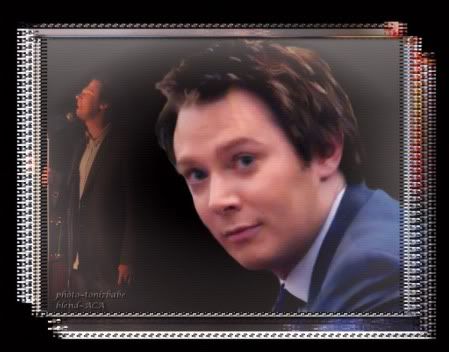 NEW LABEL for CLAY -- Graphic by AmazingCA, photos by toni7babe.
New Album Set for 2010

Aiken Signs with UMG Label

Clay Aiken has signed with a new label -- Universal Music's Decca Records!

The announcement was made Monday afternon on Clayonline, the singer's fan club site. Decca Records will produce an album in early 2010.

Fans, who have waited for this news since the singer parted ways with RCA in February, began dancing in the streets of Clay Cyberspace. News quickly spread to message boards, blogs, Twitter, Facebook, Myspace, and LALATE.
Within a nanosecond, links began appearing with more information about Universal Music Group.
Universal Music Group (UMG) is the largest business group and family of record labels in the recording industry. With a 25.5% market share (est. 2005), it is one of the "big four" record companies.

It is a wholly owned subsidiary of Vivendi; Universal Studios, the movie studio, was sold in part to NBC to form NBC Universal, which itself is part of GE.
Among the artists listed in the UMG roster are Andrea Bocelli, Hayley Westenra, Taylor Swift, Mariah Carey, Black Eyed Peas, Dolly Parton, Lee Ann Womack, Boyz ll Men, Morrissey, Rufus Wainwright, Sting.

Congratulations, Clay! Your fans are in full celebration mode!

Caro

TECHNORATI TAGS: Clay Aiken, Universal's Music Decca Records, new record label, Clayonline Fan Club, Clay Nation

Other blogs celebrating news of Clay's new label include:


Clay Aiken News Network

The ConCLAYve

Clay Aiken Journey

mjsbigblog


All That Is Clay Aiken
MJ's Big Idol Blog
Clay Aiken News
Clay-The Man
Truth Rules
There Was a Man