CLAY AIKEN: TRIED & TRUE - LIVE! 30 Second Promo
View and comment on YouTube
'Tried & True' Classics

CD Showcases Clay Aiken's Vox
Clay Aiken has never sounded more at home than he does singing the lushly arranged classics on his fifth studio album Tried and True -- the international pop phenomenon's first album for Decca Records.

Showcasing Aiken's powerful voice and considerable interpretive gifts, the new CD is comprised of songs from the '50s and '60s that Aiken grew up listening to as a child. The platinum-selling artist and idol to many has arguably never sounded better.

For Aiken, Tried and True (so named because he feels the songs have stood the test of time) was about getting back to himself after a career performing more pop-oriented material.
The Clay Nation, which has earned "tried and true" stripes right along with the singer and the music selected for his June 1 album, has rarely seen a better description of THE VOX than the opening paragraphs from the Decca Records press release about the T&T CD.
My brother, who has teased me -- at times unmercifully -- about my seven-year passionate support for the singer, his voice, and his causes, visited last weekend. Casually, I played the YouTube video promoting the August PBS Special and asked what he thought. His honest and atypical response was, "I don't know who that is, but it is fantastic!"
He was pleasantly surprised when I told him that was Clay singing. (EUREKA!!!)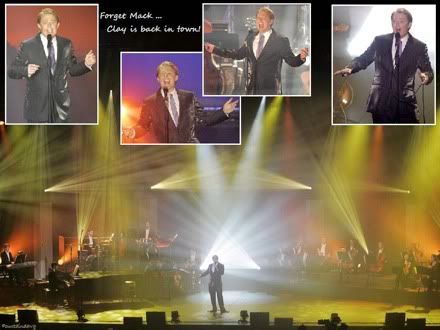 PBS Special graphic by Fountaindawg, photos by Jim R. Bounds
Clay Born To Sing 'Big Band'
A former bass student from my Nashville teaching days not only wrote a very special comment in the Carolina's Mother's Day entry but also called his "other mom" to wish her a blessed day. We talked about Clay, and my "brilliant" student stated, "Big band and Broadway are what Clay Aiken was born to sing."
With Tried & True pre-sale orders, track previews, and the actual June 1 CD drop clocking in at 15 days to go, I was curious to see what fans, their friends, relatives, and associates are saying about the album, the August special, this summer's 17-city Timeless Tour by Clay and Ruben Studdard.

CLAY AIKEN: TRIED & TRUE - LIVE! PBS Special Promo
View and comment at YouTube
Fans Anticipate Summer of Clay
Graphic designs about the CD, special, and tour provide dividers between fan posts and the reactions shared by the Not.Just.Us contingent. Among the many sites quoted are Clay's Decca page, the YouTube promo, various message boards, Facebook, and the Clayonline Still Spreading the Word! thread in the "Clay the Man" Forum:
caraleigh3: I am 20 yrs old, I was at that concert, and you will NOT be disappointed with Clay's new direction in music! He has brought a breath of fresh air to these older songs. I like some older stuff, and even I'm not familiar with a few songs on the album; so to me, it is new music!

cognitogrrl: The Vox is BACK, and I'm so happy - not only to get this show on PBS, but the Decca album in June plus I'm going to see Clay and Ruben in August! I'm getting back that golden voice I've loved since 2003, belting out gorgeous songs. Here you come again, Clay, and here I gooooooo!

lurkerchic: I really like this sound, this kind of music when it's done like this! It's kind of jazzy and cool. What a great performer!

CanadianFan61: Clay was born to sing and entertain, and nobody sings better than he does.

Invisible926: There is nothing like Clay Aiken live! I'm so happy that International Media and PBS will make it possible for more people to experience the magic that Clay's fans have enjoyed for 7 years.
sutter4clay: I am blown away after listening to both full length songs, "Can't Take My Eyes Off of You" and "Misty." This album is exceptional in quality, and Clays voice never sounded more incredible.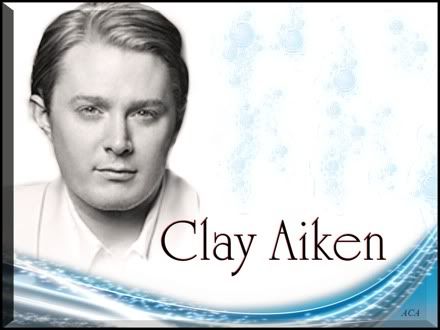 Graphic by AmazingCA
unaserenata
: If International Media captured half the magic that was present on the night of the taping, the special will be spectacular! Judging from this clip, it looks like they did. With Tried and True, Clay has made me love songs I didn't even like before!

remy5230
: Stunning! Clay at his finest, singing songs he loves with style, flair and vocals to die for!
joanie
: Saturday I was shopping at TJ Maxx with a friend. She picked up something with Elvis on it, and I said, "Elvis has left the building to Clay." I was a huge Elvis fan, never got to see him in concert, though I wish I had. As far as The Voice, Clay's voice moves me more than Elvis' ever did.
itsmeeee
: I dont even know how to describe them, but if you haven't heard Clay since American Idol, or ever, go and listen to these song samples on iTunes. Every song takes my breath away, each in a different way.


The tone in Clay's voice, his phrasing, and his vocal interpretation of these classics is quite beautiful. The lyrics envelope you when Clay sings them. This album cannot come soon enough, but I'm so grateful for the samples at least.

"Crying" is stunning! Roy Orbison would be proud of Clay and Linda Eder's interpretation. I think that one will get played first, but I love them all!
madyjax
: Good job, Decca. The care you take with your artists inspires public confidence. Your excellent reputation is well deserved. We've waited forever for this!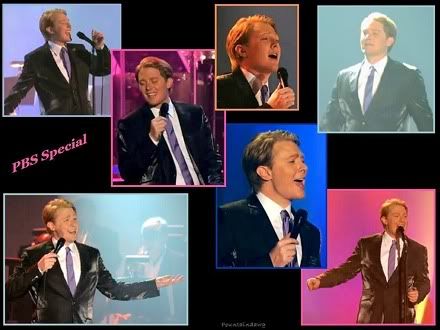 Graphic by Fountaindawg
Trio Describes Special UM Moment
Some of the most interesting quotes are from fans who attended the March taping of the PBS Special. Among the vivid descriptions of the performance are these three about Clay's version of "Unchained Melody":
luckiest1: I call it the airplane moment ... when he goes low then goes up and up and up in UM. I don't know how to describe it, but it's like nothing he ever did before. I can't wait for everyone to hear it!

cindilu2: And I call it the Supernova Moment. He goes from zero to "holy-#%&#-what-was-that???" in about five seconds. Awesome!

lilyshine: I just call it orgasmic.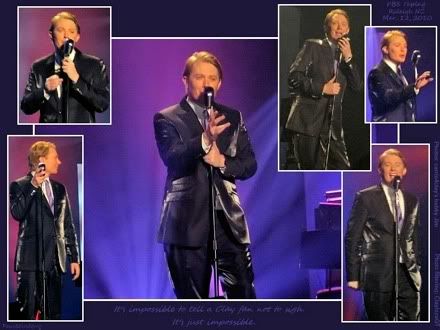 Graphic by Fountaindawg, photos by Jim R. Bounds
NJU Crowd Marks Calendar, Too
CA fans are reporting positive response as they spread the word about the upcoming CD and PBS Special. Many have emailed links for "Tried & True" track previews and the August promo video to friends, relatives, and acquaintances in their address book.

Here are just a few. If you share NJU experiences in the comments, I will add them to the collection:

cincy: I played "Misty" for the ladies in the office and while it was playing our mailman came in with the day's mail. He wanted to know who was singing (said he really liked it!!). When I told him, he said he and his wife had seen Clay in "Spamalot" but didn't know he was "that great of a singer."

goldarngirl: I shared the YouTube video on Facebookl. An elementary school teacher of my son's is a friend of mine there, and he has commented twice on Clay links. The last comment asking the date of the special prompted me to invite him to the concert in Windsor. This is his comment about the promo and concert:
Wow, this guy can shift musical gears like a well-oiled Porsche! Have you ordered your tickets yet and would you let me know?
kathyd52
: I had my neighbor listen to the preview songs on Facebook, and she said, "That's the kind of songs I've been waiting to hear him sing." Her preferred music is 1950's- 60's Motown. She has always liked Clay's music, but this is the first time she has sounded excited over the songs.
jessie44
: I've talked the CD up at my chiropractor's office and gave the receptionist a heads up about the selections on Clay's My Space. She said she got chills just thinking about "Misty," which is becoming one of my favorites. That band and the brass solo on "Misty" are magnificent!
carolcooke
: When I had my hair cut, I told three stylists I was going to see Clay in August. All of them said they loved his voice and admired him for his charitable acts and his kindness. They haven't seen him on television for a while and look forward to his promo appearances. They asked me to keep them informed!
janemartin53
(from the comments): Had a pharmaceutical vendor came to my office today. While we were discussing medications, he asked who was playing on my CD. "It's so relaxing, who is it?" When I told him it was Clay Aiken, he was really surprised. I told him Clay's new CD will be out in June and the music is like WOW. As he left, he thanked me for the information.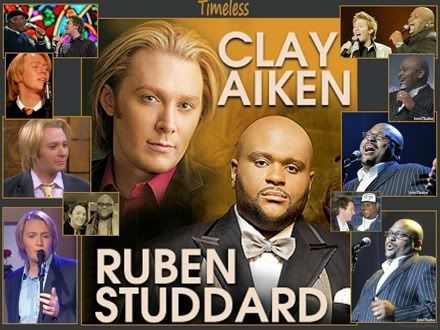 Timeless Tour graphic by Fountaindawg
Marlyne: My friend was very surprised and excited to hear that Clay and Ruben will tour together this summer. She feels theirs was the last season of American Idol with "really good and true talent" and is planning to attend a concert.
SueReu: I sent the PBS promo link to my mom so she could see the back of my head from way far away at the end of "Build Me up Buttercup." She listened to the whole thing, told me it was FANTASTIC music, and gave it a thumbs up!!!

claygalsal: I ran into my best childhood friend and her husband in the parking lot of Memorial Auditorium after the show. After jumping up and down for a few minutes and hugging each other, I asked her if she is a Clay fan and she said, "I am now!"

She also said that she would buy several of his CD's for herself and other people. I emailed her recently to let her know about when the public sale was starting for "Bringing Broadway Home". She and her hubby bought tickets! THEY ARE HOOKED!!!

brensmemaw: In March, I received a call from a friend from my high school days that I haven't seen or talked to in probably 30 years. She had just talked to a mutual friend who she told her that I had just come back from Raleigh where I had seen Clay Aiken. Joyce got all excited and said that she loves Clay!

She called me immediately to ask me all about Clay and what is happening with him. Needless to say, I filled her in and will keep her informed about the PBS Special and concerts near her via phone since she doesn't have a computer. It was so nice to catch up with each other after all these years and I owe it all to Clay!!

Claymatron: I was sitting beside a couple from Texas who had never seen Clay in concert but they'd driven 1600 miles for the show because they had found his music on YouTube. They remembered him from AI, but then lost track until a year or so ago when the woman (in her 40's) was hospitalized with a very serious medical problem and nearly died.

When she returned to her hospital room after one of her many surgeries, she looked over at her husband, who was fast asleep from exhaustion in the chair beside the bed, and said she felt overwhelmed with love for him.

She picked up her laptop and checked YouTube for Celine Dion's version of "Because You Loved Me," which was "their song" and found Clay's instead.

Her husband woke up, and the two of them sobbed in each other's arms over his beautiful rendition. They were both hooked and searched YouTube for every song he ever sang. They also checked the Internet to find out when he'd next be in concert and found the announcement for the PBS taping.

They loved the show and held hands all the way through it. It was truly a special time for them, and I know we have another couple of devoted fans.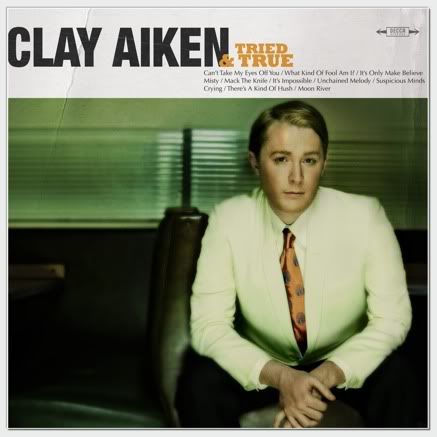 Clay Aiken 'Tried & True' cover by Vincent Soyez
Sites Preview T&T Tracks, Special
Among the sites with "Tried & True" track previews are:
Best Buy

Barnes & Noble - Also see the album credits tab for a list of musicians and production technicians on the CD. LOL, I would have killed to play the flute/alto sax book for this show.

Decca Records (NEW!) - Watch video of Clay talking about the making of "Tried & True."

Amazon - Previews not yet live

Decca Records - Previews not yet live on Clay's page.

Clay Aiken/MySpace - Two complete tracks: "Can't Take My Eyes Off of You" and "Misty"

iTunes - Pre-order the CD to listen to snippets of 12 tracks, including "You Don't Have to Say You Love Me" exclusive

YouTube - View CLAY AIKEN: TRIED & TRUE - LIVE! promo for PBS Special.
Don't forget to share your "word of mouth" and viral marketing experiences in the comments, and I will transfer them to the blog.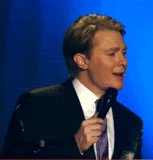 Gif by LovesClaysVoice
Have an awesome week, Clay Nation!
Caro