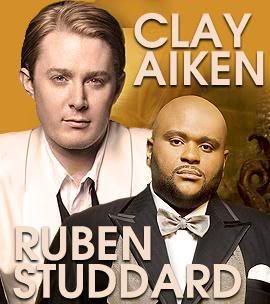 Timeless Tour kicks off Friday in Asheville.
In Music, Food, Humor
Timeless Tour Reflects Tastes
While both are Southerners, the singers agreed that their musical tastes reflected different traditions.

"I don't know that we overlap too much at all," Aiken said. "That's kind of what made this show fun."

"My taste is more caviar," Studdard added. To which Aiken responded, "And mine is barbecue."
In a three-way telephone interview, Clay Aiken, Ruben Studdard, and reporter Bruce Steele of the Asheville Citizen Times discussed the Timeless Tour's opening concert slated for Friday at Biltmore Estate in Asheville, NC.
The conversation was jovial and filled with gems from two entertainers whose longtime friendship has weathered national competition, constant comparisons, and the strength of time.
"We both love '70s variety shows," Aiken said in a brief three-way telephone call on Tuesday. "We're an entity this summer: Ruben and Clay."

"I notice you put my name first," Studdard said with a laugh.

Friday is the kickoff for a three-week, 17-show coast-to-coast road trip that reunites the two top finishers from the second season of "American Idol." In case you've forgotten, Ruben won, but Clay sold more records.

Not that any of that matters now, seven years later. Times have changed, the guys have changed, and the songs they'll be singing have changed.

"We are going to be singing timeless material that we grew up listening to, that our mothers listened to around the house," Studdard said. "Everyone's going to have a good time."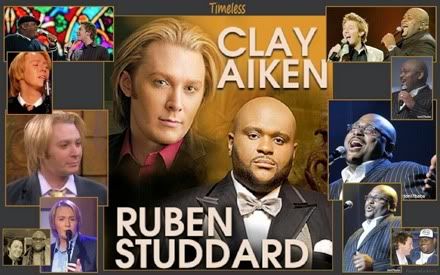 Timeless Tour graphic of Clay and Ruben by Fountaindawg.

"It was not our goal at all to do a show where one person sang and then the other person sang," Aiken said, perhaps unconsciously referring to the format of the annual "Idols Live" tour that trots out each season's "American Idol" top finishers.

"We're doing the whole show together," Aiken said.

The tour is a product of the two friends — they've been close ever since the show — finally being at the helm of their own careers. It's a nice change after some post-"Idol" years of dictated management, when "decisions were made in a vacuum — a vacuum that you're not even in," Aiken said.

One recent decision: Do more live shows. "I think Ruben and I both, while we like recording, are really live performers at heart," Aiken said.

The material will be wide-ranging, drawing from both men's catalogs — including Aiken's new CD of pop standards, "Tried and True" — and adding fresh classics. "It's a variety show," Aiken said. "It's the spice of life."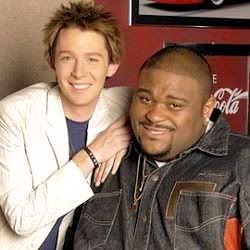 The Timeless Duo: Clay and Ruben
Double the Pleasure, Double the Fun
According to Kim Matthews, DJ with Asheville's Star 104.3, talking with Clay and Ruben is "double the pleasure and double the fun! They are hilarious and two of the nicest celebs I've had the privilege to interview."
Listen to their very funny chat here. You can download the interview with this Sendspace file.
Promotion is already underway for Sunday's 3 p.m.concert in Melbourne, FL. Check out the playful but informative banter between the two in this Metromix interview.

Clay's interview with Cat Greenleaf-- in which he explains the meaning of "clack" and discusses his new Tried & True CD, his fans, the National Inclusion Project, etc. -- is now available on the
Talk Stoop
website. Here are Sendspace downloads for the interview and the
teaser
that ran earlier.
Entertainment Tonight will feature an entire Timeless Tour segment Friday. The clickable screen cap above is from Thursday's promo, which you can download with this
Sendspace
file. Watch the hilarious Clay-Ruben interview at the etonline website, and download the video here.

For a complete listing of Timeless Tour concert dates with links, see the previous Carolina entry.

Decca T&T Promo Takes Jukebox Spin

Last weekend, Siol, OFC member from Wisconsin, discovered yet another way Decca Records is promoting Clay's Tried & True CD when she and her husband joined their sons at a sports bar following a game at a local park.
With permission, parts of her latest blog, "An Amazing Jukebox," are quoted below:
I remember the way jukeboxes used to be, but my, how they have changed, and for the better. Now I know they have an amazing new high tech jukebox called a "Playola" or something close to that.

Some of the ball players decided to play some older country western music, which you can do by just putting in the artist's name and choosing any song you want.

They all know how crazy I am for Clay, so they put in his name, called me over, and said I could play a few of his songs. I was amazed to see that TNT was listed. Of course, I played my two favorites, "UM" and "Crying."

I can't wait to go back, and I will certainly play Clay again. You never know when someone else might notice.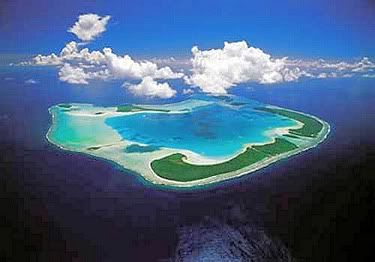 Grandchildren Experience Hawaii
Following a 12-hour flight that took them to Denver, Los Angeles, and finally Honolulu, grandchildren Kai and Lia are in Hawaii with their mother for a six-week visit with friends.

For both little ones, this marks their first time seeing the ocean. From his window seat, Kai marveled at the various cloud formations and the huge span of water as the plane flew toward Hawaii Tuesday. His younger sister was a bit less excited about flying.
The family's fondness for pineapple and other fruit will no doubt be expanded with the many tropical varieties available in the islands.

The night before departure both children were so excited they could not sleep, so Poppy took them driving in the desert on a sunset patrol. With the car windows rolled down, they were fast asleep in no time.

Meanwhile, their mother is today running on fumes, as she packed most of the night. She said her best purchase prior to leaving was as "sit and stand" stroller on which she could load both kids and all carry-on items to whip through the various airports for connecting flights.

A photo diary is promised, but a visit to the market tops the morning agenda. Stay tuned!
Below is a clickable of the wide screen Timeless Tour graphic by Fountaindawg: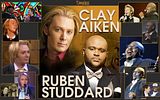 Have a wonderful week, Clay Nation!

Caro
Thank you for your blog comments and props for the contributing artists. To leave a remark, scroll to the bottom of that section, click on the "Post a Comment" link, and write in the box provided.

Visitors have arrived at this site from 153 countries. Many thnx for stopping by today! - Caro