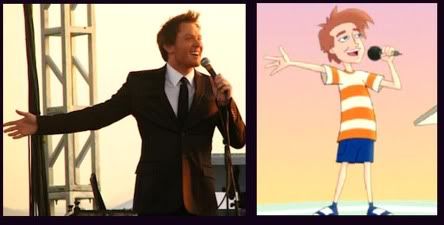 Phineas & Ferb Sneak Peek parallels Timeless Tour Week.
Double click on Concert-Cartoon Clay to expand graphic.
Clay Aiken-Chaka Khan Duet
Calendar Filled with Phineas & Ferb, Tour
Who in the Clay Nation would ever believe a Phineas & Ferb preview is giving Timeless Tour clack a run for its money?

A preview of "Summer Belongs to You" featuring a Clay Aiken-Chaka Kan duet, "I Believe We Can," is doing just that. The show can be viewed at Phineas and Ferb (password = PLATYPUS) from July 26-Aug 1 (end of the day).

Red-headed cartoon Clay starts singing at the 5:58 spot in the video, but the entire segment is a must see. CA fans will recognize some subtle meanings in a few places. The lyrics for "I Believe We Can" include this line:
I believe we can, and that's ... the measure of a man.
When a cartoon kid snaps cartoon Clay's picture, a kid bully snatches the camera away and smashes it. Later, when cartoon Clay is handed a rake to be useful in the clean-up, he snarks, "Who left her in charge?" Pointing to cartoon Chaka and himself, he adds, "You know, we are only booked for the hour."
Below is an episode teaser from YouTube:

Phineas & Ferb Preview - Summer Belongs to You, Part 1
Includes "I Believe We Can" duet. Watch at YouTube.

The one-hour "Summer Belongs to You" episode premieres Monday, Aug. 2 (8 p.m. ET/PT) on Disney XD and Friday, Aug. 6, on the Disney Channel.
As the story goes, it's the summer solstice and because it's the longest day of the year, stepbrothers Phineas and Ferb decide to travel around the world in one day.
But not everyone believes they can actually achieve what they've set out to do, leading them to get some encouraging words, in the form of a duet, from Clay Aiken and Chaka Khan.
Music from the episode, which will premiere on Radio Disney July 26 - Aug. 2, and will be released by Walt Disney Records on Aug. 3 at online retailers. For complete details, see this Disney release.
Jacksonville Concert Visual Rewind
Thanks to photographers Invisible926, toni7babe, deemer, and pt88, here are clickable visual rewinds of Saturday night's Timeless Tour concert at The Florida Theatre in Jacksonville, FL:
Photo credits: Invisible926, 1 - 7; toni7babe, 8; deemer, 9.
Brazilian Fan Shares M&G Recap
Imagine flying 15 hours from Brazil to see Clay Aiken in concert. Through the OFC, Lucia won a M&G for the Jacksonville concert. Below is her informative and very special account:
My Meet & Greet was awesome! I was really worried and nervous, but Clay has the ability to put everyone at ease. It took place at the first row of the theater, and there were only three of us.

Clay asked our names while giving us a big hug. The he asked where we are from. I told him I am from Brazil, and he seemed very surprised. He asked me when I flew in. "Today," I replied. He asked me how long the flight was. When I told him 15 hours, he asked if I was going to other concerts.

He told us Quiana was not feeling well and was not going to sing tonight. We told him the new backup singer was very good, and he told us to wait and see what she was doing tonight, singing both female parts at the last minute.

He was wearing cargo shorts, a plaid blue shirt, and sneakers (the old ones without the lace). He was also wearing sunglasses over his head, and he told us his hair looks better that way.

He told me that he has a very good friend whose parents lived in São Paulo, so he knew about my city. I told him I knew he had been to Brazil and about guarana, a fruit from the Amazon. He told me it was very good.

I told Clay I am running his Brazilian Fan Club, and I gave him a pin and a key ring.

He asked, "Do I have a fan club there? We need to know these things because Decca is planning to release Tried &True internationally but this has to be a decision from people in each country. In Brazil it is Universal."

I asked how I can help, and he said to email them and pressure them. And if they don't want it, it will be my fault. He is so cute.

Then he asked for items to sign, and I told him he had no idea how hard it as for me to find the CD because

cablegirl

was bringing one for me but couldn't make the concert.

"Oh, you're the one looking for the CD!" He said he could have given me one. He asked my name and wanted to sign "Stay True" in Portuguese, so he asked me to spell it. I told him, "No, you´re not going to ask me to spell in English (spelling is very difficult for me). So he signed it in English!

He told us he is touring in February and March next year, and he already has some places booked (Cleveland, Greenville, Memphis, Miami, Orlando, and more).

When I told him I had some presents for him, Ruben, Jerome, Quiana. he wanted to make sure I had something for Casey, which I did.

It was a dream comes true! Thanks, OFC and Clay! See ya in Melbourne!
Photo credits: toni7babe, 1-3; pt88, 5; Invisible, 4, 6-10.
For more photos of the Jacksonville concert, see the
The Florida Times-Union
online site.

Oops, the Melbourne concert just started! Have an awesome, Clay Nation!
Caro
Thank you for your blog comments and props for the contributing artists. To leave a remark, scroll to the bottom of that section, click on the "Post a Comment" link, and write in the box provided.

Visitors have arrived at this site from 153 countries. Many thnx for stopping by today! - Caro