MOCK REMATCH - The singers open the Timeless Tour show in an American Idol duel of vocals and antics. At one point, Clay sits on Ruben, only to be royally dumped on floor. Photo by Invisible926.
Memorable Vocals, Comic Stylings
Florida 3-fer Ends on High Note
Clay Aiken, Ruben Studdard, & Company saved the best till last as the final show of the Florida 3-fer is being hailed by fans as the funniest, most energetic, musically entertaining, and technically tight yet.
On top of that, the audience, filled with both men and women, enjoyed lots of interaction with the charismatic performers and showed them with much appreciative applause.
Outback of Clay Aiken Fans posted a brief report following Monday's Clearwater performance:
There have been a lot of men at all three Florida shows -- more than I have ever seen. Of course, the front is chock full of Claymates, but there are lots of couples. At two of the shows, I had two young guys sitting beside me. Never had that happen before.

That golden voice was out of this world. Clay can dance, and "Rev. Ruben" didn't have anything to do with it. He's got soul, y'all; this is funky dancing. I can't wait for everyone to see the show!
Another fan, kbdm, reported to the Clayboard that the Aiken-Studdard duo had the audience from the first note to the last.
People were on their feet, dancing, singing, laughing the entire show; and the guys kept cranking it up each time they looked at the audience to measure our reactions. Fantastic show!
Annie2053

from Clayversity, who sat 18 rows from the stage, posted that she and her husband loved the show:
My husband was applauding after songs before I was and laughing his face off. We attend a lot of these types of concerts at Ruth Eckerd Hall, so we can compare reactions of audiences from other shows. This is one of the more enthusiastic and energetic shows we've seen here.
Canuck2010

, who attended all three Florida shows, reported to Clayversity:
Clay was in top form last night, great voice, comic timing that would be the envy of any comedian out there. All the banter bits are becoming second nature, and the ad-libbing is hysterical. Ruben, Casey and Quiana all have incredibly powerful voices as well.

The difference in last night's show from the first two in Florida was the energy. I think we owe a lot of that to Ruben since he basically said, "If you're having fun, show it." He encouraged the crowd to get up and dance -- or rather he ordered us to.

I do believe it's my favorite tour ever. Ever! All I could think of to compare it to was Dean Martin and Jerry Lewis -- but better!
Photos by

Deemer

, 1-2, and

Invisible926

, 3-16, provide glimpses of Monday's Clearwater Concert:
Timeless Tour Set List Evolves
After four concerts, the Timeless Tour set list has evolved and is leveling off. On the "live feed," lots of visitors arrived on the Carolina doorstep searching for the Timeless Tour's play list. The set below is the product of three message boards and is probably still a work in progress.

Flying Without Wings / This is the Night (Mash-Up)

Suspicious Minds - Clay

Bring it On Home to Me - Ruben

60's MEDLEY: In the Midnight Hour / Up on the Roof / Goin' Out of my Head / You Can't Hurry Love / Happy Together / I Can't Help Myself (Sugar Pie Honey Bunch) / Crying / Soul Man / Wouldn't It Be Nice / Candy Girl / Shot Gun / Sugar Sugar / Harper Valley PTA / Ain't Too Proud to Beg / Ain't No Mountain High Enough

Natural Woman - Casey

Still the One - Clay

Marvin Gaye Tribute - Mercy Mercy Me / What's Going On - Ruben

70's MEDLEY: Night Fever / Ain't No Stopping Us Now / December 1963 (Oh What A Night) / Oh Girl / On the Radio / Turn the Beat Around / Get On Up (James Brown) / Don't Go Breaking My Heart / More than A Feeling / September

Mandy - Clay

Superstar - Ruben

I'm Every Woman - Quiana

Stay with Me Tonight - Ruben

The Revival – "Rev" Ruben heals Clay of "lackofrhythmitis."


The Healing Service
Double clickable by Deemer
When I See You Smile - Clay

80's MEDLEY: Eye of the Tiger / All Night Long / Glory of Love / Shout (Tears for Fears) / Africa (Toto) / Can't Fight This Feeling / Through the Fire / All Night Long / If This Is It / Alone / Caribbean Queen / Nothing's Going to Stop Us Now / Footloose

Everything I Do I Do It For You - Ruben

90's MEDLEY: This How We Do It / Poison / Achy Breaky Heart / You've Got the Right Stuff / MMMBop / End of the Road / I Swear / I Want It That Way / Do You Remember the Time/ You Oughta Know / Jump Around / Baby Got Back / Living La Vida Loca / One Sweet Day

Time of My Life - Group
Photos Capture Melbourne Show
Clay Nation photographers captured a variety of moments during the Timeless Tour Show at Melbourne's King Center for the Performing Arts.
These clickable photos by Invisible926 (1-11) plus the requisite sock pix (12) by Deemer and a wave from the bus (13) by Floridaiken show the four singers -- Clay, Ruben, Quiana Parler, and Casey Thompson -- as they appeared Sunday afternoon.

The Timeless Tour cast and crew now travel westward. The next three performances are Thursday, July 29, 7 p.m. PT, Mountain View Plaza, Snoqualmie, WA; Saturday, July 31, 8 p.m. PT, Silver Legacy Casino, Reno, NV; and Sunday, Aug. 1, 7 p.m. PT, Club Nokia, Los Angeles, CA.
Fans Explain Loyalty to Clay

On the Hollywood Outbreak website, there's an audio of Clay saying he can't begin to comprehend the loyalty of his fans. So far, many have replied RE the reasons they have stayed on the Clay Train since 2003.

Click on the media bar at the site to hear Clay's explanation; and if you'd like, leave a comment telling Singer Man why you're still a member of the Clay Nation.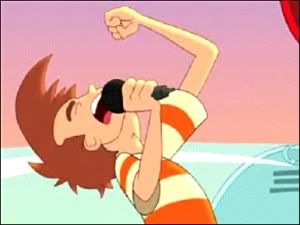 'I Believe We Can' screen cap by cindilu2
Almost as an encore to the Clearwater Concert, the Clay Aiken-Chaka Khan duet "I Believe We Can" (from Phineas & Ferb's "Summer Belongs to You" episode due out the first week of August) premiered at 10 p.m. Monday on Disney Radio.
You can listen to the song now at the Disney Radio website. To play it a second time, refresh the page.
Have a wonderful week, Clay Nation!
Caro
Thank you for your blog comments and props for the contributing artists. To leave a remark, scroll to the bottom of that section, click on the "Post a Comment" link, and write in the box provided.

Visitors have arrived at this site from 153 countries. Many thnx for stopping by today! - Caro