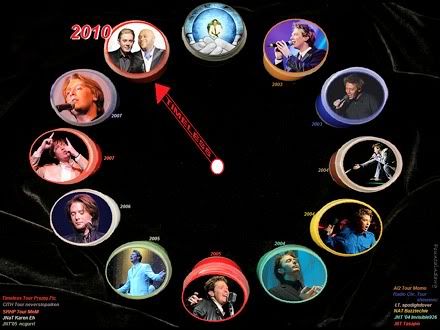 ELEVENTH HOUR - The opening of the Timeless Tour is just days away on July 23. Fountaindawg's design highlights the tours of Clay Aiken since American ldol. Photo credits can be viewed in the double clickable versions below.
Fans Welcome Full Schedule

Timeless Tour Clock Ticks Down
Clay Aiken fans are collectively setting video recorders, finalizing travel plans, and stretching plastic for last-minute purchases as the Timeless Tour, release of the singer's new Tried & True ~ LIVE! DVD, and a host of television appearances infuse overflowing summer calendars.
Below is a visual tour highlighting the next month beginning with the Cat Greenleaf interview on "Talk Stoop." If you count fall air dates for the Tried & True: LIVE special on PBS, the scope of this simple report stretches even farther.
July 22: Clay Aiken's interview with Cat Greenleaf will air on "Talk Stoop" at 6:15 a.m. Promos of the show feature the singer's acapalla rendition of "Moon River."
An online version of "The Stoop" will be posted after the telecast. You can download "Moon River" with these Sendspace files: mp3 and video. The clickable graphics by Fountaindawg include caps as well as photos taken by Diana Levine at the taping.
From dawn to dusk on June 2, a PopEater crew followed Clay around New York City as he promoted the new Tried & True CD on TV and radio. The entire day was replayed in Ashley Iasimone's Clay Aiken -A Day in the Life blog and includes a handsome array of photographs by Levine.
When we arrive at the Cobble Hill brownstone where Aiken will be interviewed for 'Talk Stoop' with Cat Greenleaf, he changes into a plaid shirt, accessorized with suspenders -- "I'm sitting on the stoop, why not?" he rationalizes -- and puts on a smile for Greenleaf's crew and family.

His final press appearance of the day is relaxed, the sun is shining and Aiken treats Greenleaf to a brief a cappella performance.



The Boys Are Back in Town - Timeless Tour Montage
View full screen at TheClayChannel on YouTube
July 23
: The whirlwind, 17-city Timeless Tour of Clay Aiken and Ruben Studdard opens at Biltmore Estate in Asheville, NC, Friday, July 23. Clay and Ruben will perform timeless classics from yesteryear.

2010 Timeless Tour: Concert Sites
Jul-23 - Asheville, NC - Biltmore Estate
Jul-24 - Jacksonville, FL - The Florida Theater
Jul-25 - Melbourne, FL - King Center For Arts
Jul-26 - Clearwater, FL - Ruth Eckerd Hall
Jul-29 - Snoqualmie WA - Casino- Mountain View Plaza
Jul-31 - Reno, NV - Silver Legacy Casino
Aug-01 - Los Angeles, CA - Club Nokia
Aug-03 - Milwaukee, WI - Potawatomi Casino
Aug-05 - Windsor, ON - Caesars Windsor
Aug-06 - Chautauqua, NY - Chautauqua Institution Amphitheatre
Aug-07 - Mashantucket, CT - MGM Grand Foxwoods
Aug-08 - Lancaster, PA - American Music Theatre
Aug-10 - Hampton Beach, NH - Hampton Beach Casino
Aug-11 - New York, NY - The Hammestein
Aug-12 - Verona, NY - Turning Stone Casino
Aug-13 - Hammond, IN - Horseshoe Casino
Aug-14 - Biloxi, MS - Beau Rivage
July 26-Aug. 2
: Clay Aiken/Chaka Khan duet premieres on Disney Radio (see release below.)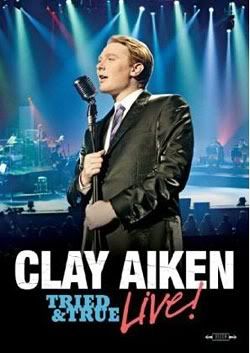 Clay Aiken: Tried & True - LIVE cover
July 27: Release of Clay Aiken: Tried & True ~ LIVE DVD.
Pre-orders for the July 27 release of the Tried & True ~ LIVE DVD are underway at Amazon and other online outlets. The 18 tracks from the PBS Special listed on Clay's page at Decca include:

Mack The Knife
Can't Take My Eyes Off You
It's Impossible
You Don't Have To Say You Love Me
Eso Beso
Who's Sorry Now
I'll Take Romance
Breaking Up Is Hard to Do
Misty
What Kind Of Fool Am I?
Crying
Suspicious Minds
Build Me Up Buttercup
In My Life
It's Only Make Believe
There's A Kind of Hush
Unchained Melody
Moon River

Clay Aiken: Tried & True - LIVE! Concert Special Promo
View promo full screen at YouTube.
July 31: The list of PBS stations telecasting Clay Aiken: Tried & True ~ LIVE! during summer-fall pledge drives expands daily.
Eleven markets -- Charlotte (WTVI), Miami (WPBT 2), Martin (WLJT 11), New Orleans (WYES 12), Rocky Mountain/Denver, Sacramento (KVIE 6), Tampa (WUSF 16), Atlanta (WPBA 30), New Orleans (WYES 12), Nebraska Educational Telecommunications (statewide), and Columbus (WOSU 34) -- will premiere the special on the 31st. See website for air time.

For air dates, check the searchable PBS tab at Clay Aiken News Network. The database is searchable by locations, dates, stations, etc.

Press releases about the special have appeared at many online sites, of which Playbill is an excellent example:
"Clay Aiken: Tried & True — Live!" will air on PBS stations around the country during July and August.

Aiken, who made his Broadway debut in Monty Python's Spamalot, is joined in the concert by special guests Linda Eder and Ruben Studdard.

Taped in Aiken's hometown, Raleigh, NC, Aiken performs such tunes as "Mack the Knife," "It's Impossible," "Moon River," "Misty," "Can't Take My Eyes Off of You," "Suspicious Minds," "Unchained Melody" and "What Kind of Fool Am I?" He joins Broadway actress Eder for a duet of Roy Orbison's "Crying."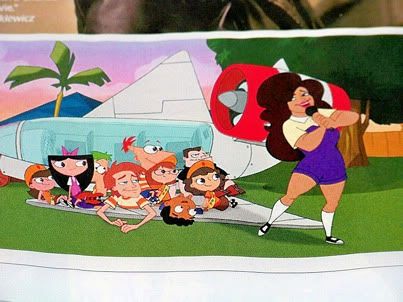 Double click on Clay/Chaka cartoon to expand.
August 2
: Premiere of Phineas & Ferb episode features Clay Aiken/Chaka Khan duet, "I Believe We Can."
With 100 episodes and counting, the Emmy Award-winning series "Phineas and Ferb" continues to roll out with new and thoroughly amusing stories for kids, tweens and families.


In August, the hit animated comedy, increasingly renowned for its smart humor and noteworthy guest stars, will present two new episodes featuring the legendary recording artist Chaka Khan, multi-platinum selling singer Clay Aiken ("American Idol"), Emmy-winning animator/writer Seth MacFarlane ("Family Guy") and filmmaker Kevin Smith ("Clerks").

A one-hour episode entitled "Summer Belongs to You" premieres Monday, Aug. 2 (8 p.m., ET/PT) on Disney XD and Friday, Aug. 6 on the Disney Channel. As the story goes, it's the summer solstice and, because it's the longest day of the year, stepbrothers Phineas and Ferb decide to travel around the world in one day.


But not everyone believes they can actually achieve what they've set out to do, leading them to get some encouraging words, in the form of a duet, "I Believe We Can," performed by Clay Aiken and Chaka Khan.


Music from the episode will Planet Premiere on Radio Disney Monday, July through Monday, Aug. 2, and will be released by Walt Disney Records on Tuesday, Aug. 3 at online retailers.
Below are regular and widescreen clickables of

Fountaindawg

's opening tour clock graphic:

Have a wonderful next few weeks, Clay Nation!
Caro
Thank you for your blog comments and props for the contributing artists. To leave a remark, scroll to the bottom of that section, click on the "Post a Comment" link, and write in the box provided.

Visitors have arrived at this site from 153 countries. Many thnx for stopping by today! - Caro