Happy Independence Day 2010!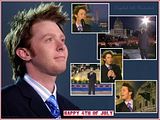 Clickable by Fountaindawg. Capitol 4th Rewind linked below.

Those Magic Changes - Reminiscing montage by SueReu
View the montage full screen at YouTube.
Download montage with this Sendspace.
Canada, USA Celebrate Holidays
Timeless Tour To Open July 23

Amid traditional patriotic celebrations for Canada and the USA and countdown clocks quickly closing in on the much-anticipated opening curtain of this summer's Timeless Tour by Clay Aiken and Ruben Studdard, July boldly marched into Clay Cyberspace with a flourish.
According to Clay, the Timeless Tour show is coming together with medleys and solos by the two singers, good friends and arguably the most popular 1-2 performers in American Idol history.
In the opening montage, SueReu presented Clay's June 21 Bringing Broadway Home performance of "Those Magic Changes" interspersed with memorable clips from the Jukebox Tour.
In the Artisan News Service video below, Clay discusses the latest on the July-August tour in which he and Ruben hope to capture some of the magic of American Idol's Season 2.

Clay Aiken discusses Timeless Tour with Artisan News.
View video full screen at YouTube.
The 17 Timeless Tour concert sites are linked below. For up-to-date information on ticket sales, see Ticketmaster and the venue links.
2010 Timeless Tour: Concert Sites
Jul-23 - Asheville, NC - Biltmore Estate
Jul-24 - Jacksonville, FL - The Florida Theater
Jul-25 - Melbourne, FL - King Center For Arts
Jul-26 - Clearwater, FL - Ruth Eckerd Hall
Jul-29 - Snoqualmie WA - Casino- Mountain View Plaza
Jul-31 - Reno, NV - Silver Legacy Casino
Aug-01 - Los Angeles, CA - Club Nokia
Aug-03 - Milwaukee, WI - Potawatomi Casino
Aug-05 - Windsor, ON - Caesars Windsor
Aug-06 - Chautauqua, NY - Chautauqua Institution Amphitheatre
Aug-07 - Mashantucket, CT - MGM Grand Foxwoods
Aug-08 - Lancaster, PA - American Music Theatre
Aug-10 - Hampton Beach, NH - Hampton Beach Casino
Aug-11 - New York, NY - The Hammestein
Aug-12 - Verona, NY - Turning Stone Casino
Aug-13 - Hammond, IN - Horseshoe Casino
Aug-14 - Biloxi, MS - Beau Rivage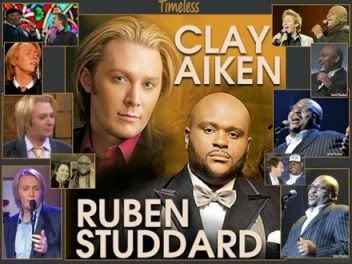 TIMELESS DUO - Clay and Ruben. - Graphic by Fountaindawg
CTMEOoY on Universal Playlist

On MySpace, Universal Music Group asks:

What's on your playlist for the holiday weekend? Here's what's on ours ... New Music playlist by Universal Music.
Listen to the new music, especially #23, "Can't Take My Eyes Off of You" from Clay's T&T CD. Plays for CTMEOoY were at 6,325 at noon Sunday and rising.
Way to go, Singer Man!
T&T 'Album of the Day' in Indonesia
At Creative Disc.com, Clay Aiken: Tried & True is the July 2 album of the day in Indonesia. Among the gems from the translated review include:
From pop, jazz, country, until the soul, wrapped in a bandage, Clay vocal pop with character. Another song is' Unchained Melody.' Without doubt, the perfect vocal in this song!

If the opera songs like 'It's Impossible' may have become everyday food for Clay. So for the best recommendations from me, kupilihkan 'Moon River' for you to listen - 10 of 10.

In mid-song guitar playing too solid! That comes from playing the guitar by Vince Gill. Thanks also to the musicians on the album that accompanied the vocal Clay in harmony. Also to the album producer Alex Christensen, David Novik, and Quiana Parler.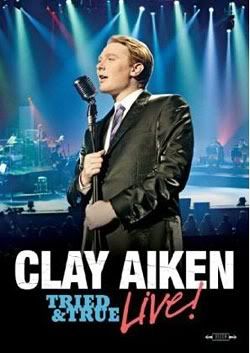 Nationwide, PBS stations are finalizing plans to telecast Clay's T&T special in conjunction with their August-September fundraising drives.
Master lists of PBS stations that have scheduled the Clay Aiken: Tried & True ~ LIVE! special are updated regularly at The Clayboard, Clay Aiken Fans, and Clay Aiken News Network. All are in forums that can be viewed by members and non-members alike.
Some stations hold fundraising drives at other times of the year. The latest word from UNC-TV is that the station "is working on it."
PHOTO INTERLUDE: Striking patriotic notes for Canada Day Weekend and USA Independence Day celebrations Sunday are five graphics, some current and two from seasons past. Featured artists are AmazingCA, photos by Diana Levine, 1, 2; CLAYPERFECT, 3; Fountaindawg, 4; and AmazingCA, 5.
Express Shopping Caters to Ankle
Thanks to my recovering ankle sprain and something called Express Lane Shopping at a nearby Harris Teeter, there's food in the cupboard again! I'm not talking about a simple run to the market because friends and family have graciously filled in those crevices.
Once I learned that I could punch in my grocery selections online and pick them up in the express lane, the new shopping adventure was on. I asked the guys who take care of my yard if one of them could meet me at home to carry the grocery bags into the house. "Anytime, Dahlin'" was their response; so I began working down my list Thursday afternoon.
Not as easy as it sounds. Sometimes I felt as if I were on a treasure hunt locating the headings under which items are listed. Gum, for example, is under "snacks."
The handy online shopping was interrupted by Thursday afternoon music lessons, so I eventually scheduled pick-up for 11 a.m. Friday with the store and my helpers.
Store Completes Order Early
While I was eating breakfast, a store representative called to say my order was ready for pick-up -- two hours early! I have learned this sprained ankle is not to be rushed, so I basically kept my original time.
Sure enough, you drive into the lane marked by yellow poles, one of which holds a call box. There was a customer in front of me, and the gentleman who loaded her groceries and registered her payment asked me my name. He returned with my seven bags.
While writing the check, I asked him how long this service has been available. "Four years, ever since this store opened," he replied. No one can ever accuse me of being on the cutting edge of things ... but I'm there now!

Ronnie carried the groceries into my house, took out a couple of trash bags, and brought in a shower stool from my storehouse. Years ago I broke my right tibia when I stepped on soap and executed a perfect split. Of course, the bathtub isn't long enough.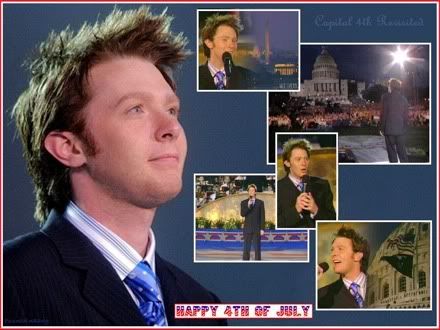 Graphic links to Clay's 2004 Capitol 4th performance.
Montage by Yollie950, graphic by Fountaindawg
My good Samaritan has gone fishing. Hope you are enjoying the holiday weekend, too. Happy Canada Day and Fourth of July Weekend, Clay Nation!
Caro
Thank you for your blog comments and props for the contributing artists. To leave a remark, scroll to the bottom of that section, click on the "Post a Comment" link, and write in the box provided.

Visitors have arrived at this site from 153 countries. Many thnx for stopping by today! - Caro