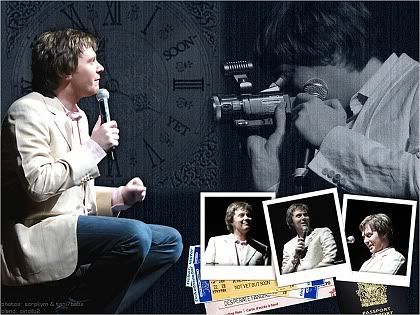 SINGER JOINS CLACK GATHERERS - Borrowing Scarlett's camera during the 2007 Ft. Myers SRHP Concert, Clay Aiken took some of his own clack. Graphic by cindilu2 links to the video. Photos by toni7babe, scrpkym.

Greetings for a Clack Goddess

Scarlett Celebrates Special Day
With the start of the Clay Aiken-Ruben Studdard Timeless Tour less than a week away, there is no better way to honor Scarlett, one the CA fandom's beloved "clack goddesses," on her birthday than to spotlight some of the classic video highlights she has provided during the past seven years.
Every self-respecting Aiken fan knows that Aug. 16, 2007, was the night Clay imitated the tiny videographer's gyrations in an effort to obtain the best possible angle, reached down from the stage, borrowed her front row camera, and gathered footage of his backup musicians.

Scarlett didn't miss a beat, however, and pulled a backup camera out of her bag to continue filming the show. "She's got a whole Radio Shack in her purse!" Clay exclaimed to the audience.

To this day, fans agree the circumstances of 8/16/07 evolved into one of the funniest concerts ever in the annals of Clay.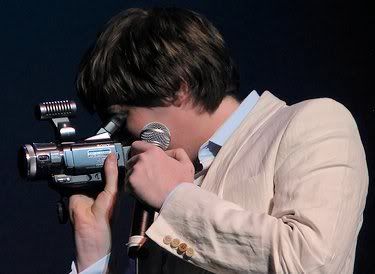 CLAY AIKEN TAKES HIS OWN CLACK
Scrpkym's photo links to YouTube video by Scarlett and Clay.
Cameras Chronicle Clay Events
Name a Clay Aiken tour (Independent, Joyful Noise, Jukebox, Soft Rock Hard Place) or special appearance by the singer (Golfing for Inclusion, David Foster & Friends, Bringing Broadway Home), and you generally will find Scarlett front and center with her camera(s).
In no particular order, a search for "Clay Aiken AND Scarlett" videos on YouTube runs the gamut showcasing Clay's incredible vocals, skilled comedic timing, and articulate speeches for various causes. Those not on YouTube can be downloaded from Clack Unlimited.
Before writing this blog, I asked for any special Scarlett experiences fans recall. One of my favorites came in a PM from Rainlover:
Sitting next to Scarlett at a concert and having her hand me a memory card to keep till after the concert in case she got busted. I felt so important!
Cotton

elaborated on Clay's "Radio Shack" reference:
She really does carry a Radio Shack with her right down to the surge suppressor packed in her suitcase because hotels never have enough outlets, LOL!

Clay banters with camera personnel at Clio, MI, Jukebox Concert.
Who will ever forget, "God forbid the clack skip around!"
View full screen at YouTube.
Scarlett Shares Travels on Facebook
For the past several weeks, Scarlett has been posting on Facebook from Yuzhno-Sakhalinsk, a city on Sakhalin Island, Russia, where she has shared the language, customs, exotic food, scenery, various experiences, and -- much to her chagrin -- her plight with uber slow downloads.
Due to the latter, she has vowed "to bring broadband access to every person on earth no matter where they live." Now that would be quite an accomplishment!
Scarlett and my grandson Kai still hope to hook up on Facebook where he enjoys playing "Family Feud." Chances of that happening will be much greater when she returns to US time zones.
In the past week, we discovered that we are not only fellow "moon kids" but July 17 carries the same significance for both of us. Currently 17 hours ahead of EDT, Scarlett is well into celebrating our special day.
Happy Birthday to a very special lady who, hopefully, will enjoy many greetings at the Carolina site, on Facebook, and throughout Clay Cyberspace!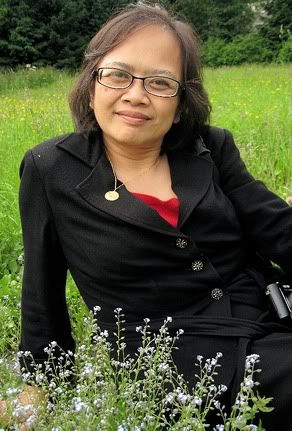 Scarlett celebrates birthday in Russia.
Rest assured, the birthday gal will be home on the 20th in time to do laundry and make it to the July 23 Timeless Tour bow in Asheville.
Have a wonderful weekend, Clay Nation!

Caro

Thank you for your blog comments and props for the contributing artists. To leave a remark, scroll to the bottom of that section, click on the "Post a Comment" link, and write in the box provided.

Visitors have arrived at this site from 153 countries. Many thnx for stopping by today! - Caro