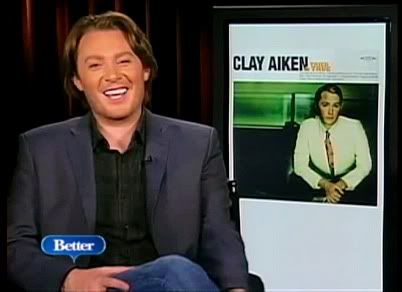 Clay discusses Tried & True, Timeless Tour with BetterTV.
Photo links to Clay's video on the Better TV website.
Download interview with this Sendspace file.
'Decades of Favorites' on Tour
Singer Talks About Classic CD
Clay Aiken appeared on Better TV Monday talking about his new Tried & True CD and the 17-city Timeless Tour planned with Ruben Studdard from July 23 - August 14.
Double click on the above photo and you can watch Clay's Better TV interview. It's amazing to me how the singer breathes new life into each appearance he makes discussing the same topics.
His host takes viewers through the highlights of Clay's roller coaster ride since his American Idol days seven years ago. Below is a paraphrase of the interview:
He's written a book, starred on Broadway, and was even an executive producer for a TV show. Back to his first love, music, we talked to the singer about his latest album.

It's been seven years since Ruben Studdard and Clay Aiken stood on that American Idol stage. Now Season 2's top 2 are reuniting for a tour through decades of their favorite music.

Clay's fifth CD, Tried & True, is filled with classics that he has always wanted to record. "More than anything else I've every done, this album is true to me. It is exactly what I have wanted to do for seven years."
At the conclusion, the interviewer encouraged everyone to give a listen to Clay's Tried & True album and to look for the singer and his pal Ruben Studdard on tour this summer.

Among the best ways for newcomers to "give a listen" to T&T are through the official Clay Aiken and International Media channels at YouTube. In addition to the preview of Clay Aiken: Tried & True ~ LIVE! below, there are also promo videos of the CD songs, as well as Clay's performances from Good Morning America and The View.


Clay Aiken: Tried & True - LIVE!
View full screen at YouTube

Clay's PBS Special, slated in several markets as early as July 31, will reach a vast new audience. Master lists of PBS stations that have scheduled Clay Aiken: Tried & True ~ LIVE! are updated regularly at The Clayboard, Clay Aiken Fans, and Clay Aiken News Network.

The 90-minuted DVD of the special, which will be released July 27, can be purchased during PBS fundraising drives, at Amazon and other online outlets. You can read about the DVD at Decca where the 18 tracks are listed.

CA fans are making sure they stream "Can't Take My Eyes Off of You" at Universal Music's Playlist on MySpace. Spins passed 10,000 Sunday night.

Meanwhile, I have friends and relatives in my email list who would enjoy Clay's album of jazzy, big band classics. Bet you do, too!

PHOTO INTERLUDE: Featured in this clickable collection are graphic designs from the Tried & True CD cover/liner photos, PBS special, and Popeater's "Day in the Life" by AmazingCA, 1 and 3; SueReu, 2; and Fountaindawg, 4 and 5.
Family Bids Farewell to Matriarch

In failing health for many months, my mother-in-law passed away peacefully Friday afternoon. In better times, she was a dedicated octogenarian fan of Clay Aiken and would have loved his new Tried & True CD. I'm sorry she was never able to enjoy the album.

Nina loved her family, state, and country; but she also enjoyed her NJU status in the Clay Nation. I kept her informed about the latest; and for a long time, she passed along Kai and Lia updates. She was especially proud of what a good mother her granddaughter is.

Until she became too ill to watch television, MIL relied on me for the exact times of Clay's appearances. I bookmarked her cable company so I could keep her viewing schedule straight. I think the only time she missed a show was when the West Texas winds were so strong that nobody received the feed.

Clay Fans Light Candles

Admitted to her hospital's critical care unit with heart failure in 2007, she was very moved when she graduated to a room with a telephone and I read her the encouraging messages posted at the Gratefulness Candle site by CA fans from around the world.

Nina had a talent for summarizing a situation in a few brief words. A perfect example was in August 2007 when I read to her Spotlightlover's account of meeting the Japanese Clay fans during the Summer Symphony Tour in San Diego. This was also one of my MIL's favorite Clay Nation stories.

MIL Provides Fitting Postscipt

The Japanese contingent not only attended the tour's four California concerts, but they also flew to North Carolina for the homecoming performances in Cary and Asheville.

As fans who connect from afar, the group was well acquainted with downloads at Clack Unlimited. In San Diego, they met one of the revered videographers who make it possible for fans around the world to enjoy concerts and other appearances. In a message board post, Spotlightlover described her chance meeting with these fans.
As we were preparing to leave the venue, I noticed that 20 or so Japanese ladies had gathered at the front of the stage in their kimonos. They had taken the set lists from the stage and were "oohing" and "aahing" over them.

I took a little footage of them and then asked if anyone spoke English. A couple of tentative nods; then the woman who was serving as translator introduced herself.

I told her I had a big souvenir of the entire concert, and there were a few gasps. We exchanged cards and I said I would be in touch. Then I talked a little more with a few of the women who spoke English. I asked if they were on the Internet.

One of them replied, "Clack Unlimited?" So I told them my board name. And the eyes of these wonderful women from a far country widened with recognition because they knew who I was.

For me, meeting these women was the most magical moment of the night. No, not because they knew who I was, but because across the vast Pacific Ocean, culture differences, and a language barrier, we have all become a part of this awesome phenomenon. I had shared something with them, not even knowing it; and that made us comrades from half a world away.

I think now, for me, that's what this is really all about. It's no longer just about a skinny kid from North Carolina with an incredible voice who got the chance of a lifetime. It's how his effect on us has brought us together into a big family, and every concert is like a family reunion.
I read paragraphs from three August 2007 blogs to Nina. Her one-sentence response in the distinctive West Texas drawl struck me as a most insightful postscript:
The Clay Nation is doing things that poor ole missionaries can't get done.
Nina, 87 and weary at the end. will be laid to rest Wednesday morning. Good times together and on the telephone will be missed and remembered. Rest in peace, MIL.
Have a wonderful week, Clay Nation!
Caro


Thank you for your blog comments and props for the contributing artists. To leave a remark, scroll to the bottom of that section, click on the "Post a Comment" link, and write in the box provided.

Visitors have arrived at this site from 153 countries. Many thnx for stopping by today! - Caro