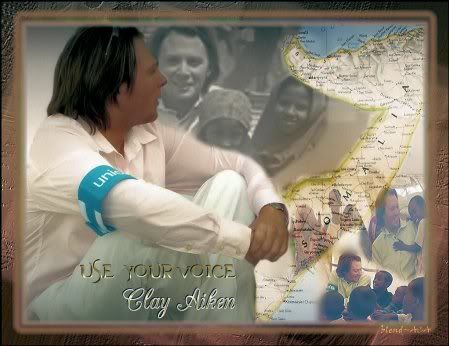 USE YOUR VOICE -- Clay Aiken, UNICEF Ambassador, uses his voice to tell others about his recent Somalia mission. Graphic design by Amazing_CA.
In Olympic, Political, Social Arenas

Montages Link Others to OMWH

After complementing athletic achievements in the Beijiing Olympics, tracks from Clay Aiken's On My Way Here CD are back in the spotlight of current American political arenas and ongoing charitable endeavors.

At back-to-back conventions in Denver, CO, and St. Paul, MN, Democratic and Republican delegates will adopt their respective party platforms and officially nominate presidential candidates and running mates for the November elections.

Since a May release, OMWH songs have accompanied montages about presidential nominee-elects Barack Obama, Democrat, and John McCain, Republican.
Several OMWH songs enhancing videos about tragedy and triumph around the globe, will be listed in this entry. Readers are welcome to recommend montages this current collection missed.
Tribute to the Obamas
An Obama Love Story
, set to "Something About Us" by

Hotshortie

one month after OMWH was released, continues its popular run on YouTube. Use the link or the player below to watch this montage.

An Obama Love Story
Other Obama-related videos created with OMWH songs include
Obama Against War
(Grace of God) by

Starfishhome

;
Barack Obama - Weight of the World
,

Itispersonal

; and
Obama for Change
(Grace of God) by

AshFoals

.
Tribute to John McCain
In July, Lacy704 created John McCain Tribute: Rising from the Ashes. The montage features the "Ashes" cut and can be viewed at YouTube or with the player below.


John McCain - Rising from the Ashes
Montages Highlight Charities

Clay Aiken, who co-founded The Bubel/Aiken Foundation in 2003, was named a UNICEF Ambassador in 2004. Listed by song, the OMWH montages below underline the singer's projects with these organizations, as well as other global issues.
AS LONG AS WE'RE HERE

As Long as We're Here by Aspiegirl

UNICEF - As Long As We're Here by SueReu

ASHES

Rising from the Ashes by IUGurls

Rise up from the Ashes -- UNICEF by SueRue

GRACE OF GOD

UNICEF Survival Project by Gerwhisp

Earthquake in China by Renegade79

Somalia by Brolio42

Somalia Awareness by Yollie950

ON MY WAY HERE

Cancer Tribute (On My Way Here/I Survived You) by Yollie950

IT'S IN EVERYONE OF US (OMWH Bonus Track)

UNICEF Finds a 'Heart of Gold' by Emerson032

It's in Everyone of Us, (UNICEF/TBAF) by Iampmstar

PHOTO INTERLUDE: This clickable interlude features OMWH and UNICEF graphics by Amazing_CA, 1, 3, 5; Ashes, 2; and Claystruck, 4.
MARK YOUR CALENDAR

FOX Fri, Aug 29, 8:00 PM: Are You Smarter Than a 5th Grader?

TVLAND Mon, Sep 1, 8:30 PM: Scrubs

TVGN Sat, Sep 6, 6:00 PM: TV Guide Close Up Record

'Hey! Nielsen' Rates Celebs' Impact

CA fans are adding to their regular online destinations Hey! Nielsen, a real time indicator of a topic/celebrity's impact and value in which users play a major role in determining the rankings.

As opinions and commentary are submitted, the score for a celeb rises or falls based on a number of factors: user opinions, comments, user ratings, news coverage, Internet buzz, and raw data from Billboard, Hollywood Reporter, and Blog Pulse. Scores are calculated daily.

An opinion counts the most toward the HN score, followed by written comments on another poster's opinions, and, thirdly, reactions to other opinions. You are allowed to write one opinion per topic every 24 hours and one comment per any single opinion (including your own).

To participate, create an account, sign in, and begin. Posting an opinion every day is important. See music rankings, as well as complete searches for Clay and/or the Clay Aiken Official Site, at this link.
Season 7 American Idol runner-up David Archuleta's "Angels" have definitely discovered this site. Go, Clay Nation!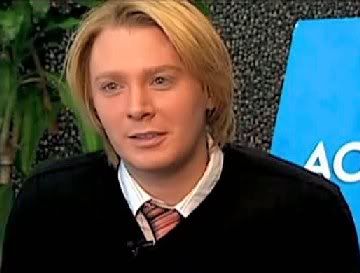 AOL Sessions cap by ClayIzzaQT

OTHER BOOKMARKS OF NOTE

My Space/Clay Aiken features OMWH tracks: "On My Way Here," "Everything I Don't Need," and Ashes.

AOL Sessions: View five performances of OMWH songs, including "Ashes," "Everything I Don't Need," "Where I Draw the Line," "On My Way Here," and "Something About Us."

AOL Top 11 Music Video Countdown: "Where I Draw the Line" and "On My Way Here" are currently in the countdown.

Below is a clickable of the lead graphic by Amazing_CA: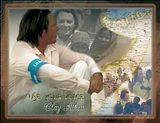 Have a wonderful week, Clay Nation!

Caro

TECHNORATI TAGS: Clay Aiken, On My Way Here, montage, UNICEF, The Bubel/Aiken Foundation, Barack Obama, John McCain, Something About Us, Ashes, Grace of God, It's in Everyone of Us, Weight of the World, Everything I Don't Need, As Long As We're Here, Hey! Nielsen, AOL Sessions, Official Fan Club, Clay Nation