ORLANDO 2007 -- Amazing_CA graphic, photo by Invisible926.
2007 Summer Tour Finale
Recollections of Orlando Concert

A beautiful duet that evolved into a magnificent trio, the moving Measure of a Man reaching emotional pinnacles, and the predictable, playful antics of a final show marked Clay & Company's closing bow of the 2007 Summer Tour in Orlando on Aug. 19 of last year.
The venue, Hard Rock - Orlando, was packed with faithful fans and newcomers alike, while thousands around the globe listened via cellstream to an entertaining but emotional Soft Rock in a Hard Place Tour finale.
Throughout the tour, Quiana [Parler] and Angela [Fisher] had cleverly teased Clay as to which of the two would be his singing partner on the "I Want To Know What Love Is" duet. Each night of the tour Clay had to guess which backup vocalist would answer his opening phrase.
In Orlando, they both did! As soon as he committed to singing to one, the other picked up the next phrase. In the end, Clay improvised low register riffs with Quiana and soared higher altitudes with Angela.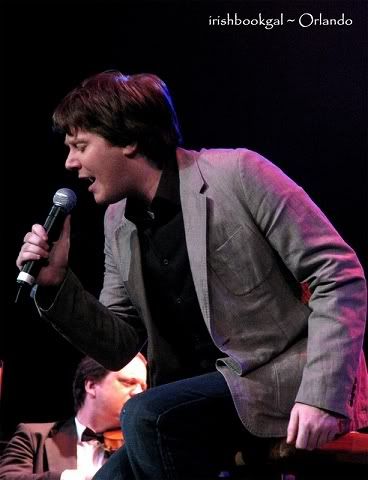 Photo by Irishbookgal links to Orlando IWTKWLI.
Irishbookgal

's photo links to IWTKWLI, posted at YouTube by kb0326

. In this rendition, Singerman renamd his backup singers

"Heartache" and "Pain."
The photo below links to Spotlightlover's Orlando video of the memorable "Measure of a Man" performance.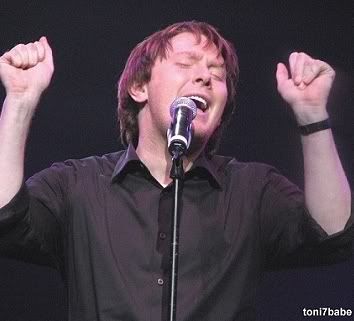 Toni7babe's photo links to Orlando MOAM video.
Goose Bumps in Any Language
In the long line waiting to get into Hard Rock-Orlando,

Platinum

spoke with a Jamaican foreign exchange student who had attended the concert alone. He had seen Clay on American Idol, thought he had a fantastic voice, and wanted to see him in concert.

Later in the handshake line, she met fans from Venezuela who had come to the US specifically to see Clay. The wife didn't understand English, so her husband translated.

He told me his wife downloads all of Clay's videos off the Internet and watches him on YouTube, too.

Through her husband, the wife told me she loves Clay and thinks he is beautiful. I asked what she thought of the concert, and she grabbed at her arm in an up and down motion. This must be the universal sign for goose bumps.

She only has "A Thousand Different Ways," so I got her e-mail address and will send her some of the extras I have at home. I can't tell you how thrilled she was to get a handshake!
Photos Highlight Special Moments
The clickables of this photo interlude are snapshots of special moments during the tour's finale in Orlando. Included are photos by

Okie4Clay

, 1;

Invisible926

, 2 and 4;

Claysmelody

graphic, photo by

Toni7babe

, 3; and

Brightstar

, 5.

The fourth photo captured the "switcheroos" on "A Thousand Days." Sean [McDaniel] played piano, Jesse [Vargas] became the drummer, and Quiana did a fantastic imitation of Clay as he stepped into her backup role. The final picture was taken after Clay sang "Because You Love Me," his special thank you to the fans.
NC Fans Fly Home with Clay
Icing on the FOURIDA for three North Carolinians arrived seconds before take-off when Singer Man bounded onto their Delta flight home. This is the story of three fans --

Cindydoe

,

NCClayfan

, and

MAL

-- who politely allowed Clay much-needed space but still managed to express their appreciation for the summer tour.

Back home, Cindydoe and NCClayfan told their tale in back-to-back posts at Clayversity. Minus the emoticons, here is their commentary:

CINDYDOE
: Clay was on our flight home!!!!! EEEEEEEEEEEEEEE!!!!!

As we sat on the plane, NCClayfan had just said to me, "As long as that door is open, there is still hope." Ten seconds later, there he was! Of course, we didn't say anything, but he had to notice the difference in cabin pressure as the three of us gasped for breath at the same time.

I'm sure I'll have a bruise on my arm and leg tomorrow from the two Mary Ann's. He sat four rows behind us and across the aisle with Jamie. He was in the window seat. We did not turn around to stare; and that was hard.
Trio Sends 'Off the Chain' Note
When the stewardess arrived with drinks, the excited fans quietly asked if they could have Clay Aiken's cup. She said, "So that was him? I thought it looked like him!"

We wondered if he would be at baggage check, what should we say to him, if anything. We decided we would get off the plane as usual and give him his privacy. But,we did write a note on our Delta napkin:

"Thanks for the tour. It was Off the Chain!"

We got off the plane and asked the stewardess if she would give the note to Clay; she said she would. We got to where he couldn't see us, and peeped though a tiny window and watched as he stood in the door of the plane and read "our" note.

Yes, we are 12 years old!!! That was certainly the icing on our sweet cake of a weekend!!!
NCCLAYFAN
: He was on our plane, he was on our plane!!! We breathed the same air for two hours!!!

One ticket to see Clay Aiken -- $100.00
Four days of Clay in Florida -- Over $1000.00
CLAY AIKEN on your return flight home -- PRICELESS!!!!!!!!!!

I was looking out the tiny peep hole giving a play by play, "He's in the doorway. She handed it him. He's reading it!"

After Clay read the note, he looked up, and I am pretty sure I saw a smile. He held the note in his hand as he went over to claim his bag on a rolling cart beside the plane. As he headed to the awaiting car, he still held our note in his hand!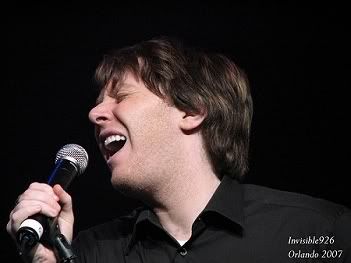 Photo by Invisible926 links to Orlando Slide Show.
The Orlando Slide Show features photos from Sunday's closing concert. Photographers represented include Invisible926, ClayGlo, Toni7babe, and Brightstar. Invisible's photo links to a show with a choice between gallery and fading views.

Below is a clickable of Amazing_CA's lead graphic:


Orlando provided a perfect ending for the Clay Train's amazing ride during the Summer of 2007.
CALENDAR NOTE: The Rachael Ray Show (syndicated) of May 16 will rerun Thursday, Aug. 21. Check your local listings.

Besides the fact that I enjoy hearing from readers, your comments in the Clay Blogs give them credibility and keep them near the top of Internet searches. A special thank you to all who take the time to leave a note.

You don't have to be a member of Blogspot to do so. There are several "Anonymous" readers who add their message board screen name at the bottom.

Have an awesome week, Clay Nation!

Caro RELATED TAGS: Clay Aiken, On My Way Here, A Thousand Different Ways, 2007 Summer Tour, Soft Rock in a Hard Place, FOURIDA, Orlando SRHP, Hard Rock-Orlando, I Want To Know What Love Is, Measure of a Man, A Thousand Days, Because You Love Me, Quiana Parler, Angela Fisher, Jesse Vargas, Sean McDaniel, The Rachel Ray Show, Official Fan Club, Clay Nation