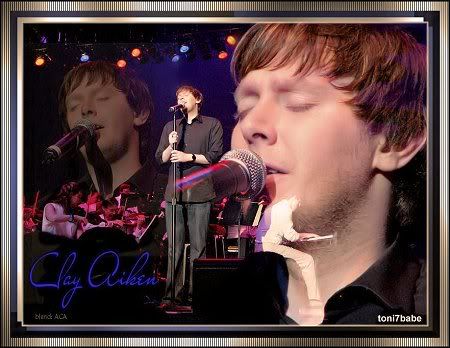 CLAY AIKEN AT THE GREEK -- Amazing_CA graphic, photos by Toni7babe.
Spotlight on 2007 LA, Indio
CA Concerts Capture New Fans
From the beginning, the Clay Nation was on clack overload with 2007's four consecutive California concerts in San Diego, Pala, Los Angeles, and Indio. Many fans attended all four performances, and all tried to absorb every experience, whether in person or via written and visual recaps for those back home.

Just like the musicians, the fans fortunate enough to be at the venues were literally "on the road" that weekend. It's been a whole year since the CA 4-fer, and Clay Aiken fans still enjoy reminiscing about the special stretch of concerts.
One of the most exciting aspects of Clay Aiken's Soft Rock in a Hard Place summer tour was the growing number of attendees totally surprised by the quick wit that accompanies the famous pipes, resulting in an unexpected, very entertaining evening and a host of new CA fans.

These "Clayversion" experiences from the four California concerts were relayed in cellcerts and recaps shared on message boards following the shows.

SmartyPantsSuz: Sitting behind us at the Greek was an older couple (late 60's - early 70's) who had never seen a CA concert, though they knew of him. She was a teacher and was aware of his foundation.
Their first interaction with fans was at Louise's when they saw the large group on the patio and asked about them. They talked with some fans and were impressed that folks came from all over and had formed deep friendships because of their appreciation of Clay.
They absolutely LOVED the show! The woman was grinning from ear-to-ear during the Classics Medley and let out a whoop when Clay started in on "She Thinks My Tractor's Sexy."

The husband said Clay is very entertaining. I got their address and will be sending them some DVD's. They were beyond excited to be receiving something from the Greek.
Suziebird7
: A young African-American serviceman in front of me at The Greek was loving the show. At intermission he said (paraphrased), "It's like a symphony show and a stand-up comic and a really good concert all together."
Lovethatguy
:
At Indio, a "newbie" couple told
Gareem
they came because they saw the billboard while vacationing in Palm Springs. They loved the concert!
A very tall, thirtyish man sat right in front of me at Indio. He brought a lovely older lady with a walker, and it was obvious he was there only for her. By the end of the concert, he was really into it -- loved the Classics Medley, for which he stood and danced.
PHOTO INTERLUDE: This clickable interlude features photos and a graphic from the California 4-fer, including Jtgranny, 1; PermaSwooned, 2; Amazing_CA, photos by Jtgranny, 3; Toni7babe, 4 and 5.
Fan Falls for Clay in CA
In her Pala concert recap,

Yaknelle observed a fan's rediscovery of the singer many of us have followed for five years. During this weekend's "looking back" festivities at Clayversity, she posted the recap again. With permission, here is Yaknelle's eloquent perspective from the CA 4-fer:


I saw a woman fall in love with Clay Aiken last night and she didn't even know it.

She was sitting in front of me and beside her husband. I was seated in a seat that seemed to be the point for all lost audience members to stop and wonder where their seats were, so they stopped and asked me. The man in front of me said that I should get a job at Pala. I laughed and said the commute from Chicago might kill me.

"You're from Chicago? That's where we're originally from, the south side," said the woman.

I told her where I live, and she knew where it was. "Have you been to any other of his concerts?" she asked.

"No," I said, "I couldn't get to San Diego last night, but I'm going to The Greek tomorrow."

"Oh," she said. "Do you know that some of them follow him all over the country and go to all his concerts? I mean, I was talking to some women and they were crazy."

I was dressed in my Clark Kent fan clothes, and didn't have any visible Clay Aiken tattoos, so she thought I must be a sane fan. Not! I smiled and said , " Well I've been to 17 concerts myself."

"No, " she gasped.

"Yep," I said.

"Is this your first concert?" I asked. She nodded her head yes.

Bingo! I had a concert virgin!

She went on to explain that she had seen Clay on American Idol and the talk shows. She had his album. I let her know he had a new one out. She didn't know it even existed. I told her that she and her husband, who had also been listening to me, were in for a great night, that Clay is a wonderful entertainer.

"We were worried that he might not be good in concert." she said.

"You have no idea," I said.

In passing and to make this shorter than a novel, I told her the best song of the night was at the end of the concert and that Clay had written it himself. She wanted to know if he sang BOTW because that had given her chills. I told her no, but the songs he did sing would do the job.

"Get ready to stand and enjoy," I said.

"Oh no! I can't stand. I have a bad back," she whined.

The concert started and the seduction began. It was so interesting to watch. The first three songs made here sit up straight. She turned to me and said, "He has such a beautiful voice." I smiled.

I'll cut to the important moments. She was on her feet for "These Open Arms." She beat me to my feet for the Standing-O for "Measure of a Man." Her back must have been feeling better.

She stood for the entire fast song medley. She laughed at all the banter. I mean howled. Her husband was right there with her laughing, standing screaming. God, it was a thing of beauty.



The moment had arrived; Clay sang "Lover All Alone." There was silence and then an explosion of applause.

Her husband leaned over and said to her, "That was a beautiful song, just beautiful."

She turned to me and said, "You were right; he is brilliant."

She and here husband were on their feet, clapping. They stood and swayed during "Because You Loved Me." Her back wasn't even on her mind. I smiled.

She's a goner. Tomorrow, maybe Monday, when she's alone, she'll google Clay's name. Later she'll find YouTube. She'll buy A Thousand Different Ways. She'll find clack.

Then she'll stop herself. She'll have that moment you have before you become intimate. She'll try to resist and she won't be able to do so. Finally she'll succumb.

I saw a woman fall in love with Clay Aiken last night.
PHOTO INTERLUDE: Featured are three clickable graphics by Amazing_CA (1, 3, 5) and pictures from the Los Angeles/Indio concerts. Photographers include FiveGoldens, 1, 2, 4; Toni7babe, 3; and Shamrock, 5.


'Thumbs Up' at the Venues

Internet fans had heard there might be music industry representatives at the concerts, and security guards are always popular gages for a show's success. Employees at most venues have reported they have never seen anything like the fan bus lines that follow most Clay Aiken shows.



Hatsumi

included this exchange in her Greek recap: Two industry types were sitting behind us with their girlfriends. One couple had gone backstage right before the concert to meet Clay, and his girlfriend kept remarking how genuinely nice he is.


After some banter, Industry Type #1 said to Industry Type #2, "Isn't it amazing what's in this guy's head?" At the end of the show, Industry Type #2 said that he needs a big album so he can take his act to Las Vegas along with Quiana and Angela. It was so nice to hear their respect for Clay as a performer.



Rcknrllmom

: My daughter overheard a comment from one of the security men who worked the Indio concert. The Japanese women asked him what he thought about the show, and he answered with one word -- "KILLER!!!


Indio graphic by Amazing_CA
Photos by KarenEh

Men Applaud Clay's Humor



SmartyPantsSuz

: At Indio, we had four guys sitting in front of us. One had followed Clay during AI and mentioned that he thought Clay was very talented. During intermission, they said they were enjoying the show. Afterwards, they all agreed the show was great.


I specifically asked about the Classics Medley. Their eyes lit up, and they reported this was the best of all. One guy said that Clay should sing more songs like those. I told him that was part of the point of that medley, to show that he CAN sing songs like that. They shook my hand and told me it was great to meet a real fan.

While we were gathering some of the set lists and lyrics off the stage, a gentleman came over with more copies. Turns out he was the leader of the "band" (his word).

We asked what it was like to work with Clay, and he said Clay is very nice and that he was quite impressed with him. We complimented him on his orchestra, and he said he hopes Clay will come back to perform there again.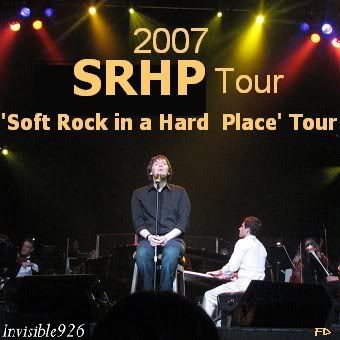 Fountaindawg design, photo by Invisible926

Sites Preserve SRHP Tour

At the Clay Aiken Kids site, you can virtually relive the 2007 Summer Tour all over again. To begin, view 2007 SRHP Tour pages individually or as a slide show.

Using the SRHP set list at the bottom of this page, the next stop should be YouTube where you can locate several performances of each song.

An outstanding review of the CA 4-fer concerts in video footage and stills is

Rpoppert

's new montage California 4 SRHP Tour at YouTube.

From the California weekend, don't miss Clay's I Want To Know What Love Is duet with Angela Fisher at the Greek. This was uploaded to YT by

brolio42

.



DangHesHot

posted

Spotlightlover

's IWTKWLI video of the San Diego rendition by Clay and Quiana Parler. With either duet partner, the song ends with some amazing scat singing in harmony -- a "little high note battle," a viewer commented at YT. At some concerts, there was also an improvised "conversation" of low registers.

SRHP video and audio files are available for download at Clack Unlimited.

Below is a clickable of Amazing_CA's opening graphic: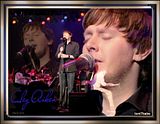 Have a wonderful week, Clay Nation!

Caro
P.S. It seems my grandson has a fan club. For those who have been requesting new pictures, here is a clickable of Kai. Photography has been temporarily on hold due to an apartment leak that caused much chaos but is hopefully on the mend.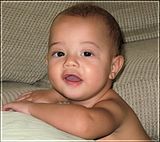 Thnx for putting the Carolina blog on your itinerary. Your visits
and comments are very much appreciated.
RELATED TAGS:
Clay Aiken
,
On My Way Here
,
2007 Summer Tour
,
Soft Rock in a Hard Place
,
CA 4-fer
,
The Greek
,
Indio
,
Clayvert
,
A Thousand Different Ways
,
Lover All Alone
,
I Want To Know What Love Is
,
Because You Loved Me
,
Measure of a Man
,
Clay Aiken Kids
,
You Tube
,
Clack Unlimited
,
Official Fan Club
,
Clay Nation