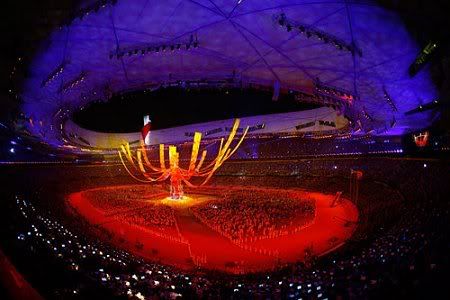 ONE WORLD, ONE DREAM -- Final festivities in the Beijing National Stadium (the "Bird's Nest") conclude the 2008 Olympic Games. Photo by Shaun Botterill.
Festivities, Montages Celebrate Games
Beijing Olympics Remembered
Memorable heights in athletic achievement and spectacular ceremonies are coming to a close today with the final curtain of the Beijing 2008 Olympics.

For those in China, the Aug. 24 festivities have already concluded while telecasts of the magnificent 8 p.m. "One World, One Dream" bow are gradually wending their way through time zones around the world.

The official Beijing Olympics website contains medal totals, a complete photo gallery, and much more. Below are three photos from the Aug. 24 closing ceremony.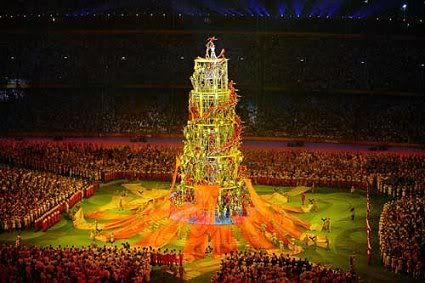 Acrobatic artists perform on the memory tower in the finale. - Xinhua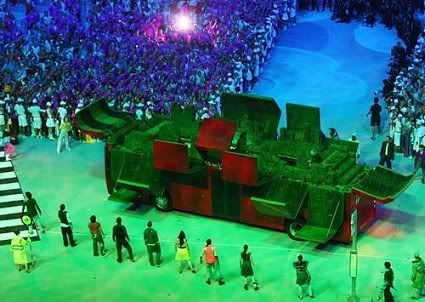 Double decker bus honors London 2012 games. - Michael Steele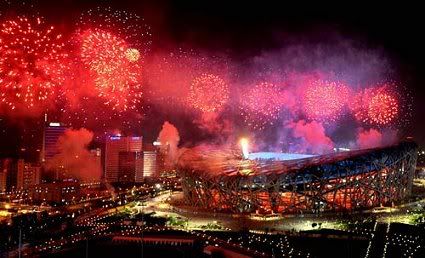 Colorful fireworks mark the Beijing closing ceremonies. - Xinhau
OMWH Montages Honor Olympics

Several tracks from Clay Aiken's On My Way Here album naturally lend themselves to montages about the Olympics, especially the lead single and "Ashes."
These videos, favorites among sports enthusiasts and CA fans throughout the Summer Olympics, can be viewed at YouTube:
Congratulations, Michael Phelps! ("On My Way Here") by SueRue

Olympians on Their Way by Hosaa

Olympic Dreams - On My Way Here by SueRue

Shawn Johnson - Beijing Dream ("Ashes") by Yollie950

8-08-08 On My Way Here by Yollie950
A blog in the Indy Star linked Clay and gymnast Shawn Johnson in this
Final Thoughts
entry:


Shawn Johnson could be to gymnastics what Clay Aiken was to American Idol. In other words, finishing second, and having stage presence, can be as good as finishing first. Aiken is the singer whose career skyrocketed while that of the Idol winner, Ruben Studdard, did not.

All-around gold medalist Nastia Liukin will be a popular figure, but in a country that usually only embraces winners, silver medalist Johnson could be an exception. (She did win a gold on balance beam.) Johnson's publicist told a Des Moines, Iowa, reporter that shawnjohnson.net received 2.3 million hits on a recent weekend.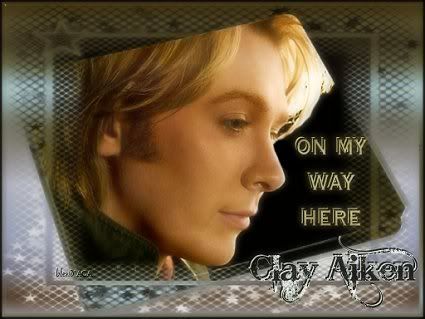 OMWH is featured on 'Super Hero' CD. - Graphic by Amazing_CA
OMWH Anchors Olympics Album
Clay Aiken's "On My Way Here" is among the songs featured on the album "Super Hero," jointly released by Sony BMG and MBC Sports to celebrate milestone moments and victories of the 2008 Beijing Olympics.

The "Super Hero" story is highlighted on the Korean website Yes 24 with "OMWH" playing in the background.


A Sony/BMG executive said, "In order to find appropriate songs for the Olympics, we have gotten recommendations for songs from online users who love pop and executives from major labels around the world.

In the process, 19 famous artists from around the world allowed their songs to be featured on the album. There are many excellent pieces in the album, so I dare say that this is the best compilation album yet."

An alluring musical extravaganza, "Super Hero" will let you relive the moments of jubilation as some of your favorite athletes set out to make history in the world of sports.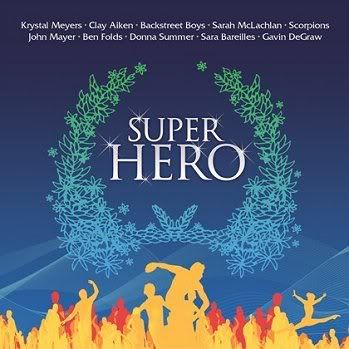 The "Super Hero" playlist, which opens with Clay's "On My Way Here," also includes songs by John Mayer ("Say"), Scorpions ("The Game of Life"), Krystal Meyers ("Make Some Noise"), Mario Frangoulis ("Here's To The Heroes"), Donna Summer's Stamp Your Feet, the Backstreet Boys ("Something That I Already Know"), Sara McLachlan ("Angel"), among others.
Fans can purchase "Super Hero" at Yes Asia for $17.99 plus $3.99 shipping. Upon completion of name and address info, there will be a "Shipping to United States or Canada?" question. This link pulls up a page with a "Fly cart to US" tab, which takes the buyer to a North American website where the order can be completed with Paypal.

Clay's song has been played as backup in several MBC-TV promos for Olympic programming, giving him lots of excellent exposure in Korea. One such video -- Olympics On My Way Here -- has been uploaded to YouTube by olympicsdream.

Several bloggers have featured Korea's use of "OMWH" during MBC-TV Olympic coverage. SEE Clay Aiken Ruminations, Clay Aiken News, All That Is Clay Aiken.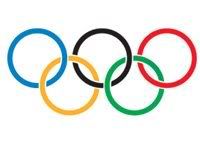 The 2008 Beijing Olympics are over. Undoubtedly, memories will continue on indefinite replay for the athletes who competed and those who cheered them on.
Have an awesome week, Clay Nation!

Caro
Technorati Tags:
Clay Aiken
,
On My Way Here
,
Beijng Summer Olympics
,
montage
,
Ashes
,
Super Hero Album
,
Yes Asia
,
MBC-TV
,
Official Fan Club
,
Clay Nation