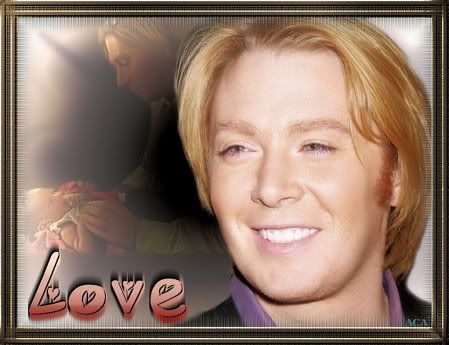 BUNDLE OF JOY -- Clay Aiken fans are celebrating the 8-08-08 arrival of Parker, son of the singer and Jaymes Foster. Graphic by Amazing_CA.
'Spamalot' Reprise, Knoxville Rewind
Proud Papa Takes Parker Home

Even before his American Idol days, Clay Aiken was demonstrating his love for children and talking about his earnest desire to be a father one day. Now he is a dad, and the Clay Nation celebrates the joyful occasion of the birth of his son with close friend, Jaymes Foster.

Parker Foster Aiken, born at 8:08 a.m. on 8-08-08, is now home from the hospital; but the infant's departure Monday garnered as much media attention as his famous father.

Karma4Clay enhanced a media video of Clay and Jaymes taking their son home by adding "As Long As We're Here," an On My Way Here track which the singer has said is very special to them.

Below is the edited video, and here is a Sendspace if you would like to download Clay With Parker.




Parker On His Way Home
All Done, Darlin'

Fan computers and external hard drives are already bulging with visuals of Clay and children whose causes he has championed through his charitable endeavors with UNICEF and The Bubel/Aiken Foundation.
Like the infant in Afghanistan receiving a bottle from the UNICEF Ambassador, Parker is bound to be the next to baby hear his father's famous "All done, darlin'" line.
Regular readers of this bog know an entry's three-day run is usually updated throughout its tenure. True to fashion, Monday I added the lovely lullaby written by Cincy.
The entire poem can be read by scrolling down one blog, while the final chorus is printed here. Parker just happens to have an Uncle David who could add some beautiful music to these special lyrics. *g*

Rock a bye, sweet Parker
Wrapped in Carolina blue
Sleep safe within my loving arms
Your daddy's here with you.
-- Cincy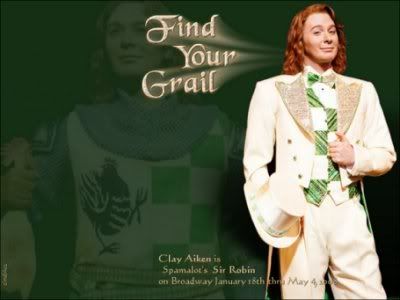 Sir Robin in initial 'Spamalot' run. - Graphic by Cindilu2
Clay To Reprise 'Spamalot' Role

This fall Clay will return to the Rialto production of "Monty Python's Spamalot" for a four-month stint Sept. 19 - Jan. 4, Variety, Broadway.com, and reported Broadway World Tuesday afternoon.
Aiken will reprise the role of Sir Robin, which he played earlier this year in an engagement that ended May 4. David Hyde Pierce originated the part in the 2005 tuner, based on the 1975 film "Monty Python and the Holy Grail." (Variety)

"Since leaving Spamlot in May, jokes have just not been funny," Aiken said in a statement. "Food has lost its taste. The grass is no longer green—the sky no longer blue. And babies WON'T stop crying! I'm so excited about coming back to the funniest show in the world!"

The "babies" reference presumably refers to Aiken's newest real-life role, as father to newborn son Parker Foster Aiken, born on August 8 to the singer and his friend Jaymes Foster. (Broadway.com)

When he made his Broadway debut in SPAMALOT at the beginning of this year, Newsday said "Aiken is a charmer" and the Associated Press said that "Clay Aiken deftly handles supremely silly."

Clay Aiken became a music superstar following his success on the "American Idol" television series, and has sold more than six million albums; co-authored a best-selling book; and, played six sold-out concert tours. (Broadway World)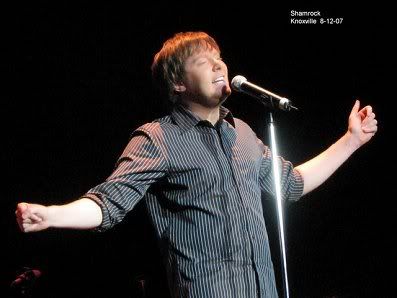 Photo by Shamrock links to Knoxville Slide Show.
Fans Celebrate Knoxville SRHP
Welcome to the Aug. 12 anniversary rewind of last year's Soft Rock in a Hard Place concert! Readers who attended the event at the Tennessee Theatre are invited to share their recollections here.



Shamrock

's photo above links to a slide show of Knoxville concert pictures taken by fans at the Tennessee performance. The show also features photos by

Fivegoldens

,

Invisible926

,

Jtgranny

,

Luvbenmeg

,

DianaGreenEyes

, and

ClayIzzaQT

.

Setting for the concert was the historic
Tennessee Theatre
shown in the clickable above. The grand theatre, which opened in 1928, was restored to its original glamour in 2003.

Aiken 'Holds His Own at Tennessee'
Singer Clay Aiken opened his Sunday night concert at the Tennessee Theatre by tackling a local legend, and he held his own admirably.

In her lead, Betsy Pickle, reviewer for the Knoxville News-Sentinel, was speaking of Dolly Parton's "Here You Come Again," the concert opener.

She wrote that Clay and his talented backup singers are "first rate." The entertainer not only has a beautiful voice, but he is also funny, charming, and charismatic. In her opinion, what he needs is good, new material.

The entire review can be read here:
With Personality and Charm, Aiken Holds His Own at Tennessee
.

The writer's blog, The Pickle Dish, was also devoted to Clay's concert:
Aiken for an Argument
. In the comments, Ms. Pickle received quite an education about a "mandated covers album," posts in agreement and disagreement with her opinions, as well as a lecture or two about her non-mentions of the beautiful
originals "Lover All Alone" and "Measure of a Man" in the concert review.

GRAPHICS GALORE
:

Amazing_CA

blended photos by three fans, offering some of the many comical and serious looks Singerman presents in his entertaining concerts. Photographers represented include

Invisible926

, 1;

Fivegoldens

, 2, 4, 5; and

ClayIzzaQT

, 3.
Here are two YouTube links of videos from the Tennessee concert:
I Want To Know What Love Is
and
Knoxville 2007
.

Below is a clickable of

Amazing_CA

's lead graphic: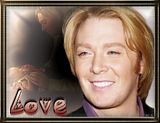 Special thnx to

Cindilu2

for the new emoticons. Have a wonderful week, Clay Nation!



Caro
RELATED TAGS:
Clay Aiken
,
On My Way Here
,
Jaymes Foster
,
Parker Foster Aiken
,
baby
,
As Long As We're Here
,
UNICEF
,
The Bubel/Aiken Foundation
,
Spamalot
,
Broadway
,
2007 Summer Tour
,
Soft Rock in a Hard Place
,
Tennessee Theatre
,
A Thousand Different Ways
,
Here You Come Again
,
I Want To Know What Love Is
,
Official Fan Club
,
Clay Nation