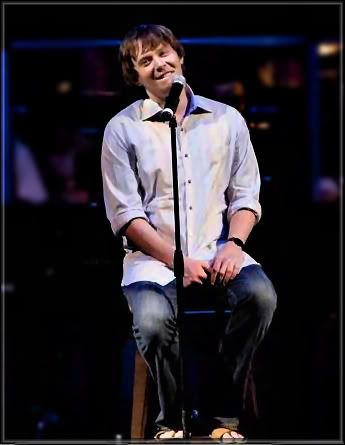 Clay Aiken at Cary's Koka Booth Amphitheather.
Photo by Jonathan Stotts, enhanced by Sally
Via Global Aiken Network
Clay Fans Share NC Concerts
The "family reunion" atmosphere surrounding any Clay Aiken concert is multiplied ten-fold when the singer returns to his hometown of Raleigh. This was never more evident than the two-day calendar of events accompanying the Aug. 10, 2007, Soft Rock in a Hard Place Tour performance at the Koka Booth Amphitheatre in nearby Cary.

The non-stop party began in earnest the day before the Friday show and continued through a "morning after" breakfast Saturday with most concert-goers hopping into their vehicles and heading for the hills where Act 2 of the singer's NC homecoming continued that evening at Ashville's Biltmore Estates.

Many fans also completed the weekend's southern leg with a short trip over the mountain to Knoxville, TN, for the Sunday, Aug. 11, concert. Look for that rewind in the next blog entry.

The special "hometown" concert weekend was experienced throughout the Clay Nation either firsthand by those present at the venues or the technological beams to thousands around the globe participating vicariously through Internet reports, cellcerts, and pictorial, video, and audio clack.
Image No Problem for Clay
Wendy Lemus of the The Cary News posted a review of the 8/10/07 concert entitled
Image No Problem for Aiken
. This is a paragraph from the "being cool" segment:
Really, Aiken could care less. And that's the point. He knows who he is, who his fans are, and most importantly, he can have a little laugh and not take himself too seriously.
WRAL's
Cary Photo Gallery
features photos by Jonathan Stotts from the Friday concert. An example is this blog's lead picture.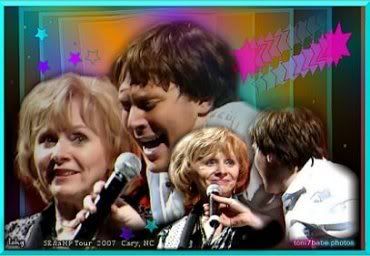 Graphic links to Cary Slide Show
Claystruck's graphic, with photos by Toni7babe, links to a slide show of Cary pictures from the "Clampton Inn" banner through Friday night's concert. Photographers represented include Toni, PinkCocoa, Farouche, LynninNJ, Irishbookgal, and KSChristian4Clay.
Fans Recall 'A Miracle in Cary'

This blog's 2007 NC concert recap included an excerpt from "Clay Aiken: A Miracle in Cary," a Beavers on Idol article by Pamela Matthews. The link is outdated, but the incident is one fans remember on this one-year anniversary:

Something amazing happened last Friday night ... something intangible, ethereal, a thing of true beauty. Hand in hand with his back-up singers, struggling a bit to choke back emotion, Clay's performance moved his audience inside the venue and out along Internet bandwidths.

The essence of the lyric and the solidarity of the moment were carried into hearts across the nation and even into other countries, as fans listened on collective cellcerts, read immediate reports and later that evening watched video of the event.

As the last chord of the song was played and the rousing ovation began, Clay clasped his hands above the mic stand, closed his eyes and appeared to be in silent prayer.
PHOTO INTERLUDE
:

Irishbookgal

's photo of the Cary concert moment described above, is flanked by clickable graphics from the Asheville performance by

Amazing_CA

, photos by

Betsy

, 1, and

Claystruck

, photos by

ShineinNC

and

Toni7babe

, 3.
Special Connections Treasured
Fans from as far away as Vancouver, Washington, and New York attended the Aug. 11 concert in which Clay & Co. were accompanied by Asheville Symphony musicians.

Below are fan reports that rarely make media reviews and articles. However, these concert connections are gems Clay fans delight in sharing with each other. This tapestry of Clayversions were gathered from the Asheville concert.

Dowoper
: Clay is winning them over at each show. We had two guys behind us who whined from the moment they sat down, saying they were there for the orchestra, not for Clay. And they sure hoped people didn't stand up and block their view, etc, etc.


They were really getting on my nerves, but by "The Way You Make Me Feel," they wee standing, clapping, singing along, and having a blast. I heard them laughing out loud big time during much of Clay's banter. They stood the rest of the show and cheered wildly at the end. Yep, one at a time, they fall.
Tdallasw
: I was sitting next to two young women from Wilmington (opposite end of NC) who had never been to a Clay concert, weren't very familiar with his shows, and had no idea what to expect. Someone had given them the tickets, and they asked if I thought the show would be any good. I told them, "You have NOOOOO idea what you're in for. He is going to blow you away!"


Suffice it to say, by intermission they were goners. They couldn't wait to go out and buy ATDW, and they hope to see him again as soon as possible. I love seeing a true "Clayversion" in progress. It made my night.
Libbyc
:Clay was definitely smokin' in the Smokies! As diverse a crowd as I've seen. The couple sitting next to us were there for their 34th wedding anniversary. When we asked the gentleman whose idea it was to attend the concert, he said he was the Clay fan and wanted to come.


The man directly behind us said he had never heard anyone sing "Mary Did You Know" as well as Clay and proceeded to sing every Clay song during the concert.
The photo by

Fivegoldens

below links to a slide show of pictures from the 2007 summer tour concert at the Biltmore Estates.

With a choice of either original or gallery view, the Asheville Slide Show includes 34 photos by

Fivegoldens

,

Heavens2

,

Irishbookgal

,

NCSUPack88

,

Invisible926

,

Scrpkym

, and

ShineinNC

.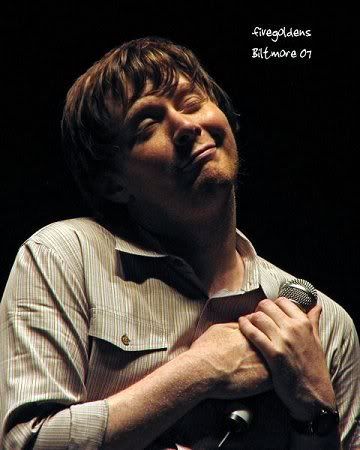 Photo links to Asheville Slide Show
'Welcome to the Club, Honey!'
Raleighlady
: A woman on our row was a Rod Stewart fan, and this was the first Clay concert she had ever attended. We looked over at her at the end of the concert and saw that she was bawling her eyes out. Just bawling, wiping her eyes with tissue. She literally could.not.stop.crying.


She said it was just wonderful. She followed us all the way out of the venue, still crying. I put my arm around her shoulders and said, "Welcome to the club, honey!"
Sunday13
: The best concert of the four I've seen this tour. Sitting next to me was a young boy about eight years old who came with his mom. He knew the lyrics to all of Clay's songs and was singing them out loud.


As we were heading out after the concert, a group of teenagers asked one of the security guards, "Is Clay coming out for the touching?" I thought that was hilarious.
Cindydoe
: My husband went with me to Asheville, his first Clay pop concert. He saw him at Christmas two years ago. "Why doesn't anybody know about this?" he said to me.


I asked what he meant. He said he had never witnessed anything like this, so many people from all over, the magic of the shows, the special bond we all have with each other and with Clay.

By "anybody," he meant the media. I told him that they preferred to make a joke about it. He couldn't believe it and thought the CA concert experience was very special.
Fans, Media Greet Parker Aiken

With an outpouring of celebratory graphics, message board/blog posts, and special montages, CA fans have welcomed Parker Foster Aiken, son of Jaymes Foster and Clay Aiken born Friday, Aug. 8.
The clickable graphics above are by Laura, Amazing_CA, and MNmeesh. Below is a lovely lullaby written by Cincy. Perhaps the musicians in Parker's family could augment these beautiful lyrics:
PARKER'S LULLABY

My heart was lost and lonely
And I needed to keep it safe
So when looking for peace and solace
A park seemed the perfect place.

A park where the trees stood tall and green
With benches all around
A resting place where I could run
Not wanting to be found.

Rock a bye, sweet Parker
Under a North Carolina sky
Sleep softly safe my little man
God's angels are nearby.

But my heart still needed comfort
Someone to tend the park with care
A keeper of the surroundings
While I was resting there.

To open my heart's frozen gate
Someone to make me whole
To tend the oft forgotten land
That had become my soul.

Rock a bye, sweet Parker
Under a North Carolina sky
Sleep softly safe my little man
God's angels are nearby.

Then on that August morning
A miracle had surely come
And the park had found its keeper
And my heart had found its home.

I never could have imagined
How quickly things can change
And how life's distant longings
A child can rearrange.

And so I call you Parker
And softly sing this lullaby
As you wrap your tiny finger
Around the heart you hold nearby.

So there is a double meaning
Not just for family pride
But also the park's keeper
Where my heart can now reside.

Rock a bye, sweet Parker
Wrapped in Carolina blue
Sleep safe within my loving arms
Your daddy's here with you.

-- Cincy
Montages Clay and Jaymes - Congrats on Your Beautiful Boy by SueRue and Tribute to Parker - I Will Be Here by LovesClaysVoice can be viewed at YouTube. IWBH is sung by Clay.

Photo links to 'Your Beautiful Boy' montage.
Emoticons continue to dance across fan posts while most message board sites are capped with banners heralding the newborn Parker's arrival.
At last count, news of Baby Aiken's birth was featured on 457 media sites. The AP story, 'American Idol' crooner Clay Aiken now a father, is the basis of most.

Many quote Clay's OFC blog announcement to his fans and the original press release by Lynda Loveland at WRAL. Among the creative headlines are Lucky Numbers for Baby Aiken, The Newest Claymate Arrives, and High Note for Singer: Birth of a Son.

For a video round-up of birth announcements on entertainment news shows, see Baby Parker Is Here! on YouTube.

At People, numerology expert Daniel Hardt says Clay's son has a "powerful birthdate."


Eight is a very powerful number. It's a number of mastery," says Hardt of Life Path Numerology in Indianapolis, Ind. "It's a number of being in control," he adds "That's why a lot of people are drawn to it."

Eight is also a lucky number in Chinese culture, which is why the Opening Ceremonies for the Summer Olympics are scheduled for 8/08/08.
Welcome to our world, Parker Foster Aiken! Congratulations to your parents and the whole clan, which includes aunties and uncles all around the world!
CALENDAR NOTES

August 13: The View (ABC) - Repeat of 5/8 show with Robert Downey, Jr., and musical guest Clay Aiken, 11 a.m.
August 17: The Greatest: 40 Greatest Reality TV Moments 2 (VH1), 7 p.m.

August 21: The Rachael Ray Show (Syndicated) - Repeat of 5/16 show, 9 a.m.
September 27: Paula's Party (Food Network), 7 p.m.

Have an awesome week, Clay Nation!

Caro

RELATED TAGS: Clay Aiken, On My Way Here, 2007 Summer Tour, Soft Rock in a Hard Place, Jaymes Foster, Parker Foster Aiken, baby, 8-08-08, The View, Paula Dean Show, Official Fan Club, Clay Nation