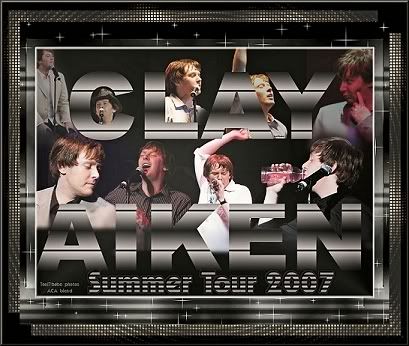 Summer Tour 2007 -- Graphic by Amazing_CA, photos by Toni7babe.
Tampa, West Palm Revisited
Clay Fans Applaud 'FOURIDA'

Throughout the "Fourida" or "Florida 4-fer," Clay Aiken & Company were greeted by enthusiasm and appreciation from media, symphony musicians, and fans old and new, orchestrating a memorable final leg of the 2007 Soft Rock in a Hard Place Tour.

Typical of the recaps was Siclayfan's report about a couple who succumbed to the magic of Clay in the Tampa performance.

Couple Blown Away in Tampa

SICLAYFAN: At the Tampa concert I sat next to a couple, the wife being a NJU fan. She liked Clay, had his CD's, but had never seen him live before. She tried for tickets for the IT but when she couldn't get floor seats, she didn't bother going. She had no idea Clay had toured since then.


Her husband pretended to be bored at the beginning; but at the end, he said he would definitely see Clay again.

The wife told me her husband had worked for Clear Channel and as a result she had seen many, many concerts, but had never been to anything like this one. She was blown away.

Clay didn't mention his writing the lyrics for "Lover All Alone" before he started to sing, so I informed the husband, who was sitting next to me. When it was over, he thanked me for telling them.
Tampa Slide Show
The Tampa Slide Show includes 28 photos from the Aug. 17, 2007 concert. Photographers include Toni7babe, Scrpkym, FiveGoldens, Irishbookgal, and Tangerinee.
Toni's photo links to a show with a choice between gallery and fading views.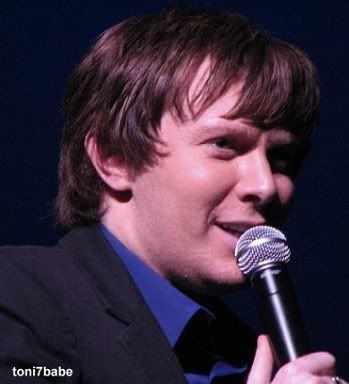 Photo by Toni7babe connects to Tampa Slide Show.
To continue the Tampa "rewind," take a tour of "Clay Aiken Tampa" videos at YouTube. Two to get you going are Here You Come Again and The Way You Make Me Feel, both by Spotlightlover.

West Palm Lauds Clay Aiken
Reporting from the Aug. 18, 2007, concert, next to last of the Florida 4, Leslie Gray Streeter of the Palm Beach Post wrote that Clay is a both a singer and a showman. Unfortunately, the link is not active; but below is part of her review, one of the best from the entire tour.

A Singer and a Showman

WEST PALM BEACH — Clay Aiken, whether or not you are a fan of his, is pretty much considered a good singer by most people who have ears.

You also may be aware that he has a gigantic following of fans, mostly female, who might best be described as enthusiastic. But until you have seen Clay Aiken, who has described himself as Opie-like, shake his slack-clad hips and belt out Naughty By Nature's extracurricular cheating classic "OPP" ... well, you just don't know anything about Clay Aiken.

Admittedly most of the crowd at the Kravis Center on Saturday already knew more about him, as many of them are Claymates, the American Idol runner-up's devoted fan base and staunch defenders against criticism of his aforementioned Opie-ness.


But even the uninitiated would have to be blind not to see that Aiken - who has an amazing range and was vocally flawless - is that rare celebrity who is both a singer and a performer, equally, even though, as he pointed out, "I am not cool." [snip]

But because Aiken revels in that, he transcends even the goofy moments into genuine entertainment, like with his cover of Bad English's "When I See You Smile." He is so uncool that he sort of is. And that's a talent.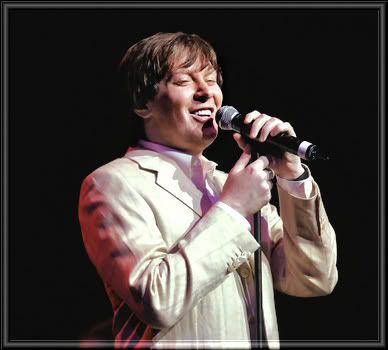 Clay performs at West Palm's Kravis Center.
Photo by Libby Volgyes, enhanced by Sally
Accompanying the Palm Beach review was a photo gallery of pictures by Libby Volgyes entitled
Clay Aiken in Concert
. The link is still good, and an example is the above picture.

Reviewer Somewhat 'Clayverted'
In her blog the next morning, Streeter continued writing about Singer Man:
CLAY AIKEN: THE AFTERMATH!
To read the entire entry and 39 comments, scroll to Aug. 19 at the above link.
"So you're going to be Clayverted!"

More than one Claymate, or hopelessly devoted fan of singer, humanitarian, near-American Idol and cultural phenomenon, decried that by the time Clay's show at the Kravis Center was over, I would be one of them, ready to don the T-shirts, join the Internet groups and plan my vacations around Mr. Aiken's concert schedule.

So now? I'd gladly see him again, because he was great. Do I see me wearing a Clay T-shirt or traveling to see him or joining a huge network of Clay fans ... Uh ... don't kill me, but not really. I'm a fan now, but not one approaching the heights of what I've seen in my week of Claymate exposure.

But I get it now, now that I've seen Clay Aiken and found him wonderful.
West Palm Beach Slide Show

The photo below by Fivegoldens links to a slide show of West Palm Beach pictures taken by fans Saturday at the Kravis Center for the Performing Arts.
The show, with options for gallery and steam views, also features photos by Scrpkym, Jtgranny, Mad4clay, Toni7babe, Leslie42, and Libby Volgyes.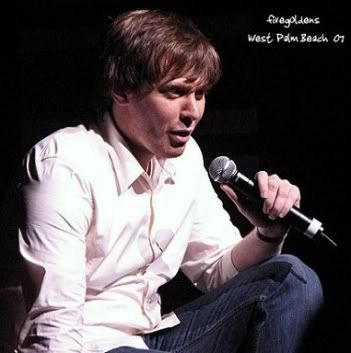 Photo by Fivegoldens links to West Palm Slide Show.
Best Last-Minute Decision Ever
Below are a three concert recaps, two by longtime Clay fans and the other by a MySpace blogger who became a Claydawg in West Palm Beach.

MUSKIFEST
: I had a seat alone in West Palm Beach and ended up next to a cute girl in her 20's. It didn't take me long to find out she was a "Clay Concert Virgin." She said she loved him on AI, had heard some of his music since, saw him on the AI5 finale and thought his voice was great but hadn't really followed his career.

She asked some friends to go with her but they all did a "Sure, thanks, but no thanks" thing. At first she gave up. The day before the concert she suddenly decided to go by herself.


It was so much fun watching her soak it in, murmur "wow" in awe of MOAM and IWTKWLI, clap her hands raw, and basically succumb to the power of Clay!Aiken!Live!

During intermission we talked; she knew about Clay's UNICEF and BAF work, and I was overjoyed at that. I explained some of the "inside jokes" happening on stage so she'd have a better context.

She loved the TV Medley and sang along with most parts. The Classics Medley had her guffawing. During "Because You Loved Me," a lady on the other side offered her a glow stick, which she waved along with the audience.

When it was over I asked her what she was going to say to her friends. Her reply? "I'm going to tell them that buying that ticket yesterday was the best last-minute decision I've ever made!"
DEEPSOUTHGURRL
: In West Palm, a man in his late 30s sat next to me. He had treated a young couple to the show for her birthday, and they were sitting in front of us.He saw Clay on AI, thought he should have won; but that was it -- no concerts, no CD's, nothing since.


As the concert progressed, he was really enjoying it; but he never stood for anything. At intermission, I learned he is the owner of a theater in Delray Beach down the road from West Palm. He named some of the performers he has had and they were all names we know.

He was really into the second part, too. Then came The Classics segment; we all stood up and there he sat. I told him, "I'm sorry, but you have got to stand up now. You are going to miss it all sitting in that chair. Trust me." He said, "Yes, 'mam" and stood up. He clapped, he laughed, he danced.

By the time Clay did his "support your local theaters and arts" speech, this man was absolutely in the palm of his hand. He said "Wow, I have never heard a performer so supportive. I think this man is more outstanding than I could have imagined."

I really enjoyed his company, and he really enjoyed Clay Aiken!
JAMES
(a 38-year-old male blogger at MySpace, link no longer available):
Hi friends...I just came back from watching my first "Clay Aiken" concert here in West Palm Beach...The boy can sing...And he has a sense of humor...He should advertise his concert as more of a "variety" show.

I truly think the guy can sing, dance, tell jokes, rap, and actually act cool...I went to the concert expecting to leave bored; however, I was highly impressed...I give it 4 out of 5 stars!
The WPB "look back" moves to YouTube with two linked videos. A "Clay Aiken West Palm Beach" search will yield several more. Enjoy
Lover All Alone WPB
by

Jojoct

and
I Want To Know What Love Is
by

Spotlightlover

.

Singer Man gave fans old and new one heckuva ride with the 2007 SRHP Tour. Next time: The Orlando Finale!

Below is a clickable of

Amazing_CA

's opening graphic: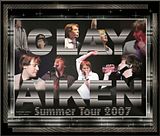 Have a wonderful week, Clay Nation!

Caro
RELATED TAGS:
Clay Aiken
,
On My Way Here
,
A Thousand Different Ways
,
2007 Summer Tour
,
Soft Rock in a Hard Place
,
Lover All Alone
,
Here You Come Again
,
The Way You Make Me Feel
,
I Want To Know What Love Is
,
Fourida
,
Tampa SRHP
,
West Palm Beach SRHP
,
Leslie Gray Streeter
,
Libby Volgyes
,
Official Fan Club
,
Clay Nation