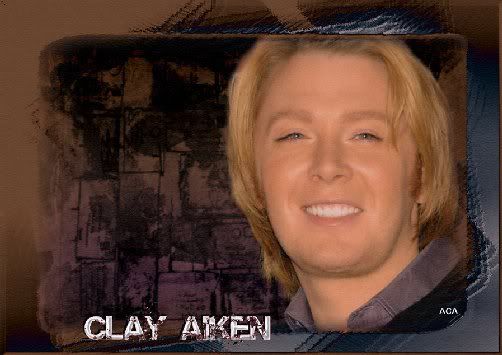 ON MY WAY HERE - Tracks from Clay Aiken's new CD harmonize with romantic, historical, and social themes from movies and television. Graphic by Amazing_CA.
Pass the Popcorn, Please!

Eons ago when I was a kid, Saturday afternoon meant a bus ride downtown and 2-3 hours filled with the latest Hollywood magic playing in our local movie theatre. Cost was minimal for the bus token, picture show, and buttered popped. Definitely eons ago!

Today I didn't even have to leave my computer to grab a couple of movie clips set to two favorite tracks from Clay Aiken's latest CD, On My Way Here.

The first, a photo/video montage by SueReu, is dedicated to the turbulent love affair between Scarlett O'Hara and Rhett Butler in the 1939 classic "Gone with the Wind." Clay's "Everything I Don't Need" is the perfect accompaniment to scenes by Vivien Leigh and Clark Gable.
Grab some popcorn, and enjoy this look back at the famous film set in the South during the Civil War and Reconstruction. Afterwards, you may just want to rent the whole DVD. You can read more about GWTW here.

Scarlett - You're Everything I Don't Need
Posted by NeverLetGo414, the second montage features scenes from Titanic, a monumental film made a decade ago. Directed by James Cameron, the story centers on a ficitional romantic tale of a rich girl and a poor boy who meet on the ship's ill-fated voyage.
Leads in the 1997 film are Leonardo DiCaprio and Kate Winslet. A full summary can be read here.

Titanic - As Long As We're Here
For a mini-concert, stream the five OMWH video performances by Clay at AOL Music. The popular Clay Aiken Sessions include "Ashes," "Everything I Don't Need," "Where I Draw the Line," "On My Way Here," and "Something About Us."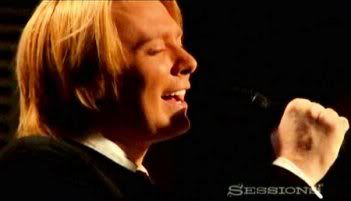 Sessions cap by ClayIzzaQT
Have a great weekend, and pass some more of that buttered popcorn!
Caro
RELATED TAGS:
Clay Aiken
,
On My Way Here
,
movies
,
montage
,
Everything I Don't Need
,
As Long As We're Here
,
AOL Sessions
,
Official Fan Club
,
Clay
Nation