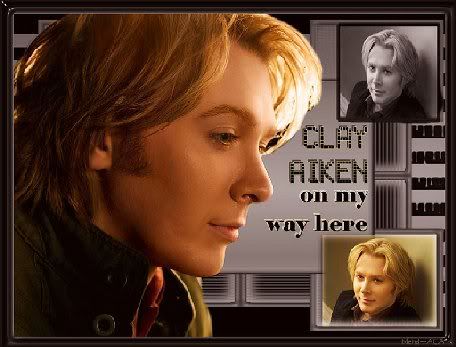 ON MY WAY HERE -- The lead track of Clay Aiken's May release heads a list of 19 songs celebrating the Beijing Olympics. Graphic by Amazing_CA.
Rewind 2007: Atlanta, Ft. Myers
OMWH Anchors Olympics Album
Clay Aiken's "On My Way Here" is among the songs featured on the album "Super Hero," jointly released by Sony BMG and MBC Sports to celebrate milestone moments and victories of the 2008 Beijing Olympics.

The "Super Hero" story is highlighted on the Korean website
Yes 24
with "OMWH" playing in the background.

A Sony/BMG executive said, "In order to find appropriate songs for the Olympics, we have gotten recommendations for songs from online users who love pop and executives from major labels around the world.

In the process, 19 famous artists from around the world allowed their songs to be featured on the album. There are many excellent pieces in the album, so I dare say that this is the best compilation album yet."

An alluring musical extravaganza, "Super Hero" will let you relive the moments of jubilation as some of your favorite athletes set out to make history in the world of sports.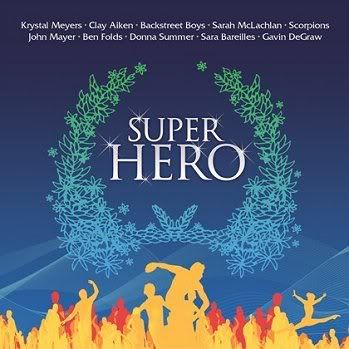 The "Super Hero" playlist, which opens with Clay's "On My Way Here," also includes songs by John Mayer ("Say"), Scorpions ("The Game of Life"), Krystal Meyers ("Make Some Noise"), Mario Frangoulis ("Here's To The Heroes"), Donna Summer's Stamp Your Feet, the Backstreet Boys ("Something That I Already Know"), Sara McLachlan ("Angel"), among others.

Clay's song has been played as backup in several MBC-TV promos for Olympic programming, giving him lots of excellent exposure in Korea. One such video -- Olympics On My Way Here -- has been uploaded to YouTube by olympicsdream.

Fans can purchase "Super Hero" at Yes Asia for $17.99 plus $3.99 shipping. Upon completion of name and address info, there will be a "Shipping to United States or Canada?" question. This link pulls up a page with a "Fly cart to US" tab, which takes the buyer to a North American website where the order can be completed with Paypal.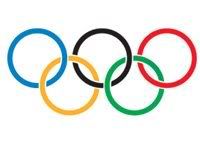 Idol Alumni Congratulate New Dad
Clay Aiken's fellow American Idol stars are thrilled for the new daddy – and one even has her own baby news,
People
reported Thursday.

"Congratulations! I am very happy for him," Rickey Smith, 29, told PEOPLE. "He has great morals and ethics, and I think his and I think his baby will be brought up in love."

Smith added that baby Parker Foster Aiken's birthdate of Aug. 8 has a personal significance.

"My grandmother's birthday, God rest her soul, was August 8," Smith said. "I lost her, but here, another life has been born, so that's pretty memorable to me. Eight is a lucky number in my family – so tell [Clay] welcome to the family!"

Fellow Idol alum Vanessa Olivarez, 27, predicts Aiken will be a fantastic father.

"Before Idol, he worked with children [as a teacher], so I definitely think that experience will help him," she said. "He'll be a great dad, and a great role model. And I hope [the baby] grows up with his voice, for sure!"
Expecting her first child in December, Carmen Rasmusen also sent congratulations to Clay and Jaymes.
Clay Records Music PSA for MENC

As a former band and orchestra teacher and coming from a long line of music educators, I am very proud that Clay has recorded a special radio Back to School PSA for Music Educators National Conference.

A longtime MENC member, I think these PSA's are wonderful reminders for the public -- parents, young people, and school board members quick to slash arts programs -- that participation in music class is key to a student's education. Ancient Greek philosophers believed music to be essential and beneficial in learning other subjects.

These special radio PSAs will remind music fans that music class is where our kids benefit every day from an environment unlike any other. A place where kids discover their own creative voice. Where they learn about cooperation and how it feels to make real harmony.

In the Why Music? press release, Clay and mandolin artist Marty Stuart answer that question. CA fans will appreciate his bio on the MENC website:


Born in Raleigh, NC, Clay Aiken sang his way up from school choirs to the American Idol stage. Since then, Aiken has released five well received albums, and next month he returns to the role of Sir Robin in the Broadway musical "Monty Python's Spamalot."

A current ambassador for UNICEF, Aiken has pursued his mission of bringing primary education to all children. Throughout his career, Aiken has raised hundreds of thousands of dollars for children in need.
Listen to Clay's

PSA here, or download it for yourself with this Sendspace.

Hotlanta 07 Lives up to Forecast

Hotlanta lived up to its nickname as Clay Aiken & Co. performed with the Atlanta Symphony Orchestra in sweltering triple-digit temperatures with a heat index through the roof at Chastain Park Amphitheater for the Aug. 15, 2007, stop of last summer's Soft Rock in a Hard Place Tour.

Although 4,000 seats were sold, many season subscribers stayed home due to the oppressive weather and an orange air quality code.

The estimated 3,000 in attendance, nevertheless, were rewarded with an entertaining evening of beautiful singing and hilarious banter from Clay and the musicians onstage.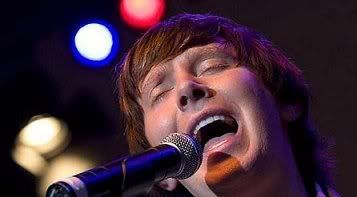 Clay in Chastain spotlight. -- Photo by Allen Sullivan
The Atlanta Journal Constitution covered the concert in an American Idol blog. The link is no longer active, but here is an excerpt from Rodney Ho's review, "Clay Aiken Live!"
Sure, the dorky season two runner up still seems to appeal to a certain type of middle-aged woman, but the man truly has incredible pipes and sounded great.


Clay doesn't take himself too seriously, joking numerous times about the heat and being quite gabby throughout the concert.

"What's with the humidity?" he said early on. "They didn't give us fans! The only breeze are the bugs flying by our faces. One got stuck to me."


A fan handed him a freeze pop. He stuck it on his forehead, then noticed while singing "When I See You Smile" that the pop was sugar free. "You think I'm getting fat?" he cracked.
The accompanying slide show of photos by Allen Sullivan can be viewed at the AJC's Access Atlanta. More pictures are available at Sullivan's site, Photo Shelter.
Clay talked with a teenaged girl whose sign proclaimed she had chosen his concert over a car for her birthday, teased her mother, and then dedicated "Without You" to the teen, changing up lyrics to fit the circumstance: "I can't live, if living is without a car/I can't live if I can't get anywhere."

Another gal received a kiss on the cheek from her favorite singer. Despite the heat, all were entertained. The closing number, "Because You Love Me," was accompanied by an ocean of glow sticks in the audience.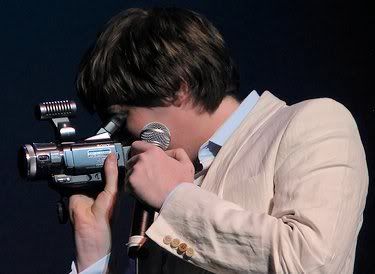 Clay Takes His Own Clack
Scrpkym's photo links to YouTube video.
Ft. Myers 07 a Hoot from Get-Go

The Ft. Myers SRHP concert of Aug. 16, 2007, was Clay Aiken doing what he does best -- sharing his incredible pipes as well as his amazing comedic, improvisational skills.
After scrunching around on his stool imitating a videographer's gyrations for "making sure the clack doesn't skip around," Clay borrowed the front row camera and gathered footage of his backup musicians.

The fan didn't miss a beat and pulled a backup camera out of her bag to continue filming the show. "She's got a whole Radio Shack in her purse!" Singerman exclaimed to the audience.
Clay Aiken Takes His Own Clack captures the scene as videoed by the singer and Scarlett, one of this fandom's most revered "clack goddesses."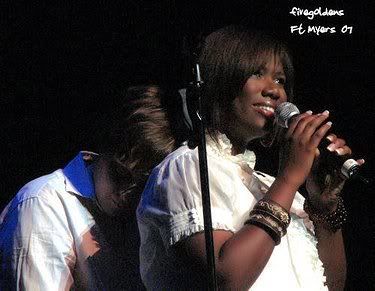 Lights Go Down on Quiana
Photo by Fivegoldens links to YouTube video.
The Ft. Myers lighting person must have been a Claydawg or a Claymate. After several attempts to keep the spotlight on Quiana for her solo, "When the Lights Go Down," Clay finallly sat on the stool behind his backup singer so she could be seen.

According to

Wandacleo

, among the many humorous shenanigans throughout the solo were some obvious tickling and the appearance of Clay's hand from behind inspiring the audience to bring on the applause. Not that it was needed!

Another fan favorite from the Ft. Myers concert was Clay's performance of "Measure of a Man." Here is

Canfly172

's video of MOAM on YouTube. Thnx to

Riversend22

, here is the ovation that followed.

The Ft. Myers Slide Show below features pictures by photographers

LynninNJ

,

SmartyPantsSuz

,

FiveGoldens

, and

Scrpkym

. The photo links to a show with a choice between gallery and revolving views.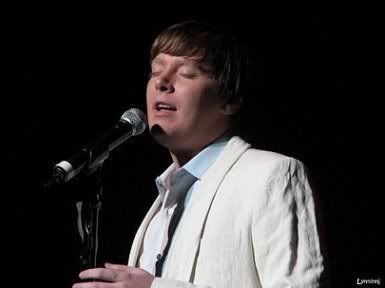 Photo by LynninNJ connects to Ft. Myers Slide Show
In her concert recap, SmartyPantsSuz reported that Clay impressed several of the venue's ushers, who said they really enjoyed the show. One woman in particular -- "she's a goner!" -- gladly shared her address so Suz could send her DVD's of other shows.
As usual, the venue staff was amazed with the enormity of the busline following the concert.

Below is a clickable of Amazing_CA's opening graphic: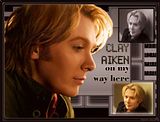 Have an awesome weekend, Clay Nation!

Caro
RELATED TAGS:
Clay Aiken
,
On My Way Here
,
A Thousand Different Ways
,
Super Hero Album
,
Beijing Olympics
,
Yes Asia
,
MBC-TV
,
People
,
Music Educators National Conference
,
2007 Summer Tour
,
Soft Rock in a Hard Place
,
Atlanta SRHP
,
Allen Sullivan
,
Ft. Myers SRHP
,
Official Fan Club
,
Clay Nation