SPECIAL EDITION: Order Spamalot 2 Pins!

HE'S BACK - Clay Aiken is returning to Spamalot! - Graphic by cindilu2
A Reprise Wardrobe Must
Aiken Fans Order Spam 2 Pins
Brace yourselves, Claymates! The wig masters at the Shubert are fluffing those glorious red tresses in preparation for Clay Aiken's sure-to-be-triumphant return as Sir Robin on September 19.

And it's a good thing too, as the crooner has quipped that life post-SPAMALOT has been seemingly devoid of meaning. Tasteless food and hue-free grass. Have no fear, Clay. Only a few more weeks until the skies turn blue again!
Excitement hardly describes the euphoria on Broadway and throughout Clay Cyberspace as preparations are in full swing for Clay Aiken's reprise of Sir Robin in Monty Python's Spamalot on Sept. 19.

Ticket purchase reports, lodging, travel, and party plans are a common thread throughout posts at message boards devoted to the North Carolina-based entertainer.
The opening paragraphs above are from a newsletter theatergoers received on Wednesday.

Perfect Spamalot Accessory

Commemorative pins designed by cindilu2, the ultimate accessory for the Spamalot devotee's wardrobe, were unveiled at Finding Clay Aiken this week. Orders for the "Finding Sir Robin" and "Doing Clay" pins should be placed at the FCA message board by Monday, Sept. 1.

Finding Sir Robin Pin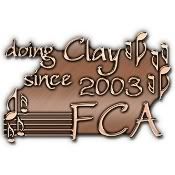 Doing Clay Since 2003 Pin
Friday Deadline for Pin Orders
The Finding Sir Robin/FCA Spam pin redux looks like a coin and is 1 inch in circumference, while the Doing Clay Since 2003 pin, 1.25 inches wide, has more of an antique feel.

The 2008 FCA pins (in any combination) are priced at $4.00 each with shipping/handling fees in accordance with the number ordered. International orders are welcome.
An order form is available at Finding Clay Aiken, and a contact link for further information is also provided. Paypal, as well as other forms of payment, are accepted.

Couch Tomato, who is in charge of this season's pins, anticipates orders will ship before the end of September.
Time is of the essence, as the number of orders received by LaborDay will determine the total run.
For more information about Clay's Sir Robin reprise, see
Aiken Will Return to Broadway's Spamalot in September
from Playbill.
Happy Spamming, Clay Nation!

Caro
TECHNORATI TAGS:
Clay Aiken
,
Monty Python's Spamalot
,
Spamalot Pins
,
Broadway
,
Finding Clay Aiken
,
Official Fan Club
,
Clay Nation